Gary Oldman thought it was "a ludicrous idea" the first time he was offered the role of Winston Churchill. Now, the actor's turn in Working Title's Darkest Hour has propelled him to the front of the best actor pack.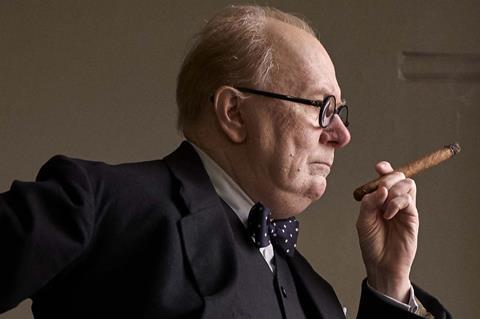 When Gary Oldman was first asked to play Winston Churchill, he laughed. "Yeah," says the 59-year-old actor when Screen International meets him in London, "I thought, 'What are you talking about?'"
With his wiry frame, sweep of greying hair, thick-rimmed spectacles and goatee, Oldman is, at first glance, far from an obvious fit for the heavy-set, bulldoggish, baby-faced statesman, who was seven years older than Oldman is now when he first took office as British prime minister on May 10, 1940. He would have expected to be offered Neville Chamberlain, Churchill's disgraced predecessor, or even the part of Adolf Hitler — a role he has turned down in the past ("not interested"). But Churchill? "I thought it was a ludicrous idea, just because of the physicality. So I said no."
Fortunately for Working Title Films and director Joe Wright, the Churchill he turned down was for another film (he won't say which, but confirms it still "hasn't been made"). When Working Title's Eric Fellner approached Oldman for Darkest Hour— which focuses on the weeks between Churchill taking office and the "miracle" of Dunkirk— he reconsidered. "I did Sid & Nancy with Eric back in the day," says Oldman, "so we kind of started our careers together."
More importantly, he was impressed by Anthony McCarten's script, "because it covered a very specific window of time. A very crucial one." Oldman had not realised how perilously close Churchill came to capitulating to demands from within his own War Cabinet that the UK sue for peace with Nazi Germany: "We nearly gave it all up. That was something I didn't know."
He also realised what an enticing opportunity this particular Churchill provided. "After all the doubts and the dragons one has to slay — with him being so iconic, and famous actors having played him before — I thought, 'I'm gonna get to stand in a room full of people, in a motion picture, and say, "We shall fight them on the beaches…"'," he says. "So I thought, 'Fuck it. I'll give it a go.'"
During his 34-year film career, Oldman, who was born in New Cross, southeast London, has consistently proven himself adept at chameleonic character immersion, whether portraying historical figures like Joe Orton, Lee Harvey Oswald and Ludwig van Beethoven, or fictional creations such as Count Dracula and Tinker Tailor Soldier Spy's George Smiley. So despite the actor's own initial reservations and the self-evident physical disparity, Wright felt Oldman-as-Churchill was a no-brainer. "I grew up in London, and in the '80s and '90s, when we drank down the Old Red Lion, he was our hero," says the director. "He was a great, shining star for a whole generation."
Love for life
Wright wasn't disappointed by his hero. Oldman spent what he describes as "a year living with Winston" before production, scrutinising the man to separate reality from myth. "I had an image of Churchill and I didn't know how contaminated that was, because of Albert Finney and Robert Hardy and all those other people that have played him," he says. "My initial idea was the sort of rather grumpy curmudgeon. And then I started to look at the news footage and I saw someone very different. I saw a man at the front visiting the soldiers, skipping around like a 20-year-old, alive, a spark in the eyes, a grin, a cherubic face. He liked cigars, he liked booze, he liked food, he liked life. That was the Churchill I saw."
And that is the Churchill we get in Darkest Hour: light on his feet despite his bulk, as quick to laugh as he is to scowl or roar, his off-the-cuff wit as sharp as his carefully prepared orations. He also, of course, looks nothing like Gary Oldman. This is thanks to the astonishing prosthetic make-up design of Japanese master of the craft Kazuhiro Tsuji, who Oldman lured out of retirement. "I thought, 'If anyone's gonna be able to pull this off, it's him,'" he says. Oldman knew he would not be able to do it without him — "at nearly 60, I wasn't going to put on 60lbs and mess with my body" — and was concerned that with a lesser talent than Tsuji, who was supported by make-up artists Lucy Sibbick and David Malinowski, he might look "ridiculous".
After doing Francis Ford Coppola's baroque take on Dracula and playing the mutilated villain Mason Verger in Ridley Scott's Hannibal, Oldman is no stranger to the prosthetics process. But Darkest Hour required a next-level commitment. "Here's the thing," he says, "Hannibal was six hours of make-up, but I was on it for seven days. On this, I wore the make-up 63 times. And I did 48 consecutive days. And my call time was 2:30 for 3am. The make-up was so delicate that you couldn't sleep, you couldn't just sit there and fidget and go on your iPhone. You had to sit there for four hours. It tested me. But you have to surrender to it. You go into it with patience and a good sense of humour and it gets you through."
Universal acclaim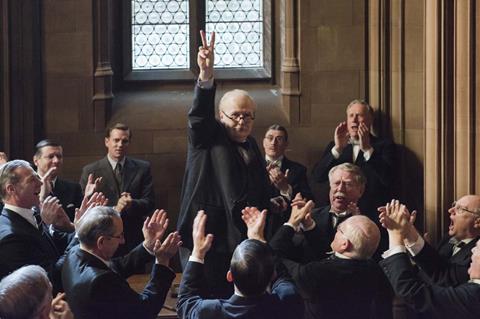 The resulting blend of make-up artistry and Oldman's utter possession of the role has drawn nothing but praise from critics, with the actor receiving a standing ovation after Darkest Hour screened at Telluride Film Festival in early September.
He is now considered the frontrunner in the race for the best actor Oscar, which must feel strange for a man who has only once been nominated by the US Academy (for Tinker Tailor Soldier Spy in 2012), and just twice for acting by Bafta. "Well, it's better than them saying you stink," he says. "I mean, it's odd to begin with, being in a profession that is…" He pauses for a long moment. "Rejection."
It is fair to say, however, that Oldman's absence from nominees' lists over the years is less to do with his own abilities than his professed disinterest in what he calls "the dog-and-pony show" of awards-season campaigning.
"I can't say I've ever lusted for it," he says. "There are people who I don't know how they've done it for so long. That's what amazes me. I mean, how does Meryl do it for so long? What is it, like, 15 nominations? Incredible, right?"
Oldman is not ignorant of the process, or being wilfully naïve — "I know how the game is played and how it works" — but, he confesses: "I still can't get my head around why someone can't just watch it and go, 'Yeah, that's great,' and tick a box and say, 'I vote for that person.'" The entire system, he states, "probably needs an overhaul." He waves his hand around the hotel suite and says: "This will change as well." Travelling the world for press junkets and awards-screening Q&As is not something he relishes. "Even on this one I've suggested doing interviews on Skype rather than schlepping around."
On the horizon for Oldman is a possible return to directing, for the first time since 1997's Nil By Mouth. Based on his own script, Flying Horse is, he explains, "about Eadweard Muybridge, the 19th-century photographer who was the first person to project a moving image. His story is wonderful." Raising the money to realise it, however, has not been easy. "It's period, it's not cheap," he says. "I know how much I need to make it the way I want to make it, and I've turned money down because it wasn't enough. But we may have new partners, and it might see the light of day. Unfortunately, I'm sworn to secrecy and I can't talk about it, but if it all goes ahead as we hope, there will be an announcement soon."
In the meantime, there will be plenty more interviews for Darkest Hour, which Focus releases in the US on November 22, and Universal Pictures International in most territories in January. Winston Churchill, Oldman admits, makes the whole process much more bearable. "In all fairness, I'm not stuck for anything to say because I've been in his company for so long," he notes. "I'm honoured and proud to have played him, regardless of what prizes it brings or not. I got out of it what I wanted to get out of it, and the rest is a terrific bonus."
This feature first appeared in the 21 November 2017 issue of Screen International. Click here to subscribe.