Ahead of the world premiere in SXSW in 24 Beats Per Second on March 13, the director talks to Jeremy Berkowitz about grounding his films in reality, the impact of social media, and titles that start with the letter "A".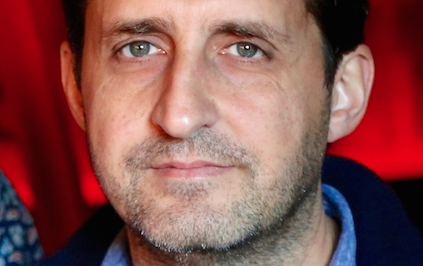 And Punching The Clown is a look into the life of a satirical songwriter Henry Phillips as he struggles to guide his way through his life.
Permut Presentations, Tilted Windmill Productions, and Whitewater Films produce the film in association with Lola's Productions, Kandoo Films & Tunnel Post. Paradigm represents worldwide sales on the film.
How did the idea of a sequel came about?
That's been around for a little while. The first movie [Punching The Clown] was kind of an underground hit. It was at Slamdance [2009]. A lot of people downloaded it illegally. Then we were on Netflix for a while. We had a nice following there. It was enough that we had high profile fans in the comedy world like Sarah Silverman and a few others. And so, after about a year or so we tried to make a series. We were working in development with a big cable network. We were excited about the idea, but ultimately we failed to make that series. It really was similar to the story of what this film is. It was our inspiration for it — the idea that somebody whose attraction is that he's losing all the time. We'll never know why we didn't succeed, but it didn't work out and it gave us the personal inspiration and momentum to say we'll make a feature and we'll base it on this. There's a lot of truth to what's going on in this sequel. Possibly more than the first one, which was about some over-the-top craziness, this one is a little more grounded in reality.
Would you say Henry is pretty much playing himself?
I would say he's more savvy in real life. But he is like this in the sense that he's not aggressive and he's not confrontational. He does perhaps tend to make mistakes — more than one. I do, too. And a lot of people I know do, too. Maybe that's why we feel close to him. He's very flawed. He's not a hero, of course. He's a comic. A road musician. A satirical songwriter. He's been on the road forever. That is his real car we used in the film.
Well, he was great in it. The whole cast was great. Was JK Simmons on board before or after his Oscar?
It was before he won the Oscar. Just before. It was at the time of the Golden Globes and all that. One of our biggest supporters in our first film was Mike Judge. He also has a scene in the film. He thought he could get JK, who's a friend of his, to be in this. So, he sent him an e-mail to check it out. JK watched the first movie, he read the script, and that was it. He was on board.
How did you come up with the social media site "Chumster"?
We thought that was a funny lampooning of other social media sites. The idea being that it's fake. That's a major point in this movie for us is that a big corporation — big entertainment company — decides to tell a story and they may not understand the story they're telling. They may. But also when it comes to comedy they're concerned about internet numbers. Internet numbers are mostly fake. They're mostly wrong. They're erroneous. They're incomplete. They're easily interpreted one way or another. And so, the idea that Henry would be manhandled by this company based on something that he's not able to produce, we thought was very close to reality. This is something that a lot of comics and musicians deal with on a daily basis. The fear of not having enough numbers, hits, or likes.
There's joke in the film about titling films and TV shows with the letter "A" for marketability. Did you always intend to start the film with "And"?
It was in the title of the screenplay at the very beginning. Then later on we changed it. Until we went back to it in the very end. It's kind of a bold statement. I think we find it pretty funny that our producers immediately agreed to it. It was one fight we didn't have with them. I don't know if people will notice it. It was just something that we always found to be ridiculously silly.

People are changing the titles of their shows and movies to something that starts with "A" or a number. This way they'll be the first thing that comes up on a VOD listing. So, we have films that start with "Ah", or the main character's name starts with an "A". I don't want to mention the examples in my head because I don't want to rat on any friends. But it happens so much that it becomes an inside joke. And when we realised how serious the distributors were, we thought it was something that needed a wink in our movie. We gave it that wink.