Having honed her craft with a decade of lauded collaborations, Greta Gerwig strikes out on her own with awards contender Lady Bird.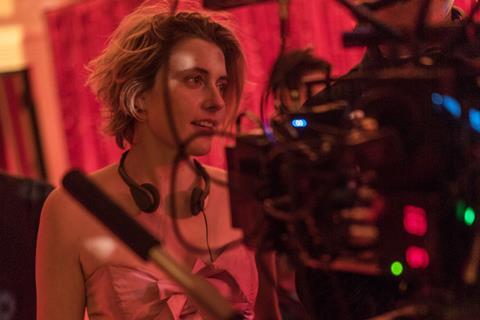 If you don't have a track record as a director, you need a damn good script. Greta Gerwig knew she had the first draft of one, 350 pages long and called Mothers And Daughters. "That's my way. I go too big and then I find the essence and pare it back," Gerwig explains.
This was 2013 and Gerwig did have something of a track record. But it was as an actress and co-writer, first with Joe Swanberg on ultra low-budget, improv-heavy films including Hannah Takes The Stairs and Nights And Weekends (which she co-directed) and then notably with Noah Baumbach on Greenberg and Frances Ha. The latter had been released in 2012 and Gerwig's engaging, deceptively effortless performance had catapulted her from hipster indie favourite to mainstream indie darling. Mistress America, again co-written with Baumbach, crystallised her reputation.
Throughout this time, Gerwig worked on her first solo script, honing and refining down the 350 pages. By 2015, she was meeting with her agents at UTA to put together a list of producers and financiers to show it to. The obvious choice was Scott Rudin, who had been involved with Frances Ha and Mistress America.
But she was initially reluctant to send it to him. "I didn't want to put him in a position to say no," she explains. "I thought perhaps in the future, if things went well, he'd work on my second or third film. But he called and said, 'Could I read it?' And in about 12 hours, he said he would produce it. And it was a tremendously productive, wonderful working relationship."
Gerwig had always planned to direct the script now called Lady Bird. While not autobiographical exactly, the project, set in Sacramento in 2003, was an achingly tender love letter to her hometown, to her awkward, yearning teenage self, and ultimately to her mother. "None of the events in the movie are the events of my life," she states clearly. "I never made anyone call me by a different name and my parents 100% knew I was applying to schools in New York. But there is an emotional core and truth to it in the relationships that feels right to me. It's also a terrible thing to give someone the weight of trying to be me or trying to be my friend, and I always wanted [the actors] to have the freedom to make the person whoever they thought they should be."
While at Toronto International Film Festival promoting Maggie's Plan in 2015, Gerwig met Saoirse Ronan, who was in town to support Brooklyn. She gave her the script to read with no further explanation. "I wanted the script to stand alone as a piece of writing," Gerwig recalls. "Instead of over-explaining what it was, if I wanted a person to be in it, I would just give them the script and they would read it and hopefully have an experience that is as close to watching the movie as possible. I want the writing to be the thing that sells the script."
Leading Lady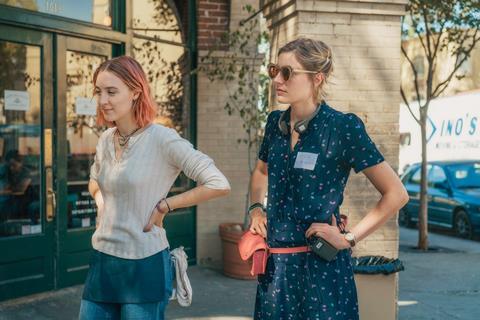 The two women met in a Toronto hotel room and Ronan read all of Lady Bird's lines, with Gerwig reading the rest. "She was instantly perfect and great," Gerwig enthuses of the actress who became the friend she now calls 'Sersh'. "She was about to go and do The Crucible on Broadway so I moved the movie six months for her because I thought, 'She's Lady Bird.' I then built the cast around her."
With the help of Rudin and his producing partners Eli Bush and Evelyn O'Neill, Gerwig was able to secure her first choice for every role, including Laurie Metcalf and Tracy Letts as Lady Bird's parents, Beanie Feldstein as her best friend Julie, and Lucas Hedges and rising star Timothée Chalamet as Lady Bird's potential boyfriends.
While Ronan was on stage in New York, Gerwig gathered her cast together in the city as often as possible, encouraging those who couldn't make it to swap numbers and hang out. "I wanted them to feel connected," she says. "So much of acting is being unafraid to look silly. Because you have to look a bit silly."
Two weeks before production in the summer of 2016, the director invited everyone to Los Angeles for rehearsals and to go through scenes at her apartment. "We would also do things like have dance parties because it's a really good way to get to know each other and I wanted everyone to feel loose and free," she smiles.
Not too free, however. Gerwig didn't want her actors to improvise. "We didn't do any improvisation on the movies I had made and co-written with Noah Baumbach, and that has been the way I like to work best," she says. "I think it comes from my first love being theatre, where the playwright is king. You don't change those words, you figure out how to make them work. You work for them, they don't work for you."
A decade of doing everything she possibly could on different film sets has given what Gerwig estimates to be the 10,000 hours of practice Malcolm Gladwell recommends to become world-class in any chosen field. "I was very lucky to work with directors who knew I wanted to direct and were really open to explaining their process to me, and to work with cinematographers who would show me how they were lighting a scene," she explains. "To me it was the best film school that ever could have transpired."
She didn't just glean technical and artistic smarts. From Mike Mills, for example, her director on 20th Century Women, Gerwig took the practice of ensuring the entire crew wore a name tag every day. "That sounds small, but it's actually huge," she says. "Actors are often brought in when a scene is already lit and ready to go, and they don't have as much time to get to know everyone. To just be able look over at someone, like the key grip, and say, 'Hey Jerry, do you mind moving this thing?' — you can say his name and not 'Hey you!'"
It's not surprising that when it came down to it, what Gerwig drew on the most was her experience as an actor. "The advice I would give to any director, particularly young directors, is that you should act," she says. "You should spend time acting and working with actors. A lot of directors spend a lot of time getting very good at technical things and imagining things visually, but they've never really learned how to direct a scene. The benefit of acting is that you know what you are asking of someone and you know how bloody hard it is. It's also vulnerable and scary. So many directors just get an actor on set, and they haven't talked to them, they haven't looked at them, and they say, 'Ok now, do it.' Your actors are the lifeblood of the movie. It doesn't matter how good a shot looks, the lifeblood, the thing that people will connect to, is these people."
Taking flight
The intimate scale of Lady Bird is so far proving no handicap to its awards momentum, winning best film and actress from the New York Film Critics Circle and earning four nominations from the Independent Spirits, including best feature. A24 has achieved sizzling box office with its platform release Stateside, and had reached $16.8m at press time. Focus bought foreign rights, and Universal Pictures International begins its rollout in February.
Gerwig is now writing another script that she will direct and is also keen to direct something she didn't write. She showed Lady Bird to her parents and brother in Sacramento just before it premiered at Telluride and beams that her mother loved it. "She obviously knows how much of it was made up," says Gerwig. "Which was a lot but… there are definitely little bits. One person's coming of age is another person's letting go, and letting go is hard. You have raised this baby in you and then they are leaving and you think, 'Are they ready? Have I done my job?' And you never know."