The short film director won the XX award at London's Underwire Film Festival.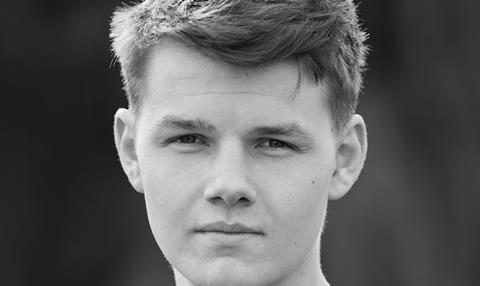 At the ripe of age of 21, Jimmy Dean has already directed two award-winning shorts, and met one of his idols.
The recent University of Westminster graduate has made two films with writer/producer collaborator Ellie Gocher, 2014's Charity and 2015's Offside.
When Charity won a prize at the Greenhorn Short Film Festival, it was presented by Mike Leigh who he says has been "such a huge influence on me." Leigh was even generous enough to offer technical advice for the next film (some tips on sightlines).
Now Offside has won the XX Award — sponsored by Screen International — for best female protagonist at the Underwire Film Festival in London. After a recent showing at France's Poitiers Film Festival, Offside will next screen at the London Short Film Festival in January.
Offside stars Sydney Wade as Kirsty, an 11-year-old girl who feels isolated as she's forced to leave the boys football team because of age regulations, at the same time as she's getting her first period. "There are issues of coming of age, isolation, misunderstanding each other," Dean says.
The XX Award is evidence of the film's strong portrayal of girlhood on screen. Writer/producer Gocher told Dean "she used to watch her brothers play football and there was a girl on the team. One day she just wasn't there anymore and nobody explained why. It was an interesting backdrop to explore more issues," the Ipswich-born, Harrow-based Dean explains.
Dean says he had "the acting bug" as a youngster, but "it never quite panned out and by 17 or 18 I realized that I wanted to be behind the scenes." He studied film at TV production at Westminster, where he met Gocher.
Perhaps because of his background, he loves to have a close hand in casting and also working with his actors. He found Wade, repped by Curtis Brown, on Spotlight and after seeing her submission tape, he said, "We just knew that's the one." He "had a kickabout with her to make sure she could play football" (she could).
Before the shoot, "We met up, we chatted for hours, it was gaining that trust and also playing a bit of football." Wade didn't need much coaching for the performance, he noted. "She's so great, it was more about creating that environment she can enjoy working in."
The film was shot over seven days in Milton Keynes, where Gocher grew up. It was financed mostly through family and friends (and Gocher's mother even sold £500 worth of cakes).
Dean pitched against other classmates to direct Gocher's script not necessarily because of the female lead, but because of the strong story. "To me it was never, 'Oh, this is a woman's story,' it was just a great script." But he is glad to work on a project that has a "make that positive effect" in the struggle to get more women represented in front of the camera.
At the Poitiers Film Festival in France, he recalls, "one great comment came from a 17-year-old girl who came up to me to say, 'thanks for being a feminist.'"
Now Dean and Gocher plan to collaborate together again and have a number of projects in development. They plan to do features eventually but want to hone their craft on more shorts first. "We will keep plugging away…making films is way more important than money," he says.
To view the Charity short click here or the Offside trailer here.