For veteran Finnish director Jorn Donner, his latest project Armi Alive! - which world premieres as the closing film of the Goteborg International Film Festival - was much more than just another credit to add to his already long list.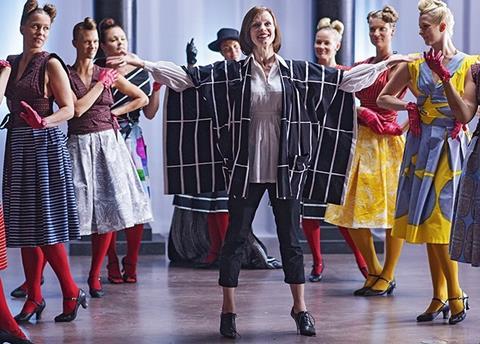 "It was a labour of love," says Donner of the film, which tells the story of business woman Armi Ratia, (1912–1979) one of Finland's best known entrepreneurs.
Ratia, who died I 1979, created the iconic design company Marimekko, of which Donner was himself a board member, having become friends with Ratia in 1967.
"She was a fascinating, colourful, paradoxical, and mysterious character," says the director, who rather than making a straight biopic, decided to tell her story through the form of a "meta film" which centres around a theatre company that is preparing a play about Ratia's life between the years 1949 and 1968 when she founded Marimekko.
It enabled him to "emphasise the show like features of Armi's life and action, and tell something essential about her life's work," whilst also highlighting some of the challenges faced by Ratia in her role as a business woman in the 60s and 70s.
Minna Haapkylä stars as Ratia in the film, which is produced by Helsinki based production company Bufo and funded by the Finnish Film Foundation. The film is being released in Finnish cinemas March 20th with an international sales company yet to be appointed.
As one of Finland's most outspoken directors - Donner's most famous credits include Portraits of Women (1970) and Fuck Off! Images from Finland (1971) -– it's no surprise that he was drawn to a woman who herself fought against the system within which she operated.
"She struggled against her family, against banks who allegedly wanted to take her money, and against the conventional idea of beauty. At least in the last respect, she had a very sophisticated taste," says the almost 82 year old director, whose last film was the 2009 feature The Interrogation, and who remains the only Finn to have won an Oscar for producing Ingmar Bergman's Fanny And Alexander.