The actor-musician is up against La La Land and Moana for this year's original song Oscar with 'Can't Stop The Feeling' from Trolls.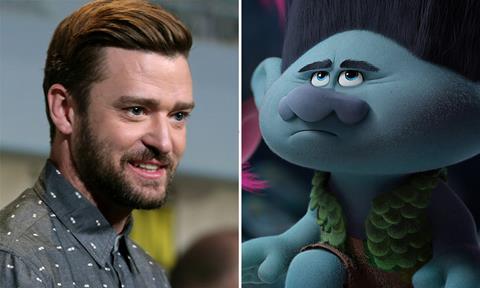 While signs all point to a big night for La La Land at this year's Oscar ceremony on February 26, one person looking to spoil the party for Lionsgate's juggernaut in at least one category is Justin Timberlake.
The actor-musician is vying in the original song category with 'Can't Stop The Feeling' from DreamWorks Animation's Trolls, which he co-wrote the music and lyrics for with Max Martin and Karl Johan Schuster.
'Can't Stop The Feeling' reached number one in 17 countries, including the US (Timberlake's first number one in a decade there). At the Oscar ceremony, the song is competing for the original song Oscar against 'Audition (The Fools Who Dream)' and 'City Of Stars' from La La Land, 'How Far You'll Go' from Moana and 'The Empty Chair' from Jim: The James Foley Story.
In addition to being an executive producer on the Trolls soundtrack, Timberlake was a member of the film's voice cast, alongside Anna Kendrick, Russell Brand and Zooey Deschanel.
How did you come to be involved with Trolls?
It was sort of a simultaneous pitch. DreamWorks brought me in and said that there was a character that they wanted to pitch to me for their new animated film. They had this crazy, 20-minute, elaborate pitch. They showed me animation they'd already tested. They already had Anna Kendrick's voice in there. After the pitch was over, they asked me to be responsible for all of the music.
As executive music producer, what were your key marching orders?
Writing original music like 'Can't Stop The Feeling', and to produce arrangements of cover songs, like 'September' and 'True Colors'. The challenge was to make the songs unique, not only to the scene that they're in but to try to put a fresh spin on them and introduce them to a new audience.
Did you encounter any difficulties along the way?
There were some medleys I worked on that got cut. There was a medley that was supposed to be for Poppy's coronation, but the scene ended up being a celebration of being freed from the Bergens. There was another medley about friendship and camaraderie but the scene had to be cut because of time. We tried to be really judicious with our music choices. Anything that didn't move the plot forward with song, we cut.
Where did the idea for 'Can't Stop The Feeling' originate?
It was written for the scene that it's in. DreamWorks wanted a song that brought the message of the movie home and united all the characters. [The scene] had action to it as well, so we knew it needed to be upbeat. They gave me a list of criteria and then we just started digging in. It's easy to be overwhelmed by trying to macro-manage that list of expectations. You just start diving in and that's what we did.
How does it feel being a first-time Oscar nominee?
It's not everyday that you have a song that debuts at number one. The nomination just feels like a cherry on top, but how the whole world responded to the song blew me away.
What's next for you?
I shot Woody Allen's next film last year [currently titled Wonder Wheel]. It's an ensemble cast with Kate Winslet, Juno Temple and Jim Belushi.
Is Spinning Gold, the biopic of music mogul Neil Bogart you were attached to star in and produce and that was introduced to international distributors at Cannes 2013, still happening?
I hope so. We've been trying to chip away at it. I'm not sure how we want to go about it so right now we've been just chipping away at the material, working on the script, having conversations.