The Georgian filmmaker, a former Crystal Globe winner at Karlovy Vary International Film Festival for Corn Island, prepares to unveil his latest film in Official Competition.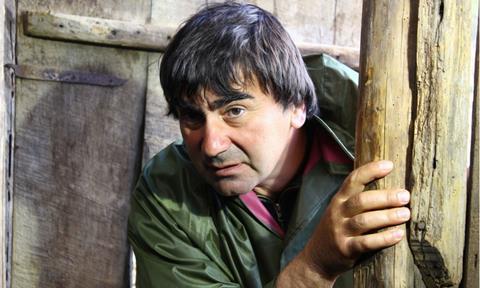 Georgian filmmaker George Ovashvili has a long and storied history with Karlovy Vary International Film Festival. His debut feature The Other Bank premiered in KVIFF's East of the West strand in 2009. In 2014, he returned with his second feature Corn Island which went on to take the festival's top honour, the Crystal Globe, while last year, Ovashvili sat on the festival's main jury.
He is back to vie for a Crystal Globe again with his third film Khibula, which will receive its world premiere in the festival's Official Competition. A meditative story of power and humanity, the film uses the real-life story of former Georgian president Zviad Gamsachurdia as its backdrop. After becoming the first democratically elected president of the newly independent Georgia in 1991, Gamsachurdia was only in power for a few months before being deposed. Fleeing to the mountains with a band of supporters, Gamsachurdia was constantly on the run before dying in mysterious circumstances.
Screen caught up with Ovashvili prior to the festival to discuss his treatment of a complex time in Georgian history.
What made you want to tell this story?
It was something that has been following me all the time, right from the moment these events happened in the real world. At the start, it was following me not as a director but as a citizen of the country, struck by the fact that its much-loved elected president had been deposed and later by the shocking circumstances of his death.
At first, I wanted to know whether his death was a murder or a suicide. Then I realised there was absolutely no need to know the reason for his death. It was a minor question compared to the major one, which is to realise how the social irresponsibility of a whole country can lead to such a big misdeed.
What kind of research did you and co-writer Roelof Jan Minneboo do?
We researched the case deeply and thoroughly. We obtained and studied all existing official and unofficial documents, investigative sources, witness testimonies, materials of the committee of inquiry of the parliament, unpublished records. We visited all the places the president and his group have gone through during their travel, met the eyewitnesses and heard their stories. But we did not do this to be historically accurate; we did it to fully understand the state of affairs and be as objective and unbiased as possible.
The main protagonist is only referred to as Mr President. How important was it to deconstruct some of the myths and legends surrounding this time?
For me this film represents a general idea of a leader's rise and fall. This is a complex and problematic theme that is common for many different epochs and societies. That is why I did not find it necessary to give a name to the main hero. He is a symbol that signifies a man in a difficult psychological state after losing power.
The film went through a long development process. It was part of the Cinefondation L'Atelier in Cannes in 2011 and the 2013 Co-Production Lab in Locarno. Was it difficult to get it to the big screen?
It took me almost 10 years to make this film. No one wanted to finance it. The governmental fund is the only financier for the film industry in Georgia and none of the governments wanted to take a risk and approve this project. I don't even remember how many times Khibula was eliminated from the national competitions. I was revising the script from year to year, but all versions were rejected.
On the other hand, the project was always supported out of the country. I won development money from different foreign funds and I had a real chance to shoot the film with foreign producers much earlier, but I refused. Finally, in 2015, I got the money from Georgia. French and German money was already in place and we made a co-production. The Georgian share was slightly more than the German, but enough for getting the certificate of origin from Georgia. It was very important for me and I am thankful to my co-producers for supporting me in this.
Corn Island was a famously complicated shoot and Khibula also looks like it would have been very complex. Was it as difficult as it appears?
The last journey of Gamsachurdia – in the inhospitable mountains during a severe winter – lasted for two months. The shooting period for Khibula was also exactly two months with 46 shooting days, also in the distant and coldest mountains. During this period, our crew of 100 relocated to three different regions of Georgia five times. The hotels were not close to the locations. More than ten cars carried the crew and the equipment to the locations every day and 12 shooting hours a day were spent mostly in the exteriors, during rainy, windy and/or snowy days and often at nights, having lunch and dinner in the yards of the village houses or in the middle of the forests. It was very, very difficult in terms of planning.
Why did you cast Iranian actor Hossein Mahjoub in the lead role?
We had castings for the lead role in every region of Georgia, among professional actors and among amateurs, but we could not find the right person. So, we decided to spread our search abroad. We contacted all our foreign partners, casting directors and friends describing our needs and asked them to send photos of all possible candidates. We received many photos, but I still couldn't find the right person. For a while we did not have a lead actor and we even had to postpone shooting for two weeks. Finally, the photo of Hossein Mahjoub reached us through a good friend from Iran. I was fascinated with the depth of his face and approved him very soon.
You're a previous winner at Karlovy Vary for Corn Island. What did that award mean to you at the time?
It was the biggest honor and the best achievement in my career. It definitely led me to new opportunities in the industry. Corn Island saw the light of day in Karlovy Vary and the Crystal Globe guided it to the later success, this is for sure.
I do not have any expectations this year. I just love this festival and its unique team and I am happy to go there again and show my new film along with the other films in competition made by much-respected directors. That is exciting.
What are you planning as your next project?
Currently I am developing a script based on a novel by the contemporary Georgian writer – and my good friend – Guram Odisharia. The plot is inspired by the true story of how Georgians escaped the war from [the separatist state of] Abkhazia. It's another serious story.