The Breaking Bad star speaks to Screen about his "working-class" work ethic and collaborating with Richard Linklater on awards contender Last Flag Flying.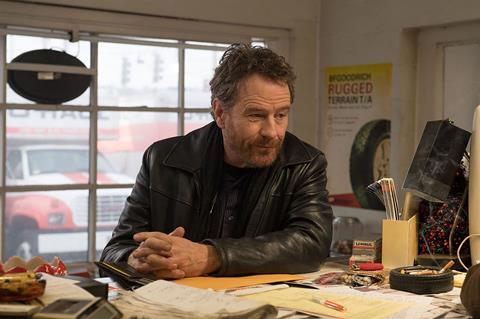 Bryan Cranston has a decade-long hiatus in the development of Last Flag Flying to thank for his role in the film. When Richard Linklater first tried to mount the production, it was a much more faithful adaptation of Darryl Ponicsan's 2005 novel, which was itself a belated sequel to The Last Detail — memorably made into a 1973 film by Hal Ashby, starring Jack Nicholson, Randy Quaid and Otis Young. But Linklater got nowhere with that version.
By the time the Last Flag Flying screenplay (which Linklater co-adapted with Ponicsan) landed on Cranston's desk, it had undergone a significant departure from the source material, notably a renaming of all three principal characters and a whole new backstory connecting them. In other words, Cranston was not being asked to step into Nicholson's shoes.
"I certainly did not go back and watch The Last Detail," he says, speaking to Screen International on a break in rehearsals for his new play Network at London's National Theatre. "Jack Nicholson is so impressionistic anyway. I don't want to have that hanging over me or that I was trying to do an impersonation of him or something. Rick [Linklater] is not that type of person, too. He realised that can't happen. So, change the names and change the circumstances and make some adjustments here and there. Take from the book and story all that is useable, and recycle the rest."
Flying start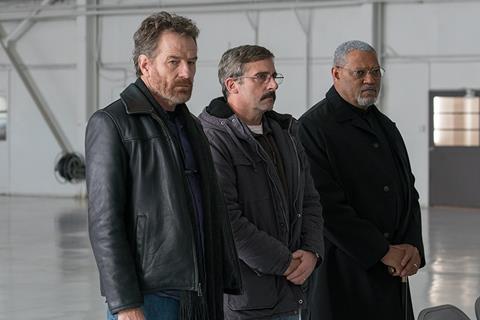 In Amazon Studios' Last Flag Flying, Cranston plays Norfolk, Virginia bar manager Sal Nealon, who is surprised when his Vietnam War army buddy Larry 'Doc' Shepherd (Steve Carell) shows up out of the blue. It emerges that Doc wants Sal to help him track down a fellow veteran (Laurence Fishburne) and then together help him bury Doc's son, who has just been shipped back in a coffin from the Iraq War. What follows is a road movie — by car, rental truck and train — that stops off at many of the same places visited by the original trio in The Last Detail.
According to Linklater, among the principal actor trio, it was Cranston who had an immediate fix on his character: "He was like, 'I know this guy. I know Sal. Boy, I know guys like this.' Sal, he's a guy who's drinking all the time, he's compulsive."
And while Carell had many more questions for the director, notably why does Doc reach out to two men he hasn't seen in 30 years at this critical juncture of his life, Cranston credits his fellow actor — and the character that Linklater and co-writer Ponicsan created on the page — with creating an anchor for his own performance. "If Steve's character wasn't so grounded, my character would just be a nuisance," he muses. "I'm circumnavigating Doc basically. If he wasn't grounded, we're flying off into the universe."
In real life, it is Cranston himself who is famously grounded — a fact that is easy to attribute to his late-achieving success, earning his first Emmy at the age of 52 (for AMC's Breaking Bad) and first Oscar nomination at the age of 59 (for Trumbo). "He's a guy who worked really hard to get where he is," remarks Linklater. "And he's very gifted. Just a superb actor's actor kind of guy. Can do anything. He's got this huge range."
Saying yes to Last Flag Flying was an easy decision for Cranston, given the directorial attachment and the other two lead actors. "In fact, that's what my wife's answer was," he smiles. "She said, 'You can't say no to this.' It was clear. It was 100%."
Having signed on for the part, Cranston bonded with his director over a shared passion for baseball — they both played at college — and the actor acknowledges the war between the sports jock and the creative artist that exists in both himself and Linklater. "I've got a foot in both worlds that don't often understand each other," he says. "But there are some people who do get the connection. The sense of work ethic that you need to have in order to compete at a level that you want to compete. As far as creativity, no, it's a different side of the brain."
Sum of the parts
Linklater gained a greater understanding of his star when Cranston offered him a copy of his own memoir, A Life In Parts (2016), which the director read on weekends during the shoot. "His book is a great portrait of an actor coming into being — where an actor comes from, how hard you have to work, how much you have to believe in yourself," says the filmmaker. "His thing is just a deepening, deepening, deepening of self."
In Last Flag Flying, the three reunited friends soon discover the US Army's account of the death of Doc's son is far from the true picture — but is its concocted narrative of heroism there to serve the grieving family members, as the army suggests, or, in fact, its own mythology? Cranston's Sal is a wrecking-ball truthteller who calls time on the deception, but he then has his own values challenged when the trio stops off in Boston to visit the mother (Cicely Tyson) of a fallen comrade.
"There's nobility in being an honest person," says Cranston about this key theme of the film. "And yet, is there, if it doesn't help someone? That's what Sal learns, that's his journey. The movie explores those elements of what is commendable behaviour. It illuminates the ambiguity of war itself. Is everybody a hero? Well, sort of, yeah. But that's life itself. It's the ambiguity of life itself that we're not destined to know everything."
While the film unfolds at the time of the capture of Saddam Hussein in December 2003, the shoot, which coincided with the final stages of the 2016 US presidential election campaign — the so-called 'fake news' election — took on an extra resonance. "What's great about it is to know that the elements we were dealing with are as resonant today as they were 10 years ago [sic], when the book was written," says Cranston. "What is real? What is not real? What are we being told? Who are we to believe? These are questions that happen all the time."
These are topics Cranston is also exploring in avant-garde Belgian theatre director Ivo van Hove's Network, adapted from Sidney Lumet's Oscar-winning 1976 satire of network television news, which runs at the National Theatre through March 2018. That month will also see the US release of The Upside, the remake of French smash Intouchables in which the actor stars alongside Kevin Hart and Nicole Kidman (though that could be affected by turmoil at the film's US distributor The Weinstein Company). For Wes Anderson, Cranston has voiced a canine in Isle Of Dogs, likewise due to roll out in several territories in March through Fox Searchlight.
"I'm from a working-class family. Embedded in my psyche is the term, 'Make hay when the sun is shining,'" notes the actor of his hardy work ethic. "What happened with Breaking Bad changed my career and gave me opportunities that I didn't have before. So, I'm taking advantage of it. I fell in love with acting when I was 19 years old, and I think about it [all the time]."