Screen discusses Rotterdam world premiere, about a far-right party, which has stoked controversy in France.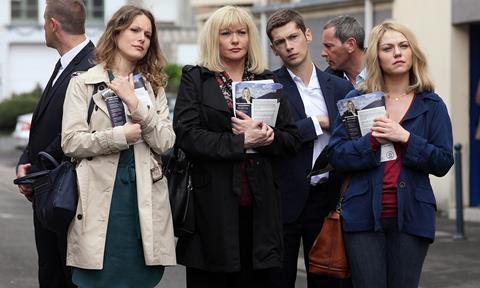 Lucas Belvaux's political drama This Is Our Land (Chez Nous), about the tactics of a far-right party to win support in a depressed northern French town, world premieres at the International Film festival Rotterdam on Monday (Jan 30).
Due to be released in France by Le Pacte on Feb 22, the timely film comes out in a hotly contested presidential election year in which far-right National Front leader Marine Le Pen is being viewed as a strong candidate following other populist victories such as Brexit and Donald Trump's election as US president.
In This Is Our Land, Emilie Dequenne stars as home-care nurse Pauline who is enticed into running as a candidate for a far-right party. Like the National Front, the party is led by an ambitious, blond female leader played by Catherine Jacob and is in the process of trying to outwardly distance itself from its racist and fascist roots.
The picture shows coaching sessions where canvassers are told to smile, always be friendly and use words like "Islamist" rather than "Arab" when talking about the party's aims and manifesto.
Behind the scenes, Pauline unwittingly finds herself caught up in a web of political intrigue when she rekindles a relationship with a childhood boyfriend, played by Guillaume Gouix, who unbeknown to her is a member of a neo-Nazi vigilante group.
Other cast members include André Dussollier plays a respected doctor and Machiavellian right-wing politician who recruits Pauline.
National Front response
The film has already stoked the ire of National Front politicians who reacted fiercely to a first trailer which went up online on Dec 30.
Belgian, France-based director Belvaux views their reaction as strategic.
"At first I thought it was a stupid reaction because it only served to publicise the film which until then hadn't had much attention. On reflection, I came to understand that actually they were only trying to talk to their voters, to discredit the film and stop them from going to see it."
"Their second aim was to plant three or four ideas that followers could reuse on the social networks, such as that the film is made by intellectuals who know nothing about their reality and that it was paid for with public money and paints FN supporters in a bad light as racists, alcoholics and stupid – none of which is true."
The filmmaker reveals he actually started mulling the idea of a film about populist politics during the shoot of his last picture Pas Son Genre, starring Emilie Dequenne as a small-town hairdresser who gets involved with a philosophy teacher, in the northern French town of Arras in late 2013.
The traditionally left-leaning area, a former industrial hub now in decline, was gearing up for municipal elections and the opinion polls were giving France's far-right National Front a 30 to 35% share of the vote, depending on the town
"I started looking at people on the street and on set – all of whom were nice, intelligent and hard-working – and asking myself whether they were considering voting for the party? Given the statistics some of them had to be," says the director.
"It really troubled me that there were people who were prepared to back a party that was so violent, brutal and lacking in perspective and with such a terrible history. I really liked the character played by Emilie. I had a lot respect and affection for her. I found myself asking which way she would have voted."
"Populist advance"
Further inspiration for the screenplay came from French writer Jérôme Leroy's political thriller Le Bloc and research into the activities of the National Front and more extreme far-right groups such as the Neo-Nazi movement La Maison Flamande.
"It's a fictitious tale but it's based on real facts. The scene where the women is threatened by kids in the street when she pulls down a National Front poster is based on something that happened to a friend of mine," says Belvaux.
"The real incident was a lot more violent but I didn't dare put that in the film because I felt people would say it wasn't true," he adds. "You've got to ask yourself what kind of party provokes this sort of reaction. It something we urgently need to speak out about right now."
"These extreme right, populist parties advance when we fail to defend the principals and values – whether we're to the right or to the left — of democracy and humanism on which Europe was built after the war… These parties don't appeal to reason or intelligence but rather gut-feelings and fear."
At Rotterdam, where Belvaux also world premiered 38 Witnesses as the opening film in 2012 – This Is Our Land will play in the Big Screen section.
"I'm glad it's premiering there because the Netherlands is a country where populism is also on the rise and where there are strong debates around the subject of natural identity and Islam and laicity too," says Belvaux.
Looking further ahead to its upcoming release in France, he adds: "I hope it's going provoke debate during the election campaign about what this party really is in reality, to give another perspective, that it's not a party that can necessarily change things any more than the next party, and also recall that at the end of the day it's a fascist party — we need to remember that from time to time."