Arguably India's biggest film star, Aamir Khan has had a prolific year as a producer, with Peepli Live named this year's Indian Oscar submission. But he also chose to star in his latest production Dhobi Ghat and, Khan tells Mike Goodridge, he wants his fanbase to know what to expect when this low-budget art film opens next year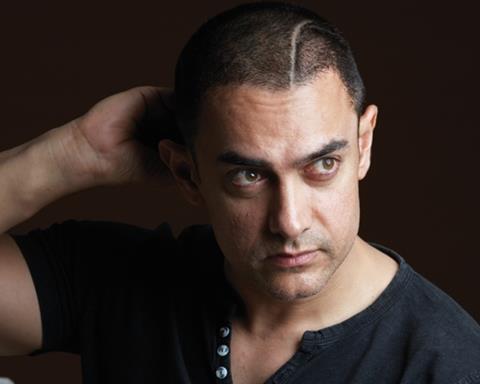 It is unusual for a major film star to discourage his fanbase from seeing one of his films, but India's Aamir Khan wants fans of his blockbuster movies such as 3 Idiots and Ghajini to know what they are getting before they rush to see Dhobi Ghat, which opens through UTV on January 21.
"I don't want the wrong audience for the film to come in and feel disappointed," he explains on a recent visit to the UK. "If we released it like a big film, it would have a huge opening because it is my first film since 3 Idiots. But I don't want to do that because, quite honestly, it's not meant for that audience.
"I think if our communication is honest with the fanbase, they will be fine with it," he says. "Then if they still want to come, they can… The box office will be much smaller than for the big films. In fact, we'll have to work actively towards making it much smaller."
3 Idiots is the highest grossing Bollywood film of all time in India, so Khan took a risk picking a role in the ensemble of his own production Dhobi Ghat, a small, nuanced art film addressing issues of class, alienation and loneliness in contemporary Mumbai. It also happens to be the feature directing debut of his wife Kiran Rao, who was initially not keen on him appearing in the film.
"She wanted it to be very raw and with no known faces in it, and I agreed with her actually," he explains. "But then she was having trouble with the casting and I tested for the two main male parts, not for me to play either but because it might help her see somebody perform the scenes."
Rao ultimately cast Prateik Babbar in the younger male role and her husband as Arun, a painter who has trouble with relationships and commitment.
Nearly half of Dhobi Ghat is in English, the rest in Hindi, and Khan speaks exclusively in English in the film. "Most Indians don't know English and a lot of them don't read," he explains. "Certainly no film has ever been released with Hindi subtitles. If you have an English scene playing on screen, you don't have Hindi subtitles. So we have to tell audiences, if you don't know English, this isn't the film for you."
Dedicated audience
Khan laughs when he recalls the film's premiere screening at this year's Toronto International Film Festival. "Some 80% of the audience was Indian and they hadn't really come to see the film, they had come to see me and that made me nervous," he says. "When I walked in, there was screaming and shouting and this mad stampede outside the theatre and they wouldn't let [festival director] Cameron Bailey speak when he was introducing the film. It was as if they had come for a live concert. They seemed to like it, which was most encouraging, but I still think that back home it will have a very limited audience."
Dhobi Ghat is one of three films backed and produced by Khan's Aamir Khan Productions within 18 months. Political satire Peepli Live, which has been selected as the Indian submission for the Academy Awards this year, has already been released in India and around the world (Artificial Eye handled it in the UK, for example). Dhobi Ghat will open in India in February 2011 and English-language comedy Delhi Belly will be released in India in May 2011.
Khan's company is obviously playing a key part in the renaissance of Indian independent cinema. "Indian art cinema hasn't been very vibrant in the last 20 years," says Khan. "In the '70s and '80s when we had directors like Shyam Benegal and Govind Nihalani and actors like Naseeruddin Shah and Om Puri, parallel cinema, as it is known, was fairly vibrant but it was very reduced in the 1990s. But now it is coming back with newer directors like Anurag Kashyap and Dibakar Banerjee."
"There is an audience for those films. Kiran, for example, knows which audience she is talking to with Dhobi Ghat. It is a smaller audience with a certain kind of sensibility but it does go to the movies. It's also a hidden audience in the sense they don't go to the big mainstream films, so you need to tap them out and tell them, 'This is for you.'"
Factfile
FILMS PRODUCED BY AAMIR KHAN
2001: Lagaan (Dir: Ashutosh Gowariker)
2007: Like Stars On Earth (Taare Zameen Par) (Dir: Aamir Khan)
2008: Jaane Tu… Ya Jaane Na (Dir: Abbas Tyrewala)
2010: Peepli Live (Dirs: Anusha Rizvi and Mahmood Farooqui)
2010: Dhobi Ghat (Dir: Kiran Rao)
2011: Delhi Belly (Dir: Abhinay Deo)