Passion Pictures' John Battsek and Red Box Films' Simon Chinn talk to Sarah Cooper about their new UK producing partnership formed for Oscar winner James Marsh's next film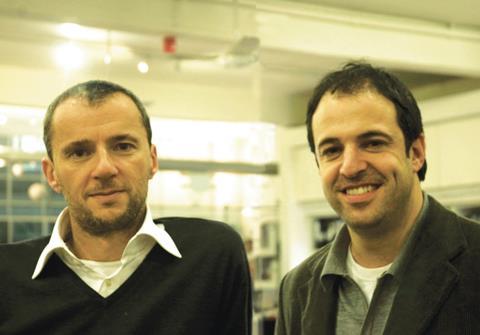 It was at the Sheffield Documentary Film Festival in 2008 that Simon Chinn told John Battsek he was looking for a producing partner for the latest James Marsh project.
"I had just started talking to a couple of financiers, I was in the process of optioning the book. We started talking and it seemed like the right fit," explains Chinn, who had previously sought advice from Oscar-winning UK documentary producer Battsek while making his debut feature documentary Man On Wire.
"To present ourselves as a team might make us more attractive to the feature doc-making world"

John Battsek
According to Battsek, the proposition was a "no-brainer".
"In the back of my mind, I was already thinking ahead - the marketplace is probably shrinking, Passion Pictures has a 10-year track record, Simon had just made this phenomenal film, and to present ourselves as a team might make us more attractive to the feature doc-making world," he says.
"John has had lots of people wanting him to produce their film for many years," continues Chinn. "I'm now in the fortunate position where people come to me. So we thought 'Why not share our resources and brainpower to co-produce the docs we do.'"
The working relationship
A year on, and Chinn, whose one-man production company is called Red Box Films, is based in Passion Pictures' London office where the pair are working on a number of projects including the latest Marsh feature, details of which are yet to be revealed.
The project is being funded by BBC Films and the UK Film Council. Icon is handling international sales and has pre-bought the UK and Australian rights to the project, whose completion is timed for the 2010 autumn festival season.
Although the pair are not ruling out TV documentary features, the focus of the partnership will be on producing features for the big screen: "We have both made a business out of it and I'm not sure there is anyone else in the UK who concentrates on it like we do," says Battsek.
The pair are also executive producing The Warlord's Wife, a feature documentary about an aid worker who died in mysterious circumstances in Sudan in the 1990s, which is in the financing stage.
"The ability to profoundly move an audience is that much greater making a feature doc which involves real people telling their story."

John Battsek
Battsek has two Passion Pictures films in competition at the upcoming Sundance Film Festival: Amir Bar-Lev's feature documentary I'm Pat Tillman about the American footballer enlisted in the US military and later killed by friendly fire, and the first feature documentary by The Perfect Storm author Sebastian Junger and photographer Tim Hetherington, Restrepo, about soldiers fighting in Afghanistan's Korengal Valley.
Although Battsek and Chinn are happy to dabble in fiction features, their hearts lie firmly with documentaries: "The ability to profoundly move an audience is that much greater making a feature doc which involves real people telling their story. You could offer me a million quid to produce Charlie's Angels 4, and I'd still make I'm Pat Tillman," says Battsek.
Looking ahead, the producing duo are keen to attract film-makers with "stories with the potential to work not just aesthetically but commercially", says Chinn.
"This isn't tunnel vision though," adds Battsek. "We've got a good understanding of what's got the legs for theatrical. These days everyone thinks their docs are theatrical, but a lot aren't."
But when it comes to defining what makes a documentary 'theatrical', the pair do not have the definitive answer. "There isn't one particular thing, but I know the kind of stories I want to see. They are films that work as narratives, and the documentary label becomes incidental," says Chinn.
"And anything by Michael Moore," laughs Battsek.
John Battsek
Battsek worked as a film publicist for 10 years at Palace Pictures and then Working Title Films. In 1997, he produced The Serpent's Kiss, which he says put him off making fiction features.
While watching the 1996 documentary When We Were Kings, Battsek found his true calling: "Literally half way through the movie I thought,

Œ

I want to make one of these.'" l In 1997, Battsek set up the film and TV arm of animation company Passion Pictures, which was run by his school friend Andrew Ruhemann.
In 2000, Battsek won an Oscar for his debut feature documentary One Day In September, directed by Kevin Macdonald. He has produced more than 20 feature documentaries.
Simon Chinn
Chinn began his producing career making documentaries for the BBC and Channel 4.
In 2005 he co-produced the Bafta-winning TV drama The Government Inspector for independent production company Mentorn, before leaving to develop his own ideas.
Man On Wire (2008) came about after Chinn overslept one morning and heard high-wire artist Philippe Petit on the radio.