SCREEN SUBSCRIBERS: Jeremy Lalonde takes the coming-of-age formula and turns it on its head: what if the protagonist was a confident teen gazelle who becomes a Sex And The City-style big city writer and the plot was about her return to her hometown to plan an orgy?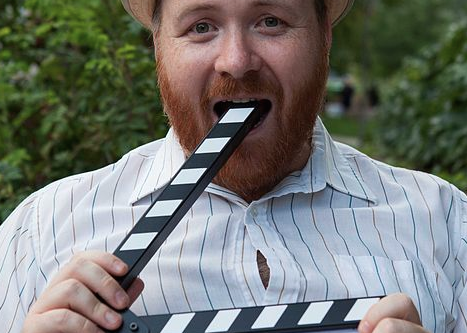 The film premiered at the Atlantic Film Festival last September and the Canadian director spoke to Angela Lee about his feel-good comedy ahead of the US premiere at Slamdance on Friday.
He explains how he fleshed out the script, adpoted a democratic approach and worked with a supportive cast to produce a film that is nothing short of outrageous, awkward and heart-warming. Double Dutch International handles sales outside Canada, where Northern Banner distributes.
Tell me a bit about yourself. How did you get into filmmaking?
I got into filmmaking because I couldn't do anything else. I mean that. I've always told stories ever since I was a kid. For me it was, 'How do I tell those stories?' For some reason or the other, film was the medium that spoke to me stronger than others. I tried my hand at being a playwright and a couple of other things, but this is what seemed to stick. I got into film through trial-and-error, making my own stuff with my friends and then slowly moving on to bigger and better things.
How did you come up with the script?
I'm from a small town. I wasn't involved in any orgies there, but originally the concept for the movie was just how to plan an orgy: twentysomething living in the city. When someone asked me what I was working on after my last film, I decided to pitch it with the small town aspect. And it just kind of riveted, just kind of popped and came alive. Because it was set in a small town, I could instantly see how it was interesting for me in terms of being an awkward comedy, which I think sets up how things would be in terms of relationships and when you think about having an orgy with people you grew up with and knew you since you were five and you had all those awkward moments with – it all came together very quickly.
The main character is about coming back after being gone for quite a while. I live in the city now and when you go back there's a different feeling for the people who live there now. I have friends and family still back there. You see how their mentalities have changed and people change or stay the same to their advantage or detriment and want to explore those ideas as well.
Where are you from and where do you live now?
I am from Cayuga, Ontario, and now I live in Toronto.
What was working with your cast like? Did any of them have issues with the sex scenes?
It's not a giant high-budget movie, so no one was doing the movie for the money, that's for sure. So I think they also signed on because they liked the challenge of it. They really liked the script and the characters. For me, for all of that stuff, it's really important that we approach that together and it's not just me dictating what's going to happen in terms of what they see and what they do. Some of those sex scenes initially didn't have as much detail as they had in the finished film. They were more loosely written, and when the cast came on board I would have a chat with them and they would get flushed out – no pun intended.

You have a reputation for being an actor's director. Can you elaborate on that?
I think that just means I don't treat the cast like puppets. It's part of what I said before, like how we were going to approach the sex scenes. I'm a big supporter of the best idea wins and that extends through every process of filmmaking. I like to consider myself a collaborator in the true sense in that I don't want to just tell them how to do something. I want their ideas. I like to hire smart actors and I like to give them freedom and discover and play and I'll step in when I need to and we'll chat about it. I give them freedom to discover things on their own but I'm there in a heartbeat with a million ideas of my own the second something's not working.
Did you let the actors in some scenes go with their own dialogue?
Yes. Some of my favourite lines in the movie were stuff that we found on that day that we played with and added in. I always put in lines in the demo we're shooting and sometimes I'll come up with a riff on something. We'll always shoot the script but I like to leave a little room for inspiration. And part of it too, is the words I wrote – let's make it better. If there's something that's more honest or more true to the situation, sometimes the location you're in, or the wardrobe or a prop, something will just spark a new idea I wouldn't have thought of sitting alone in my writing room. So a part of it is being open to the process and open to the inspiration based on what's around you and not being closed off to the thoughts you had amongst earlier on page or paper.
What stage in the script did you start finding your protagonist and the characters portrayed in the film?
Pretty early on. The script went through a couple of iterations in terms of cast design. At one point she had a step-dad that was sticking around, but then I tried listening to people enough to know that would be awkward and weird to have her step-dad be in an orgy. So I leaned more toward the mayor character. The biggest change happened a few months before we shot. There is a character named Chester in the movie. He was originally supposed to be twenty-something, and I didn't have any great cast cameos for that. I just sent the script to Jonas Chernick, who is a comedy producer-writer-actor in his own right. It's only helped that he thought Chester should be older and he should play it. And he was right. I was looking for a way to work with him anyway. Once we did that it was like the best idea wins, and that was the best idea for that character. Jonas was being very self-serving but he was also right, and I'm really glad we did it. That required a bit of a rewrite as well. A lot of [the script] came pretty early on. I have a pretty attuned ear for dialogue and character. And especially a lot of these people are based on observations of people that I know.
Who financed the film? Were there any budgeting issues?
Not really. We were really lucky to be supported by the agency in Canada called Telefilm, who are a government-funded body. They came on board for a good chunk of the budget and we did crowdfunding for the rest.
How long did it take to shoot the film?
We took 18 days. It was three days more than I had in my last film. It was enough. It was me being very focused especially with that large of a cast. It was a unique challenge but it makes you get down to brass tacks.
When was the film shot?
We shot last November 2014.
November's a cold time.
It was. That was another challenge that we had a season change in the middle of the shooting. Luckily we shot all the exterior shots at the beginning of the schedule and ended up having a storm the second week of shooting. If we hadn't had shot all of our exteriors it would have totally screwed us from being able to make it work but it was not ideal. But you can't tell when you're watching the movie. Our general philosophy is that you can sit around and be upset or you can figure out what to do next and make it work.
Were there any other challenges making the movie?
Nothing outside the regular challenges. The cast was really fantastic. It was herding cats some days when all of them were in, but in the best possible way because they all got along so well and we all became this little family and had each other's backs.
What's the next step? Any new projects?
We're releasing this at Slamdance with a Canadian distributor. We've been selling it around the world with our sales agent. And then hope to figure our US stuff slightly after Slamdance depending on how that goes. We're gearing up with a couple of projects in development. We're looking to shoot potentially two back-to-back [films] if everything goes to plan. We're hopefully going to camera with something in the spring and then hopefully in the fall, if everything lines up properly. I don't want to give any specifics yet because I hate jinxing myself.
Will you be sticking to the comedy genre, or do you have any plans delving into drama or other genres?
I think anything I do will have a hint of comedy. It's necessary to have some levity in everything. I grew up with those kinds of movies; that's what excites me as a storyteller. But I'm also a nerd. I like your big tentpole movies just as much as anyone. I like to think of myself as an audience filmmaker. I like to make movies that I want to see, and movies that I can share with people, and movies that I can connect with people. And comedy is a strong way to do that. I think that it's underappreciated in a lot of ways. I know what's been really rewarding is that people will come up to you and let you know how much it meant to them and that they were having a bad day or a bad week and it helped them get through it and help them distract them from their problems for a little bit. I think that's a really powerful thing that I'm proud to be able to do and help people with.
When audiences see your movie at Slamdance, what is the message you want them to take away?
For me this film it's about being comfortable with who you are and not to worry about people's expectations of you.
Anything you like to add?
You can follow the film on Twitter and Facebook page. We'll post up dates as we have them. We're looking to release sometime in 2016.