The Anonymous Content CEO discusses his career ahead of a ZFF lifetime honour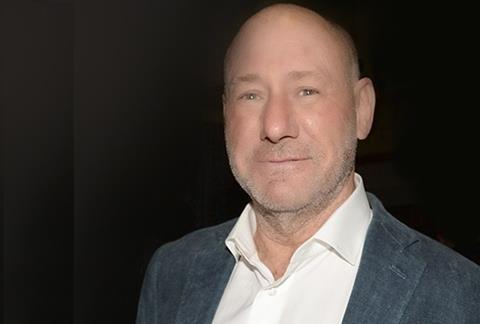 Anonymous Content CEO Steve Golin has had a long and illustrious career but ahead of his Zurich Film Festival Career Achievement Award the industry veteran has never felt more energised.
"I'm glad to get this award at a time when I feel like we're making some of the best films and TV I've worked on in my career," Golin told Screen ahead of Zurich screenings for Anonymous Content-produced features Spotlight and The End Of The Tour as well as TV series Mr. Robot.
"It's very flattering but you also hope there's a lot ahead of you," said the LA-based producer, who set up powerhouse production and management firm Anonymous Content in 1999 after a 13-year stint running iconic Propaganda Films.
Golin's CV is littered with film and TV highlights, from David Lynch's Wild At Heart and Spike Jonze's Being John Malkovich to Michel Gondry's Eternal Sunshine Of The Spotless Mind and HBO series True Detective.
This year the producer's charges Spotlight and The Revenant are among the buzziest films of the season.
Indeed, the bookmaker's have both films at the head of the betting for the Best Picture Oscar.
Spotlight
Tom McCarthy-directed investigative journalism drama Spotlight, whose ensemble cast includes Rachel McAdams, Michael Keaton and Mark Ruffalo, was one of the best-received films in Venice.
The film was far from a slam-dunk, however (as corroborated by director McCarthy when Screen spoke to him prior to Venice).
"There were a million challenges," admits Golin. "The bullseye on those films is very small and if you don't hit the bullseye like Tom did then you're screwed. It's a high-wire act without a net."
"Making the schedule work and getting the actors was a struggle. It wasn't an expensive movie but it wasn't cheap either. And it's a drama. Everyone knows that drama is something of a dirty word: you know that if you don't make a great movie you can easily lose your money."
After four well-received indie dramas, director McCarthy's hot streak had also just ended on Adam Sandler flop The Cobbler.
"Any director that makes five movies is likely to make one that isn't as great as the others," recognizes Golin.
"The Station Agent, Win Win, those were good movies. For whatever reason, The Cobbler didn't work."
"But we were working on this film even before I ever heard of The Cobbler so we were already pregnant with Tom and he was pregnant with us before The Cobbler came about.
"We had done some presales so that wasn't made much easier but we got people over that hurdle. We're very proud of the job Tom did."
The Revenant
In a year that has to date lacked an obvious prestige powerhouse in the vein of 12 Years A Slave or the unique production proposition of a Boyhood, Birdman or Gravity, expectations are growing for Birdman director Alejandro Gonzalez Inarritu's upcoming frontier epic, The Revenant, starring Leonardo DiCaprio.
The film's $100m+ budget was unusually large canvas for Golin and making the film put the producer through the mill.
"It was hard to imagine if we had to do it again that we would do it," he confides.
"It's so spectacular but it was so difficult: the locations, the logistics, the weather. Everything was difficult. Not many people are making movies like that now and I understand why. There were some very difficult moments."
While some think this could be the year five-time Academy Award nominee DiCaprio sews up the Best Actor Oscar - The Revenant star is narrow favourite ahead of Steve Jobs lead Michael Fassbender for the Best Actor award - Golin isn't one for the awards hype train.
"All the emphasis on the awards drives you crazy. It's a lot of bullshit," says the matter of fact executive.
"I think if you go in thinking 'I'm going to do this because I'm going to get an award' you're doing it for the wrong reason. You need to go into a film with passion."
"Leo is the arguably the biggest movie star in the world. Whether he has a statue on his shelf or not he has done some phenomenal work. He is one of the smartest actors I've ever seen in terms of making a film better and in terms of collaborating."
'Don't get me wrong, I would rather win than lose," admits Golin. "But looking back there are a lot of films that were in the awards mix that didn't win awards that I'm really proud of. Sometimes those films were better than those that won."
"It's about trying to make the best movie you can without pandering to audiences or critics…to tell the story in the way the filmmaker or you want to… That said, of course you want people to make their money back."
TV
Despite witnessing "astronomical" changes to the film landscape since producing Lynch's Wild At Heart 25 years ago, Golin has stayed ahead of the curve, last year inking a TV pact with Paramount Television, which includes Cary Fukunaga directed crime-drama The Alienist, which is likely to start next spring.
Zal Batmanglij (The East) will direct Netflix and Plan B-backed miniseries The OA in January while, in November, Mikael Roskam (Bullhead, The Drop) will tackle the first few episodes of Epix drama Berlin Station.
"There's no doubt that there has been a big emphasis on TV in the last few years at Anonymous Content," acknowledges Golin.
"We've been lucky and clever and we're very committed to building that business. I think we'll have ten shows either in production or on the air next year."
The connection with emerging and captivating talent was key to the success of Propaganda, known as a champion and incubator of emerging young directors such as David Fincher, Jonze and Michael Bay.
That same connection has remained fundamental at AC and remains vital to Golin today as he forges ties with the likes of Fukanaga, Nic Pizzolatto, Sam Esmail and Batmanglij, all of whom are now making waves on TV shows that ten years ago might have been set up as films.
Film focus
But with the TV slate rolling, it's now time to reinvest in film.
"Now that we have a lot of development and production I think we will focus energy back onto the film side," Golin reveals.
"We have 30-40 things in development on the TV side. I think now we need to concentrate a little bit more on the motion picture side.
"This year we made a lot of movies: The End of The Tour, Spotlight, The Revenant, Len And Company, The Meddler, Triple 9…Now we don't have that much more in development. The cupboard is a little bare so we need to step up that focus".
Golin expects to be underway on New Line-backed drama Collateral Beauty in November, directed by Alfonso Gomez-Rejon (Me Earl And The Dying Girl) with Will Smith on board to star.
Meanwhile development projects include long-gestating drama The Wife and Montgomery Clift biopic Monty Clift, co-written by Ira Sachs.
The cupboard is unlikely to be bare for long.
Zurich honour
Collecting his lifetime achievement award in Zurich will mark a moment for "reflection" for the tireless Golin.
Can the producer recall one particular achievement as standing out from the crowd across his four-decade career?
"I'm most proud of the companies," he concludes.
"To build Propaganda with guys like David Fincher and then to have that blow up in my face a little bit and then to start Anonymous and rebuild that, that was probably the biggest achievement."
He will be presented with the award after the festival's screening of Spotlight on Sept 28.