Two years after parting ways with John Woo, the Hong Kong producer discusses tackling mainland China and his busy new production outfits.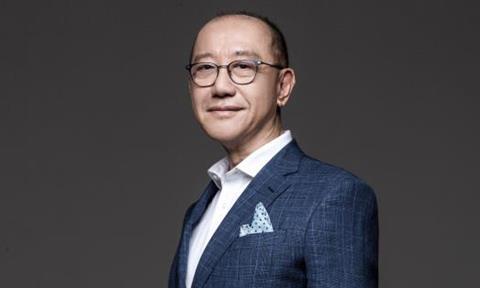 When Terence Chang was producing some of Hong Kong's most iconic action movies back in the 1980s and '90s, classics like The Killer (1989) and Hard Boiled (1992), the mainland China film industry was no more than a blip on a monitor.
In the intervening years, during which Chang has produced dozens of films in both Hollywood and Asia, it's been transformed into an unruly teenager – growing at breakneck speed, difficult to discipline and ready to conquer the world. Since parting ways with his long-term directing partner John Woo two years ago, Chang has jumped in with both feet, launching Hong Kong-based Mannix Pictures and teaming with veteran talent agent Amanda Yang Xin in Beijing and Shanghai-based Lucida Entertainment.
Mannix already has Stephen Fung's The Adventurers, financed by Flagship Entertainment, in post-production, along with a string of projects in development. Through Lucida, Chang also recently produced Peter Lee's Love Is A Broadway Hit, about two Asian performers vying for the lead role in a Broadway production of Mulan. Both films are scheduled for release this August.
Keeping optimistic
This is an unpredictable time to be making Chinese-language pictures – too much money is chasing too little talent and a string of big-budget movies have recently flopped. But Chang is optimistic about the future of the industry. "People have been saying that Chinese audiences don't want to see Chinese movies but that's bullshit – they just want to see good Chinese films," says Chang with characteristic frankness. "Before Dangal, people also said that Chinese audiences didn't want to see an Indian film."
Chang believes the recent failures are forcing everyone to reassess their strategies. The speculative money is receding, albeit slowly, and there's more emphasis on quality and scripts. "The average Chinese film is not as good as the average Korean movie and that's a result of having too much money," he says. His own strategy is to make films that are unashamedly mainstream, but also based on a strong story or concept. "I make commercial films but they have to be quality commercial films. I can't put my name on a picture that doesn't mean anything to anybody."
Through Mannix, Chang is developing Anthony Hoffman's English-language action drama Fox Hunt, about luxury cars being smuggled from the US to China, which is being set up as a co-production between Fox International Productions and Bona Film Group. "It's the perfect example of a China-US co-production because it features Hong Kong and Chinese customs officials and Homeland Security all working together," Chang says.
Mannix is also developing two projects to be directed by New York University (NYU) graduates: The Eddie Zhao Story, which has Cao Wang attached to direct, and Last September, with Taiwanese filmmaker Hsieh Chun-yi on board. The Eddie Zhao Story, which will be financed by Hong Kong's Mei Ah Entertainment, is based on the true story of a Chinese peasant who chased an American conman to LA and ended up becoming a private detective. Last September is a romance set between Beijing and New York. "I studied at NYU myself so I'm always looking for that New York connection," Chang quips.
Parting ways
While Chang is one of the few producers who have successfully navigated both the North American and Asian film industries, he's also well aware of the reality check that mainland China can deliver. He started his career working with John Woo at the height of Hong Kong action cinema – a time when nobody thought of releasing films in China – before moving to LA and producing Woo's Broken Arrow, Face/Off and Mission: Impossible 2. When the China market started to grow, he returned to Asia and worked with Woo on two-part historical epic Red Cliff (2008), which was a big hit in China and across the rest of Asia, although its literary source material limited its potential in the US.
Then came The Crossing – a two-parter about the sinking of a luxury liner in 1949 – that with its glittering pan-Asian cast and tragi-romantic story looked like a surefire hit. But the film, released in late 2014, failed to connect with China's millennial-skewing audience for whom the events of the 1940s were a distant irrelevance. Coinciding with a health scare for Woo and the death of one of the film's main investors, the project almost seemed doomed before it left the docks.
Following that box-office disappointment, Chang and Woo decided to disband their joint production outfit, Lion Rock Productions, and pursue their own paths. Woo is currently in post-production on action thriller Manhunt for Media Asia. Chang is figuring out how to plug the gaps in China's chaotic but exhilarating film industry. Outside of Mannix and Lucida, he's also executive producing films from promising new talents such as Zhou Quan's upcoming End Of Summer and Yang Lu's 2014 Brotherhood Of Blades.
'An old-fashioned movie guy'
One of the attractions of working with Lucida, says Chang, is the company's more structured approach to talent management in a market where investors rely on a small pool of stars. In the current climate, actors demand sky-high fees and will often walk off a project, even after they're already committed, if they get a better offer. Lucida has signed young talents such as Huang Jingyu and Wang Chuanjun, who Chang says have a refreshing approach to their careers. "Wang says he wants to be an actor not a star. He is looking for serious work and his range is very broad."
Chang is also encouraged by the emergence of real producers in China – usually young, creative and concerned with quality rather than money – as opposed to the ranks of investor-producers who are only looking to make a quick buck. "I've met quite a few young producers recently in both Hong Kong and China and encouraged them to go in that direction" Chang says.
He adds that one of the problems in mainland China is that the industry has never had a tradition of creative producers: "In the past it was all very director-driven, which of course is fine for arthouse films, but for commercial movies it needs to be more of a group effort. Recently the industry has been adapting and it's starting to change."
Another way that the mainland Chinese industry is changing is through the current obsession with web series – a relatively freewheeling sector where writers and directors can experiment without the constraints of a feature film budget. But when asked if he plans to move in that direction, Chang just laughs. "Lucida might make a few web series, but I'm still an old-fashioned movie guy!"