Tom Ford reveals why his need for total creative control led him to self-fund second feature Nocturnal Animals.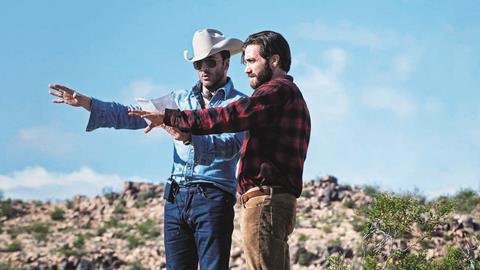 Tom Ford has something he needs to say. Something he wants to get out in the open, to clear the air before he can continue the conversation in comfort. "I have enormous advantages," he admits. "I have the advantage to fund [movies] myself. And I have the advantage of knowing most of the people in this industry. I just had to say that disclaimer! I get so self-conscious about it."
Nocturnal Animals, Ford's second feature in seven years, did not come together under entirely usual circumstances. But then, neither did Ford's film-making career. When he wrote, produced and directed his impressive debut, A Single Man, he was already renowned as one of the fashion world's boldest talents, having reinvented and rescued Gucci until quitting that company in 2004 and establishing his own clothing and fragrance brand. When nobody would invest in his reinvention as a cinematic auteur, he used his fashion-industry fortune to fund A Single Man himself. And it paid off, grossing almost $25m worldwide against a $7m production budget, as well as earning international plaudits and furnishing its lead actor, Colin Firth, with an Oscar nomination.
So with Nocturnal Animals, his layered adaptation of Austin Wright's 1993 novel Tony & Susan, Ford's path was clear. "I was going to self-finance," he says. "I have a certain fear of the studio system. I'm not good with a lot of voices in my head. I'm certainly not good with things like notes — I can't even stand that word. It isn't an ego thing. At this point in my life, I know what I need to make things work, and I need a certain amount of autonomy."
Ford did, though, "mitigate my exposure" by selling off the international distribution rights using FilmNation as a broker. At Cannes in 2015, he hired a ballroom at "one of those hotels, I don't know which", and presented the project to about 250 potential distributors. He stood on a dais and narrated the story outline while projecting around 25 key mood-images to illustrate characters and moments. "The whole thing took about three minutes. They had all read the screenplay, but at least this gave them a sense of the film's visual world."
It worked far better than he'd expected. Ford had only just started selling off territories when Focus Features and Universal Pictures approached him. "They said they wanted to buy the world, and I said no," he laughs. "And that went back and forth and then finally we agreed on something." That "something" was the biggest deal to be made in Cannes for years: $20m for the distribution rights to most of the world, which covered a majority of the $27m budget (Ford, of course, funded the rest himself).
If he were gambling with his independence by taking the deal, it paid off. "I wasn't happy with the way A Single Man opened or was handled or was advertised," he says of his first film, which was released by The Weinstein Company in North America. "But working with Focus and Universal has been the exact opposite. It has restored my faith in the possibility of working with another studio."
Ford's commercial nous and industry savvy do not detract from the fact film-making, for him, is a fiercely personal pursuit. He will not commit to a project unless it connects with him on a fundamental level, and he always writes alone (his joint credit on A Single Man is the result of rewriting an existing script by David Scearce). "I have another job, which is very satisfying in certain ways," he says, "so the reason I make films is that they are a personal expression, and this was a personal story. I don't know that I'll ever collaborate with anyone."
In 2012, Ford had been working on an original screenplay (something incredibly "politically incorrect", which he jokes the world may be ready for now "we have the person we're going to have living in the White House") when a UK journalist friend recommended the novel Tony & Susan. The story — of a fortysomething who receives and reads the manuscript of a harrowing thriller written by her brutally dumped ex-husband — absorbed Ford completely. Not just because he was thrilled by the cinematic potential of its narrative-within-narrative structure, but also because he related it to his own life.
"What spoke to me about it was that it's really about finding people in your life that mean something," he says. "And our culture has become so throwaway. Everything's disposable. People are disposable. I think people have become a bit lazy with personal relationships. So this is a cautionary tale about what can happen when you do throw people away."
Once Ford had spent two years negotiating with Wright's estate to secure the option (the novelist died in 2003 at the age of 80), then "another year or so of just letting it sit in my head to figure out what I was going to do to change the structure to make it work cinematically", it took the film-maker just three-and-a-half months to complete the script. "From then on," he says, "it moved very fast."
Those "enormous advantages" he is so conscious of immediately came into play, with Amy Adams agreeing to take the lead role of Susan within just a few days. "I needed an actress who was sympathetic," he explains. "It would be very easy to hate this character and I find there's a soulfulness and a sadness sometimes in Amy's eyes [which makes her] a very hard person to dislike."
Jake Gyllenhaal took the dual role of first-husband Edward and the long-suffering main character of Edward's novel. Like Adams, he was instantly attracted to Ford's script — though, Ford points out, "I've known him socially for maybe 15 years. So I knew him when he was the ingénue — young, fresh, charming. And then I was impressed by his performance in Nightcrawler. He had the range to play this young, idealistic guy, and then also a man who's had literally everything taken away from him." Michael Shannon, Aaron Taylor-Johnson and Isla Fisher round out a strong cast.
A night full of terrors
Nocturnal Animals was shot entirely in California over 32 days, with its terrifying night-time chase-and-abduction set-piece proving the most challenging aspect. If Ford had scaled A Single Man's steep learning curve with aplomb, this gripping sequence pushed him even further, requiring him to painstakingly pre-viz every element. "That was the most time-consuming exercise," he says, "and most technically difficult."
It certainly did not give Ford a taste for action cinema. "That narrative had all the action I'd want to do in a film. I'm much more into the psychological aspects of the characters."
Though collaborators praise Ford's openness to their input (cinematographer Seamus McGarvey, for example, says he allows "a real democracy of ideas"), he is very much an alpha-to-omega film-maker, exerting control over every aspect, right through to advertising and marketing.
"If I could cut every trailer, I would," he states. "In fashion I'm the same way, because advertising is just as important as what you're selling; it's the final design that touches the consumer, that engages them. It's the same with film."
As he had been so unimpressed by the original advertising for A Single Man, Ford ended up funding his own campaign for that film. For Nocturnal Animals, he signed off every design — though gives due credit to "an incredible team at Focus in the US".
It is hard to imagine Ford ever relinquishing his firm (but, it has to be said, gently applied) grip and putting himself at the service of a bigger machine — like, say, Sam Mendes did for two James Bond pictures. "Well, never say never," he says. "But I really highly doubt it. Because that isn't why I make movies. That's why I make clothes, lipstick, fragrance, eyewear… I already have my own big commercial machine. Movies for me are a personal thing." And why should he, anyway? As self-conscious as it makes him feel, independence is something he can easily afford. And it suits him well.