EXCLUSIVE: Fledgling company to invest $8-9m in 10 Arab-language productions a year.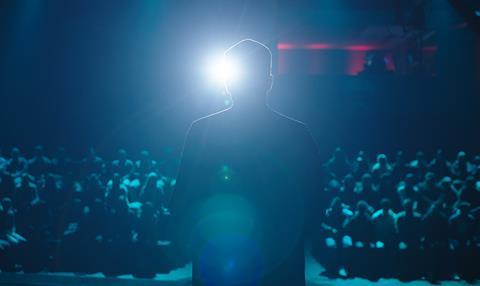 Egyptian billionaire Naguib Sawaris's fledgling film and high-end TV production company iProductions is at the EFM for the first time this year with its debut feature Mawlana [pictured].
The company has also revealed plans to invest around $8m in Arab films.
Amgad Sabry, iProductions CEO, is in Berlin for meetings with festival programmers and potential buyers for the film about a populist Muslim TV preacher plagued with doubts.
"We believe that content can shape the mind of the people. Our aim is to produce films touching on contemporary topics and burning, sometimes controversial issues," Sabry told Screen.
Based on a novel by Egyptian journalist Ibrahim Issa, it follows Muslim TV preacher Hatem Al Shenawy who is having doubts about the message he is conveying to the millions of spectators who tune into his daily show.
In the backdrop, he is also struggling with state interference in the content of his sermons as well as marital conflict when another woman catches his eye.
Egyptian actor Amr Saad, who began his big screen career in Youssef Chahine's 1999 The Other, plays Al Shenawy. Tunisian star Dorra Zarrouk and Egyptian actress Farah Youssef play the two women in the preacher's life.
Launched in 2014, iProduction is set to invest some $8-9m in 10 features a year.
"The idea is that we will invest 20% of our overall annual turnover – which is roughly $34m in production," said Sabry.
The company recently boarded Egyptian director Hadi El Bagoury's Hepta: The Last Lecture, an adaptation of a best-selling novel by Mohamed Sadek tackling the seven stages of love.
Aside from Egyptian-set fare, the company is also looking to invest in productions throughout the Arab world and is currently in talks to board Saudi Arabian and Jordanian productions.
Other upcoming works on iProductions slate include high-end, 30-episode drama Wedding Song, produced for the upcoming Ramadan season.
An intriguing whodunit film, it revolves around a group of actors, implicated in the murder of a young actress connected to their company, who discover that the secret backstory to the case has been turned into a popular TV show without their knowledge.
The company is also looking to collaborate with international TV companies.
It is currently working with Argentine TV company Telefe on Arab language adaptations of their popular shows The Man Of Your Dreams and Cannibals, and is also in talks with Dutch media company Talpa to collaborate on a series of high-end dramas.