Dir: Albert Maysles. US. 2014. 74mins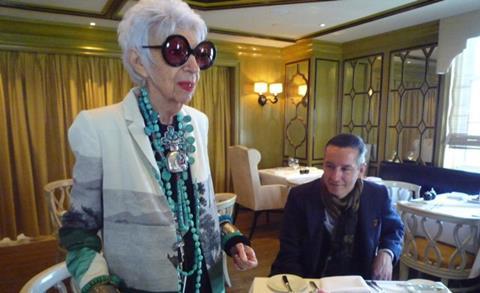 Albert Maysles has delivered a gem to the New York Film Festival's documentary slate in the shape of his fly-on-the-wall portrait of Iris Apfel. The elderly New York accessories doyenne and interior designer, whose outsize specs are more iconic than Elton John's, makes for much livelier company than the subjects of those occasional haute couture docs that ooze elitism and self-importance.
It takes intuition, guile and, experience to capture the essence of a subject and render it as informally as Maysles does here.
Although Iris focuses on the redoubtable Ms. Apfel's love of costume jewelry and fabrics, at heart it's a study of a happy marriage currently in its 66th year – and how finding a passion of any kind can bring joy. Iris and her husband Carl - 93 and 100 respectively - clearly enjoyed working with the 87-year-old Maysles, the cinéma véritémaster best known for such non-fiction classics as Salesman, Gimme Shelter, and Grey Gardens, which he made with his late brother David (and collaborators like Charlotte Zwerin).
Currently fielding distributor offers, Iris has a long-term future as a repertory and fashion education staple in colleges and museums. It never comes across as overly "niche", however, nor should the Apfels' venerability bar it from discerning younger audiences when it opens in hand-picked cinemas. A revealing interpolated clip shows how actress Tevi Gevinson, the then 16-year-old "Style Rookie", hung on Iris's every word when they participated in a Metropolitan Museum of Art talk in 2012.
As the film shows, Iris became a bona fide celebrity when the Met launched its popular 2005 exhibit of her collection, "Rara Avis: The Irreverent Iris Apfel." Maysles followed her around Manhattan for a few days – observing her shop and haggle at a flea market and a Harlem store – and also around the Apfels' Park Avenue apartment. This dreamlike warren of clothes-crammed caves and beloved tchotchkes exudes none of the conspicuous consumerism that characterised the vast nouveau riche McMansion depicted in Lauren Greenfield's 2012 doc The Queen Of Versailles.
Iris may indulge herself, but there's a strong sense of fun – and playful narcissism only – in her vibrantly exotic self-styling. "It's the process I like," she says of putting each costume together, "much better than wearing it." Getting ready for parties, she elaborates, is more pleasurable than going to them. Getting around at all is not easy for her anymore: shots of her in a wheelchair strike a poignant note.
One of the film's selling points is that everything that comes out of her mouth is funny or wise or both. She is a fount of one-liners that may be less pungent than Woody Allen's but are more useful. Die-hard fashionistas should take note when the pragmatic Iris says, "It's better to be happy than well-dressed".
Her sagacity is lightly worn, though it's intimated she has been a shrewd, steely businesswoman. Nine occupants of the White House hired the Apfels' textile business to work on design projects: they had "a problem" with "Jackie [Kennedy]", Carl tantalisingly remarks.
Maysles sketches in other fragments of Iris's past, some illustrated by her wedding photos and shots from the 16mm movies Carl made when they traveled. Photographer Bruce Weber and editor Margaret Russell are among the most insightful of the colleagues who make observations. Extolling Iris, another uses the word "fucking" for emphasis, striking a graceless note in such a genteel context.
Iris's spontaneous quality can hardly be indicative of the director's approach. It takes intuition, guile and, experience to capture the essence of a subject and render it as informally as Maysles does here. He and his two fellow cinematographers' choice of shots and their camera placement can't be faulted, nor can the economy of Paul Lovelace's editing.
Production company: Maysles Films Inc.
International sales: Submarine Entertainment, www.submarine.com
Producers: Laura Coxson, Rebekah Maysles, Jennifer Ash Rudick
Executive producer: Doreen Small
Cinematography: Albert Maysles, Nelson Walker III, Sean Price Williams
Editor: Paul Lovelace
Music: Steve Gunn, Justin Tripp
With: Iris Apfel, Carl Apfel, Bruce Weber, Dries van Noten, Harold Koda, Naeem Khan, Margaret Russell, Alexis Bittar, Duro Oluwo, Linda Fargo, Inez Bailey