Disney's behemoth adds $9.8m (£6.3m) to retain top spot and is already the year's second biggest performer; Fox's The Croods crosses £25m.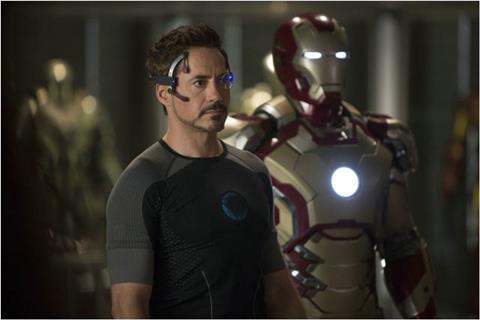 Following on from its mighty US debut of $174.1m (the second biggest of all time), Iron Man 3 continued to impress in the UK over the Bank Holiday weekend.
Disney's latest Marvel outing added $9.8m (£6.3m) over Fri-Sun and has climbed to $40.7m (£26.2m) as of April 6, making it 2013's second biggest performer behind Universal's Les Misérables, which currently stands at $62.9m (£40.5m).
In terms of Marvel features, Iron Man 3 has overtaken every single previous feature, including its two predecessors, and only trails The Avengers which recorded a sterling $80.6m (£51.9m) last year. At the same stage in its run, The Avengers stood at $46.4m (£29.9m).
The arrival of Star Trek Into Darkness this Thursday could further dent Iron Man 3's attempts to overhaul The Avengers.
Also for Disney, Chimpanzee debuted with a soft $77,000 (£49,317) from its 197 sites while Finding Nemo 3D enjoyed an 11% boost and stands at $1.8m (£1.1m).
The week's highest new entry came in the form of eOne's 21 and Over, which charted second following a $1.2m (£772,235) debut from its 384 sites for a sturdy average of $3,125 (£2,011).
eOne also released Dead Man Down in 310 sites, resulting in a $455,000 (£294,125) opening.
Enjoying a sturdy holdover in its third weekend, Lionsgate's Olympus Has Fallen dropped just 26% as it added $1m (£672,755) for $8.2m (£5.3m) to date.
Including Bank Holiday Monday, Vertigo's All Stars opened with $1.2m (£797,228) from its 413 sites. Ahead of its release, the distributor toured the film, visiting dance schools and youth centres across the country.
Rounding off this week's top five was Universal's Oblivion with an estimated $621,000 (£400,000) weekend, which saw it break the £10m barrier and stand at $15.8m (£10.2m) after four weeks in play.
Thanks to Bank Holiday Monday, Fox's The Croods crossed the £25m mark and is up to $39m (£25.1m) following a $609,000 (£392,370) weekend.
Also for Fox, I'm So Excited debuted with a healthy $483,000 (£310,909), including previews, from its 87 sites for the week's second highest site average at $5,552 (£3,574). That result marks director Pedro Almodóvar's third-best UK opening behind Volver ($673,000/£433,283) and The Skin I Live In ($566,000/£364,109).
StudioCanal's The Place Beyond the Pines continued its strong UK run, adding $438,000 (£283,348) in its fourth weekend for $4.6m (£3m) as of April 6, while Evil Dead has scared up $4.9m (£3.2m) to date.
The Look of Love added $91,000 (£58,555) in its second weekend to climb to $601,000 (£388,565).
This week's only saturation release belongs to Paramount's Star Trek Into Darkness (out May 9), while Warner Bros' Deadfall and eOne's Mud both receive wide releases. StudioCanal's Vehicle 19 and Mara Pictures' The Reluctant Fundamentalist are among the films receiving a limited release.
For more of Screen's box office news, analysis and charts, visit our Box Office section by clicking the icon below.