Dir/scr: Nancy Meyers. US. 2009. 116 mins.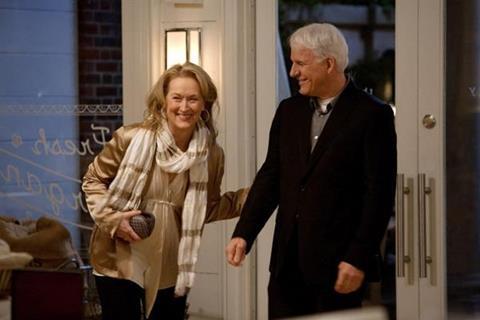 Nancy Meyers' latest confection is like a rich dessert that tastes good to start with but gradually leaves you feeling overstuffed. Boasting a glittering fifty-something star trio in Meryl Streep, Alec Baldwin and Steve Martin, it's an old-fashioned romantic fantasy about the love problems of the very rich that is tailor-made to win over big audiences and should succeed in its mission.
Streep gives one of her most relaxed, unmannered comic performances
It's Complicated is destined for big box office, not just as a result of Streep's huge pulling power, but because it offers adults a seasonal comic escape along the lines of her hits Mamma Mia! or Julie And Julia. Older women especially will take the movie to their hearts and box office prospects are probably even greater than Meyers' 2005 hit Something's Gotta Give ($125m domestic, $142m international).
If any of these films are coming from Meyers' personal experience, she clearly lives a highly privileged life. It's Complicated follows the romantic entanglements of Jane Adler (Streep), a successful restaurateur who lives in a lavishly appointed, stunning hacienda-style house in wealthy southern Californian enclave Santa Barbara. It's hardly a lifestyle that every woman can relate to, but that's why It's Complicated is a fantasy that could have been made in the 1940s with Myrna Loy or Norma Shearer.
The film begins as the camera pans over the Spanish style roofs of Santa Barbara to a lawn overlooking the ocean where we meet Jane and her husband Jake (Baldwin) in conversation with another couple. We soon discover, however, that the couple have divorced and that Jake is now married to the much younger Agness (Bell). Jane goes home alone to her own house where her youngest daughter (Kazan) is about to set off for college, leaving Jane alone and somewhat bereft.
But when Jane and Jake bump into each other at a New York hotel where they are both staying for their son's college graduation, the two have dinner, get drunk and end up in bed.
Jake proceeds to fall for Jane all over again and believes that they can reunite and he can escape his troubled marriage with Agness. For her part, Jane enjoys the sex and intimacy with Jake and throws herself into it, while concealing the information from her three children.
Meanwhile she meets an architect called Adam (Martin) who is working on an extension for her house (quite why it needs to be bigger is anyone's guess). As Adam starts to fall for Jane, she finds herself torn between the two men.
Meyers comes up with several priceless moments – when her son-in-law Harley (Krasinski) spots Jane and Jake together in a hotel lobby, or when Jane and Adam smoke a joint before going to a party – but, as with her previous films, It's Complicated is far too long and the antics outstay their welcome long before the multiple endings kick in. It's also a problem that Baldwin is so charismatic as Jake. While Martin has no shortage of on-screen charm, he is somewhat outshone by the newly minted comedy star.
As for Streep, she gives one of her most relaxed, unmannered comic performances as the woman who is not so sure she wants to give up her settled single life for more shenanigans with men. It's ironic that in today's youth-obsessed culture Streep has found her box office stride in her late fifties; similarly it's a testament to Meyers that a film about love among aging divorcees has such box office heat.
To sign up for Screen's weekly Reviews Newsletter with all the week's new releases, international openings and full festival reviews delivered free to your mailbox every Friday, please click HERE
Production companies
Waverly Films
Scott Rudin Productions
Universal Pictures
Relativity Media
Worldwide distribution
Universal Pictures/UPI
Producers
Nancy Meyers
Scott Rudin
Cinematography
John Toll
Production designer
Jon Hutman
Editor
Joe Hutshing
David Moritz
Music
Hans Zimmer
Heitor Pereira
Main cast
Meryl Streep
Alec Baldwin
Steve Martin
Jon Krasinski
Lake Bell
Caitlin Fitzgerald
Zoe Kazan
Hunter Parrish
Rita Wilson
Mary Kay Place
Alexandra Wentworth
Nora Dunn