Dir/scr: Jayro Bustamante. Guatemala-France. 2015. 90mins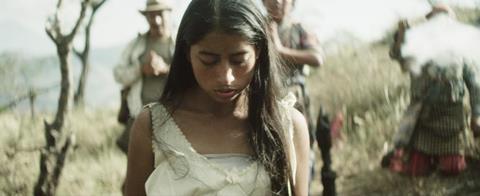 Guatemala's active Pacaya volcano is a symbol both of ancient traditions and modern threats in this absorbing, beautifully shot film about the consequences of a peasant girl's pre-marital pregnancy. First-time director Bustamante steers a steady course, mostly avoiding ethno-arthouse clichés by focusing on characters, especially the mother and daughter who are the sympathetic focus of this sensitive, male-directed women's film.
There's no Brechtian alienation here: these are committed yet unmannered performances that help to flesh out what might otherwise be a thin story.
There's also social and political resonance in the story's setting, a coffee-growing community that for all its folk wisdom and pre-Christian spiritual traditions is not a world apart: the big city where the bosses and the bureaucracy come from, and the lure of emigration to the United States, which one character places somewhere "on the other side of the volcano", are constant disruptive forces.
Much credit too must go the actors, all non-professionals who were discovered by the director via community meetings and theatre workshops. There's no Brechtian alienation here: these are committed yet unmannered performances that help to flesh out what might otherwise be a thin story. Ixcanul (Volcano) was picked up by Spanish sales company Film Factory for all territories except Central America, France and Switzerland after attracting strong buzz at last year's San Sebastian Films in Progress sidebar, and an upbeat critical and audience reaction at the Berlinale should guide it towards arthouse berths in more than a handful of territories.
Though this is by no means a travelogue, the majesty of the locations won't hurt its prospects: it's probably no coincidence that one of the backers credited at the beginning is the Guatemalan Tourist Board.
The film's central focus, Maria (Mercedes Coroy) is a late teenage girl who lives in a shack on the lower skirts of the volcano with her resilient mother Juana (Telon) and father Manuel (Antun), who works as an overseer on a nearby coffee plantation. The rough beauty of the landscape and the budding purity of Maria's half-modest, half-sulky features contrast with the harsh realities of the family's near-subsistence lifestyle.
A pair of pigs is brought to copulate and later one is slaughtered; the scenes cast a shadow over Maria's own nascent sexual feelings, which she centres on moody young plantation worker Pepe (Coroy), who plans to emigrate to the States. But Maria's family has other ideas, setting up a marriage between her and plantation foreman Ignacio (Lorenzo), a big fish in this small pond who, unlike Maria's Kaqchikel-speaking family, has a little Spanish. Later scenes in which Ignacio interprets selectively in exchanges between the family and two different public officials neatly bring home a deep fracture in Guatemalan society, in which failure to speak Spanish (and there are no less than 24 Mayan languages spoken here) inevitably leads to exploitation and disempowerment.
In giving herself to a drunken Pepe, Maria hopes to persuade him to take her overland to the States with him; but he departs alone, leaving her pregnant. She seems at first to have fallen into one of those cycles of entrapment that perpetuate misery and poverty – like Pepe himself, who spends all the money he earns in the plantation at the bar set up by the plantation owners, and can only break the cycle by running way.
But there's an inner strength in Maria and her mother that's lacking in any of the film's men, obsessed as they are with money, drink and copulation. Some of this strength is linked to the black, smoking volcano, where the two women go to pray to the spirits; but later this connection is questioned, shown to be a false god. This is a world poised between shamans and shams, between charms designed to cast out 'sacred' poisonous snakes and chemical repellent imported from the US. Tellingly, neither work.
There's something too hastily sketched in about the film's final act, revolving around a national scandal relating to the babies of Guatemalan peasant women. But the script holds back from sensationalism; in the end it's the welfare of a vulnerable woman that it has at heart – a vulnerability that is well-captured by Luis Armando Arteaga's crisp widescreen cinematography, that so often sets Maria, alone or with her mother, as the only thing of colour in a grey and barren landscape.
Production company: La Case de Produccion, Tu Vas Voir
International sales: Film Factory, info@filmfactory.es
Producers: Marina Peralta, Pilar Peredo, Edgard Tenenbaum, Jayro Bustamante
Cinematography: Luis Armando Arteaga
Editor: Cesar Diaz
Production designer: Pilar Peredo
Music: Pascual Reyes
Main cast: Maria Mercedes Coroy, Maria Telon, Manuel Antun, Justo Lorenzo, Marvin Coroy