Dir/scr: Jozef & Michal Skolimowski. Poland. 2012. 98mins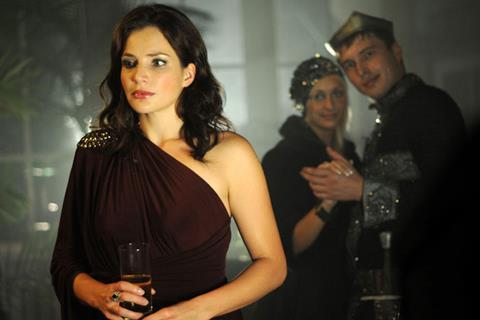 The comeback of Jerzy Skolimowski's two sons, playing in the Rome competition almost 20 years after their previous film The Hollow Men (1993), looks sadly dated despite its wildly daring look, reminiscent of similar fashionable efforts made in the past to use the medium for eccentric purposes, all of them blissfully forgotten by now.
The film is moody and downbeat and features all sorts of intellectual references that have no real significance.
A determined attempt to be different at any price, constantly moving between past and present, imagination and reality, natural and supernatural, horror and psychological thriller, with masked balls and sex orgies to boot but without one single character to care for, the best this effort can hope is slots in Midnight Madness festival sections. All the more sad, since Jozef, the younger of the two brothers, passed away last May in India.
Marek (Sambor Czarnota), a writer who mixes alcohol and drugs before attending a party thrown by his publisher, is trying to unravel the events of that fateful evening when he believes he had killed his best friend Arthur (Borys Szyc). Being told that his new book My Brother, My Killer is going to be published despite all his early misgivings seems to give him no pleasure and the information that the book is a major hit leaves him completely indifferent.
In a deep funk because he can't remember anything of that night, suffering from heartaches that his cardiologist dismisses as bouts of anxiety, he approaches Marlena (Magdalena Boczarska). This is the dark angel he meets in the film's first shot and he subsequently loses to Arthur. She is supposed to know a lot more about that party, since under the name of Ixjana, she is also a kind of modern witch with terrible sexual hang-ups dating back to her adolescence.
More characters emerge out of Marek's ongoing nightmare, one of them being Rajter (Lukasz Simlat) a sex pervert who doubles as the Mephistophelian demon in Marek's supernatural novel, the other one is Ula (Ewa Hornich), Marek's housekeeper. Nothing is like it seems, chronology is purposely mixed up, surprises are sprung on the unsuspecting audience all along the way, dead people turn out to be very much alive only to be killed again after a few minutes and witches lose their powers at the most critical moments.
A night movie shot mostly in semi-darkness by Adam Sikora, the same remarkable cameraman Skolimowski Sr. used in his recent films, the film is moody and downbeat and features all sorts of intellectual references that have no real significance, whether it is an argument about the similarity between this story and Bulgakov, Goethe or the ancient Faust legend.
But beyond that, it seems as if every bit of information delivered by the film is denied in the next shot and only the dark disposition prevails all through. The performances, ranging between gloomy and bored, generate no empathy whatsoever, leaving the audiences vastly indifferent to all the mysteries implied by the script as it leads to an unsatisfactory, arbitrary ending.
Production company: Film Media S.A.
International sales: Monolith Films, info@monolith.pl
Producers: Jacek Samojlowicz
Cinematography: Adam Sikora
Editor: Jaroslaw Petraszek
Production designer: Katarzyna Boczek
Music: Jozef Skolimowski
Main cast: Sambor Czarnota, Borys Szyc, Magdalena Boczarska, Ewa Hornich, Lukasz Simlat, Anna Dereszowska, Jan Frycz