Directors Hideaki Anno and Shinji Higuchi to make monster movie for release in 2016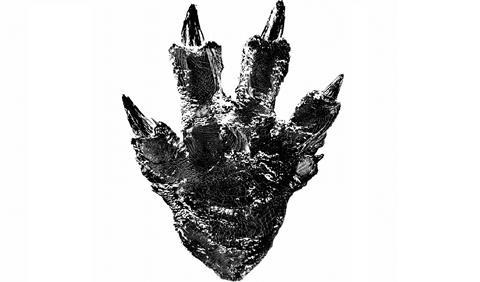 Japanese filmmakers Hideaki Anno and Shinji Higuchi are to team for a new Godzilla film, produced by the Tokyo-based studio behind the monster movie franchise, Toho.
Anno, an anime veteran known for his work on the hit Evangelion series, will also write the script. Higuchi, director of Japan Sinks, The Floating Castle and the upcoming Attack On Titan, will oversee the VFX.
The two directors previously collaborated on God Warrior Appears in Tokyo.
Toho has revealed that the story will take place in Japan along with Godzilla's footprint from the film (pictured). Nothing has been disclosed in relation to the monster's size or design but Toho said it would be the "largest Godzilla" ever and would be destroying cities all over Japan.
Principal photography is scheduled to begin this autumn ahead of a planned summer 2016 release.
Toho has produced 28 Gojira (Godzilla) films since the character was created in 1954, the last of which was Godzilla: Final Wars, which marked the 50th anniversary in 2004 but made a lacklustre $12m.
New life was brought to the character last year in a US feature directed by Gareth Edwards after Toho licensed the remake rights to Warner Bros. The revival generated $525m worldwide and $26m (JPY3.2bn) in Japan, co-distributed by Toho and Warner Bros. Japan.
A statement from Toho's production team said: "Ever since Hollywood announced that Godzilla was to be resurrected, the expectation for another Japanese Godzilla grew.
"And if we were to newly produce, we looked into Japanese creators who were the most knowledgeable and who had the most passion for Godzilla.
"Naturally we quickly came to a consensus that Anno and Higuchi were the perfect fit for the Japanese Godzilla's return in 12 years.
"Their collaboration brought the brilliant piece, God Warrior Appears in Tokyo. And their drive to take on such new challenges was exactly what we all had been inspired by."
On the US front, Edwards is set to make Godzilla 2 for release on June 8, 2018, co-produced by Legendary and Warner Bros.