Dir: Paul Tarnopol. US. 2014. 88mins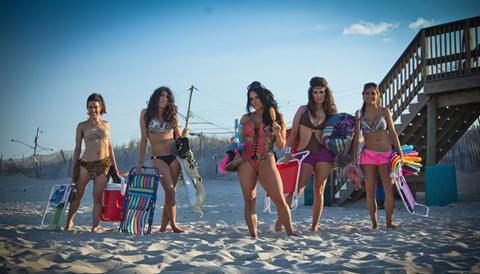 Jersey Shore Massacre is very much your classic B-Movie – 'B' as in blood, beach and bouncing breasts…the key elements in the genre – that actually delivers a lot more gory violence than one night be expecting from this bit of exploitation action.
There is a killer on the loose, and these oh-so dumb guys and gals are perfect fodder for his rather random killing spree.
Getting a brief theatrical exposure prior to a – likely – much longer life on DVD, it sticks closely to the format of pretty much every other 'partying teens in peril' film that has gone before it (nods to Friday The 13th etc), though will have a marketing boost thanks to Jenni "J-Woww" Farley's profile as one of the executive producers. For those not in the know, she was one of the eight first cast members of the MTV series Jersey Shore and its spin-off Snooki & JWoww.
Very much a US phenomenon (though it clearly inspired lookalike TV around the world, such as the UK's Geordie Shore, The Valleys set in Wales and Gandia Shore in Spain) Jersey Shore ran on MTV 2009-12, and simply followed the partying and beach-orientated lives of eight Italian-American housemates.
For Jersey Shore Massacre, Theresa (Danielle Dallacco, who is actually pretty good here) is planning a summer beach party for her girl pals, but when there is a mix-up on her house rental (cue a brief leering cameo as the landlord from ex-porn star Ron Jeremy) they re-locate to her jailed uncle's lake house. Theresa is less than interested in men, but her preening buddies can think of nothing more than hitting the beach and the clubs and luring some beach boys with small IQs but large muscles.
But – surprise, surprise – there is a killer on the loose, and these oh-so dumb guys and gals are perfect fodder for his rather random killing spree. He favours old-fashioned tool-shed killing equipment, which does lead to some refreshingly nasty murders, with the kill count pretty high. There are also plenty of cringe-worthy jokes to go along with the killings - shambling bearded Edgar from next door arrives offering sizzling sausages, only to be told by super-dumb Gigi: "We don't eat meat…we are vetinarians" – and things move with a nice sense of pace.
In truth, despite the title little actual is spent on the beach itself, with the massacre actually taking part at the lake house. The film is no classic, but at least it isn't afraid to laugh at itself in amongst the slayings.
Production companies: JSM Productions, Spy Global Media
International sales: Zone Entertainment Group, www.zoneentertainmentgroup.com
Producer: Teri Tarnopol
Executive producers: Jenni "J-Woww" Farley, Paul Tarnopol
Associate producers: Cat Bernier, Jonathan Schroder
Screenplay: Paul Tarnopol, Goldeneye
Cinematography: Jay Shropshire
Editor: Brian Bayeri
Production designer: Jonathan Schroder
Music: David James Rosen
Website: www.jerseyshoremassacre.com
Main cast: Danielle Dallacco, Angelica Boccella, Giovanni Roselli, Chris Lazzaro, Nicole Rutigliano, Ashley Mitchell, Christina Scaglione