Old friends and industry pay tribute to "godmother of the festival mafia".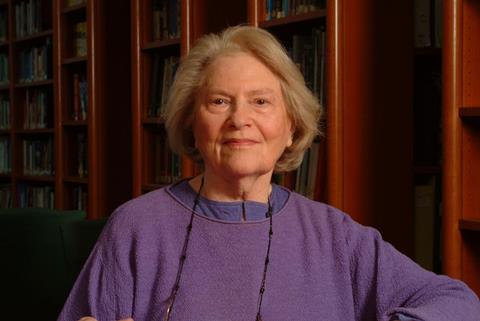 The Jerusalem Film Festival commemorated its late founder Lia van Leer on Monday night with a series of affectionate personal tributes.
Hitting the international film festival circuit right up until the end, Van Leer passed away in Jerusalem at the age of 90 in March after falling ill in February during the Berlinale, one of her favourite events on the calendar.
Archive footage revealed how Van Leer had fallen in love with cinema after watching Marcel Carné's 1945 classic Les Enfants Du Paradis. Israeli film-maker Amos Gitai, Berlinale festival director Dieter Kosslick, European Film Market (EFM) president Beki Probst, personal assistant Mariam Zagiel and long-time friend Vivian Ostrovsky were among those who took to the stage to recall Van Leer.
Kosslick said Van Leer had had a longer relationship with the Berlinale than he still had, some 15 years after taking the helm of the festival. Lia and husband Wim van Leer won the now defunct Golden Bear for best documentary in 1961 as producers of Chris Marker's Description D'un Combat.
"I was 13-years-old and Lia had already won a Bear," said Kosslick. "Lia did nearly every job at the Berlinale. She was the head of the jury, she was godmother with Wim Wenders at the second Talent Campus."
The Berlinale director said they embarked on a "rock and roll love affair" in 2001 when they met in Rotterdam through the late Dutch sales agent Wouter Barendrecht, after she approached him excitedly to discuss a book he had written about beigels.
Amos Gitai recounted how he first met Van Leer as a teenager when she was still living in Haifa. "I was making little super-8 films when she came to my parents' house," he recalled. "I showed her what I was doing and she invited me to her film club and I ended up being her co-projectionist."
He praised Van Leer for never bowing down to pressure in the face of political or religious pressure, citing her determination to introduce screenings on Saturday, or Shabbat, in the late 1980s, in the face of fierce opposition from conservative religious groups, as one example of this.
"She also showed my very first films here in Jerusalem, very political films, about the Lebanon War, Field Diary and House," he added. "I remember it was January 1983. I was sure no one would come. It was freezing. It was packed. Some people didn't like the film. She stood like a lion on the stage and she defended the necessity of the Cinematheque to show works. For her, critical works were a homage to the country."
Zagiel, her friend and assistant for more than 30 years, recalled how Van Leer's favourite seat in the Cinematheque's main theatre had been row 8, seat 11. "She never reserved a ticket in advance because she could never decide until the last minute which movie she would attend. When she finally made up her mind, she would come into the hall and start shuffling people around, so she could somehow get her favourite seat," said Zagiel.
In remembrance of this quirk, Zagie presented the festival's new chief Noa Regev, with a plaque for the seat in question.