Tova Ascher has edited some of the most acclaimed Israeli features of the past three decades. She tells Screen what compelled her to make a feature directing debut with A.K.A. Nadia.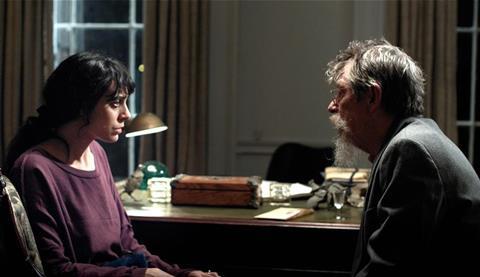 Tova Ascher is one of Israel's most respected film editors. She has more than 45 credits to her name, from Ali Nasser's The Milky Way and Joseph Cedar's Time Of Favor to Eran Riklis's The Syrian Bride, Lemon Tree and The Human Resources Manager.
The veteran editor makes her feature debut with A.K.A. Nadia, the story of a young Palestinian woman in the 1990s who is forced to assume an Israeli identity in order to get back home from London after being abandoned by her on-the-run, PLO-activist husband.
Some 20 years later, Nadia (now called Maya) is a successful choreographer, living a hectic life in west Jerusalem with an Israeli husband and children. When her past and present cross paths for a split second, this reality begins to slide as her seemingly liberal, peacenik circle of family and friends take on board her secret past.
"The question at the heart of the film is, can a person have a future once her past becomes her present?" says Ascher.
Behind this premise, she adds, is a subtle critique of Israeli society.
"For me, writing and art are about dealing with things that make you unhappy. The situation in my country is so awful I felt I had to do something beyond go to demonstrations. This movie is talking about Israel as a discriminating country, which doesn't accept 'the other'. By Œthe other' I'm not only talking about Arabs. Women are also 'the other', Ethiopians are 'the other', African refugees and Asian work immigrants are Œthe other' and, of course, the Arabs are the ultimate 'other'. I don't want to make declarations but I do want to make people think."
Family affair
Ascher co-wrote the A.K.A. Nadia screenplay with her daughter Anat Ascher, an academic at Tel Aviv University's department of philosophy. "I had most of the story but I couldn't work out the ending," says Ascher. "I told Anat about my dilemma and she immediately came up with some solutions. Our collaboration grew from there."
Adds her daughter: "The combination of a scholar and an artist is an interesting one. It enabled us to step out of our comfort zones, to explore other realms of writing and fiction and to contemplate things differently."
An Israel-UK co-production between Tel Aviv-based 2 Team Productions and London-based One Eyed Dog Films, A.K.A. Nadia, which screens today and tomorrow at Jerusalem Cinematheque, was shot mainly in Israel with a brief foray to the UK.
Nadia/Maya is played by Israeli actress Neta Shpigelman, alongside Nazareth-born Ali Suliman as her Arab husband, Oded Leopold as her Jewish husband and John Hurt in a guest role as an MI5 agent.
"The Arab and Jewish characters are played by the same person," says Ascher. "I had to fight for that. The Israeli funds wanted me to cast two different actresses but me and Anat were against it. It would have gone against the purpose of the film. We wanted the actress to inhabit both these characters and get the sense of what it meant to change between the two and at once be the same person."
Aside from ageing 20 years in the film, Shpigelman's dual role also involved learning Arabic and perfecting an Arab accent to play Nadia.
"Neta spent four months learning the language," says Ascher. "She studied with the teacher four or five times a week and went to sleep listening to Arabic songs."
Ascher's long experience as an editor also served her well on set. "This isn't my original idea but I like to say, 'You create a film three times, first when you write it, then when you direct it and then when you edit it,'" she says. "As an editor, I was always in the third part but now I've added the other two parts of the process.
"I came very prepared, I didn't take any chances and knew exactly what I was going to do," she concludes. "While we were on the set, some of the crew came to me and asked, ŒIs it really your first movie?' I was flattered."