Dir: Joshua Michael Stern. US. 2012. 122mins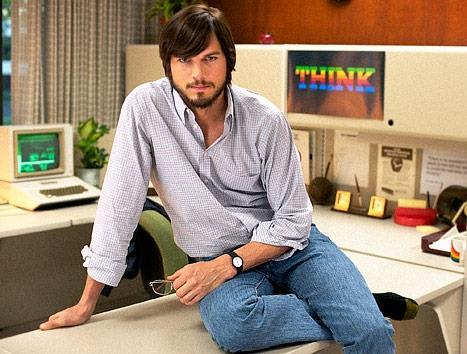 Apple founder Steve Jobs (1955-2011), already the subject of a huge bestselling biography, now gets his screen testimonial. Other heroes would envy such adulation. jOBS the movie is more worship than auteurship and while it won't bring Apple's sagging stock price back up, director Joshua Michael Stern (Neverwas, Swing Vote) can rely on an instant consumer base for his longwinded contribution to the Steve Jobs mythology. If a fraction of that iPhone-owning public sees the film, box office will be colossal.
Bio-pics always tailor memories. Yet the welcome surprise here is Kutcher, as the barefoot rebel who brought the spirit of psychedelia to technology.
In the US any US distributor will hope that a feature about him isn't seen as a two hour infomercial. Outside North American, jOBS will test whether Mac loyalty can trump a European and Asian aversion to earnest American bio-pics.
The script by Matt Whitely, a marketing executive employed by producer Mark Hulme, follows Steve Jobs through life-defining encounters with barefoot college LSD trips and Apple boardrooms of stiff suited execs. The scenario draws in part on interviews with many Jobs acquaintances, but not on Walter Isaacson's best selling Jobs biography, a competing work of admiration.
On the road to Apple (in a garage) and during the brand's ascent, the precociously brilliant Jobs (Ashton Kutcher) insults disbelievers, fires loyal staff and heaps outright abuse in all directions. Once the firm is formed, office politics are merciless - executives (including Jobs) are lured in and tossed out in corporate purges. Matthew Modine is effectively bland as the Pepsico marketing "whiz," recruited by Jobs, who almost takes Apple down.
Stern mixes in plenty of Jobs's ugliness and pettiness, but the film anoints him as a prophet with an urgent vision. Mistreatment of others is tolerated as necessary collateral damage on a visionary's way to a greater good.
We watch Jobs resurrect his mission from a near-fatal failure when a corporate Apple unravels, ending as Jobs regains control in his late thirties and points the firm toward a bigger better Apple. The youth who once rejected the baby whom he fathered even becomes an improbable family man. The canonisation avoids being a martyrology by ending long before Jobs's death in 2011.
In the photo-shopping of the Jobs character, crucial details are lost – his adoption and the psychological scars left from being given away by his birth parents; the striking aesthetic refinement of recent Apple products, beginning with the iPod; a grim losing battle with cancer, which humanised an arrogant enfant terrible.
Bio-pics always tailor memories. Yet the welcome surprise here is Kutcher, as the barefoot rebel who brought the spirit of psychedelia to technology. Kutcher overplays Jobs's signature bouncy walk as a leitmotif, but his bullying and his flares of temper and mercurial insight are surprisingly credible. Josh Gad as Steve Wozniak - or Woz - Jobs's nerdy tech-wizard collaborator, has a shy warm wit and a touching softness, which explains why the cut-throat Jobs was the one who led the company.
The landscape that Jobs helped define is mostly generic here. Stern filmed in the San Fernando Valley near Los Angeles for Silicon Valley south of San Francisco. In a nod to historical exactitude, scenes of early computer creation were shot - in a glow of wonder, Bethlehem-style - in the same garage at Jobs's parents' home in Mountain View where that work was done.
Apple raised the bar on the design of consumer products by US corporations – Jobs and his chief designer claim as much in a scene in the film. Yet characters, rather than places or beautiful objects are this film's priority. jOBS tends toward the commercially conventional in its visual rendering of a motivational success story, with all the high production values of advertising. You can watch this drama on an iPhone without sacrificing much. Apple's commercials have more visual invention - and brevity.
Production companies: Five Star Feature Films, IF Entertainment, Venture Forth, Silver Reel Productions
International sales: Inferno International, www.inferno-entertainment.com
US Distributor: Open Roads
Producer: Mark Hulme
Executive Producers: Florian Dargel, John Harrison, Ronald Bulard, Jacob Pechenik, Gerd Schepers, Brad Reves, Marcos Rodriguez, David Traub
Coproducer: Gil Cates, Jr.
Screenplay: Matt Whiteley
Coproducer: Gil Cates, Jr.
Cinematography: Russell Carpenter
Editor: Robert Komatsu
Music: John Debney
Website: http://thejobsmovie.com
Main cast: Ashton Kutcher, Dermot Mulroney, Josh Gad, Lukas Haas, J. K. Simmons, Matthew Modine, James Woods