Dir: David Gordon Green. US. 2013. 117mins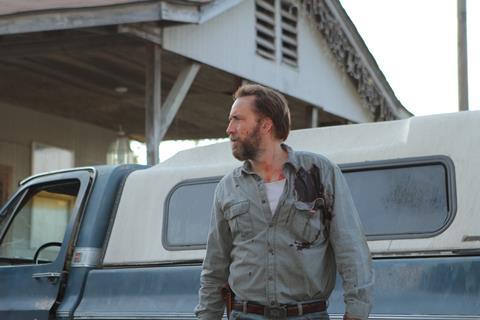 A dark and moody tale of friendship and redemption set against an evocative backdrop of the modern-day Texas, Joe is a strikingly well rounded story of a hot-tempered man trying to deal with his demons and whose attempt to help a down-on-his luck teenager turns into a tender-but-tough protector but also takes him on a course towards violence.
What gives the film its heart is the clear chemistry between Nicolas Cage and Tye Sheridan.
A bearded and engagingly surly Nicolas Cage is impressive as hard-living ex-con Joe Ransom, a man struggling to show restraint in terms of his drinking and ease at violence, and while there is a left-field kind of honour to how he tries to live his life, he – and those who know him well – knows that he can easily be tipped over the edge and head back into the dark side.
The film is much darker and moodier than director David Gordon Green's recent films (such as Prince Avalanche and Pineapple Express), but his take on the moral, financial and physical issues ordinary working types struggling to get by in the underbelly of America is striking. It is made all the more evocative by the use of several non-professional actors in key roles who were found in Austin, Texas, and add much to the tone and vibrancy of the film, which has its world premiere at the Venice Film Festival.
At times this beautifully shot and staged indie film is a tough watch in terms of the casual violence (as well as a dog fight that will have canine lovers squirming) but to a degree it is handled in a matter-of-fact manner. This is simply part of the world that these characters live in. The film is based on a book by the late Gary Brown, a former Mississippi firefighter acclaimed for his dark and powerful storytelling that included common themes of honour and desperation.
Joe Ransom runs a crew of 'tree poisoners' for a lumber company, and agrees to hire teenager Gary Jones (Tye Sheridan, who made an impact in Tree Of Life and Mud). The young man is a hard worker, but when he brings along his drunken and belligerent father Wade (striking non-actor Gary Poulter) he realises that the battered boy is leading a harsh life.
Gary is trying to care for his mother and troubled younger sister, and puts up with father's brutal abuse to try and keep his family together. Joe is impressed with his determination and honesty, but while he wants to help he has issues of his own, and is reluctant to let people close.
A skirmish in a bar means that one man is out to get back at him (and shoots him in the shoulder in one casual incident, that then sees Joe engage in a little self-surgery); and while he lives alone he makes visits to a local brothel and well as having an on-off relationship with the tender and attractive Connie (Adriene Mishler).
But as Gary works harder with a hope for the future (he is saving money to buy Joe's old truck), his father is heading into more brutal territory – in one rather unpleasant scene he beats a old drunk to death for a half-drunk bottle of wine – and the film's climax sees Joe securing a kind of redemption as he tries to step in when Gary's father plans another monstrous act.
Director David Gordon Green hails from the South, and brings a clear vision to Joe, which is perhaps closer to his debut films George Washington then more recent lighter comedy fare. It is a powerful, stark and rather beautiful film, with its 'hero' a complex individual who (as Green has written) "is truly a mixed bag – he's got the good, he bad and the ugly." It is a bold role for Nicolas Cage, who tones down his quirks and offers a great performance as a tough, genial, kind but ultimately tormented man struggling to find a balance in his life.
What gives the film its heart is the clear chemistry between Nicolas Cage and Tye Sheridan, whose character's innate honesty and openness works well alongside Cage's tough but restrained Joe. Kudos should also go to Gary Poulter, whose Wade is a truly awful figure. His performance as a non-professional actor is striking, and he ends up delivering one of the most repellent characters to grace a screen.
The women in Joe fare pretty poorly. Either whores, elderly or (in Connie's case) just there to tell Joe how great he is and sleep with him, it is a shame that there are no better women characters to sit alongside the men here. The Southern accents make some of the film hard to follow at times, but the film's sheer sense of tone, atmosphere and dark reality make it a film to embrace, if not always to enjoy.
Production companies: Worldview Entertaiment, Dreambridge Films, Muskat Filmed Properties
International sales: West End Films, www.westendfilms.com
Producers: David Gordon Green, Lisa Muskat, Derick Tseng, Christopher Woodrow
Screenplay: Gary Hawkins, based on the book by Larry Brown
Cinematography: Tim Orr
Editor: Colin Patton
Production designer: Chris Spellman
Music: David Wingo
Main cast: Nicolas Cage, Tye Sheridan, Gary Poulter, Brian Mays, Ronnie Gene Blevins, Sue Rock, Adriene Mishler