Dir: David Leitch, Chad Stahelski. US. 2014. 136mins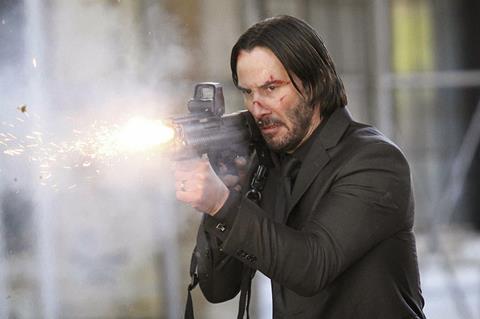 Keanu Reeves successfully reinvents himself once again, this time as a former assassin forced out of retirement by the shenanigans of nasty Russian mobsters, in this lovingly nostalgic shoot-em-up from stunt pros turned directors David Leitch and Chad Stahelski.
John Wick is a marked improvement from last year's Man Of Tai Chi, but continues Reeves' unpredictable yet intriguing odyssey through nostalgia-charged genre territory.
Building on a relationship forged fifteen years ago on the set of The Matrix - where Stahelski served as Reeves' stunt double - John Wick provides the perfect vehicle for both first-time directors to explore their knowledge of car stunts, gunplay and close-quarter combat and supplant them into a full narrative feature. Reeves serves as executive producer and all-round facilitator for the project -which premiered at Fantastic Fest - which should score big with action audiences around the world thanks to its devotion to old-school practical action techniques, stylish aesthetic and potentially franchise-worthy lead character.
After his wife succumbs to cancer, best-in-the-business hit man John Wick retreats into obscurity, literally burying his past under the floor of his basement. With only the too-cute puppy his wife gave him shortly before passing away for company, Wick spends his days moping around his minimalist mansion or tearing it up at an abandoned airstrip in his souped-up Mustang. Clearly, Wick is in need of a more effective release for his pent-up rage. When hot-headed Russian mobster Iosef Tarasov (Game Of Thrones' Alfie Allen) steals his car - murdering Wick's dog in the process - the situation quickly escalates, with Wick channeling his grief and anger into a one-man war to avenge the death of his four-legged companion.
Efficiently and knowingly scripted by Derek Kolstad, John Wick reveals precious little backstory for its bearded anti-hero, allowing the myth of his previous persona to slowly permeate proceedings as Iosef grows increasingly aware of exactly how big a mistake he has made. His father, mob boss Viggo Tarasov (Michael Nyqvist), rightly fears for his son's life, while acknowledging that they are all now in danger from a man who was once a peerless killer. Tarasov's only option is to declare his own war on Wick, which includes commissioning a number of rival assassin - most notably Adrianne Palicki's spunky mercenary.
Kolstad's script does an excellent job of building a world rich in pulpy noir archetypes, hinting at entire criminal infrastructures operating just beneath the surface of society. David Patrick Kelly gives a memorable turn as a professional cleaner, whose post-hit skills are called upon by all parties. There's even a special currency of gold coins used solely to pay for such underhand activities and services. When needed, subtitles also appear centre-screen, evoking comic book lettering, further nudging the film into similar noir territory occupied by Robert Rodriguez's gimmicky Sin City.
Reeves is effortlessly charismatic as the brooding, monosyllabic Wick, for whom an ordinary life was never a possibility. He cuts a super-stylish figure in shirt and jacket, brandishing a pair of automatic pistols like they were Sai blades, and seems most at home when discharging them in his opponents faces at close range. While relatively bloodless, John Wick is an enthusiastically violent slice of escapism, clearly devoted to the kind of star-driven, stunt-heavy action vehicles that invigorated the genre throughout the 1980s and '90s.
Leitch and Stahelski are in their element when staging car chases, shootouts or fistfights, and the film is riddled with stylish set pieces that feel real and pulsate with an energy that makes the film's relatively lowbrow ambitions impossible to dismiss. Jonathan Sela's steely cinematography and a throbbing score from Tyler Bates and Joel J. Richard all add to an incredibly polished and entertaining package. Beyond the technical aspects, a uniformly enthusiastic line-up of scenery-chewing character actors including Willem Dafoe, John Leguizamo and Ian McShane, serve as a brilliant counterpoint to Reeves' applaudably understated turn.
John Wick is a marked improvement from last year's Man Of Tai Chi, but continues Reeves' unpredictable yet intriguing odyssey through nostalgia-charged genre territory. Under the direction of assured, passionate technicians, John Wick is the very definition of a guilty pleasure, gleefully embracing the hard-boiled and absurdist idyoscrancies of its genre trappings and just oozes franchise potential. Whether that particular fate comes to fruition remains to be seen, but John Wick deserves to be Reeves' most successful role since The Matrix, and every bit as synonymous with the increasingly adventurous performer.
Production companies: Thunder Road Films, MJW Films
Distributor: Lionsgate
Producers: Basil Iwanyk, David Leitch, Chad Stahelski, Eva Longoria, Mike Witherill
Executive Producers: Kevin Scott Frakes, Stephen Hamel, Tara Moross, Keanu Reeves, Andrew C. Robinson, Raj Brinder Singh, Jared Underwood, Mike Upton
Cinematography: Jonathan Sela
Editor: Elísabet Ronaldsdóttir
Production designer: Dan Leigh
Music: Tyler Bates, Joel J. Richard
Main cast: Keanu Reeves, Adrianne Palicki, Michael Nyqvist, Archie Allen, Bridget Moynahan, Willem Dafoe, Ian McShane, John Leguizamo, David Patrick Kelly, Dean Winters