EXCLUSIVE: Depp to be first guest of honour at Julien Temple's Cineramageddon event next week.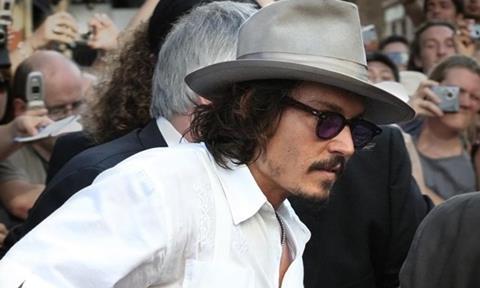 Johnny Depp will be the inaugural guest of honour at Glastonbury's new film event Cineramageddon next week.
Depp will introduce three of his favourite movies (two of which he also starred in) at the music festival: Withnail & I, Dead Man and The Libertine.
Five day film event Cineramageddon is the brainchild of director Julien Temple and is designed by artist Joe Rush. It is presented by film producer Stephen Malit, with technical supervision by Michael Denner.
Movies will be projected onto the biggest cinema screen in the UK with the nocturnal audience seated in seventy mutated vintage British and American cars, repurposed funfair rides and a Lear jet.
Depp's selected movies will screen consecutively on Thursday 22 June with the actor introducing them in conversation with Temple.
"No film has ever made me laugh more"
The Pirates of The Caribbean star said of his selection:
"The Libertine is one of those films that got lost in the shuffle. It's a film that a lot of people on which worked very hard, and one that I am very proud of.
"The second Earl of Rochester, John Wilmot, is a man that everyone deserves to know more about. He wasn't just some drunken jester. He was a sublime wit in the court of King Charles II and an individual of great literary importance."
"Dead Man is Jim Jarmuch's epic visual poem. It's unlike anything else. A film which means many different things to many different people. It was an honor to be part of something so unique and profound".
"Lastly, no film has ever made me laugh more, or filled me with so much joy… and dread, than Withnail & I! For me, this is perfect cinema. As perfect as Chinatown, as The Godfather, as Time of the Gypsies. Genius."
Cineramageddon programme
The 2000-capacity Cineramageddon will run from the festival's Wednesday night through to Monday morning. Meanwhile, the Black Lamp will be a 500-capacity daytime cinema tent.
Also among the programme will be Park Chan-wook's The Handmaiden, UK comedy Brakes, starring the Mighty Boosh team, and classics including Apocalypse Now, Dazed and Confused and American Graffiti.
Docs will include Temple's heroic 2006 title Glastonbury, Queerama with director Daisy Asquith, Raoul Peck's well-received I am Not Your Negro, Francis Whatley's films on David Bowie and Temple's Keith Richards – The Origin Of The Species.