Dir: Jimmy Hayward. US. 2010. 81mins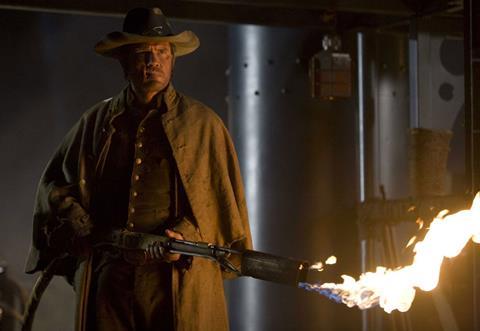 The potentially interesting mixture of several different genres gets wasted in the dreadful, bafflingly thin Jonah Hex, about a vengeful Civil War-era bounty hunter whose brush with death leaves him with the ability to communicate with the dead. Distinct from its various failings, this DC comic book adaptation is most notable for how skimpy and curiously under-sketched it feels.
The nature of the movie's casting indicates one-time studio confidence in the project, but its narrative execution is a top-shelf failure on every level.
The promise of a new brooding, badass antihero may tease out opening weekend audiences, but Hex would seem to be vexed in theaters. The action herein is too meagre for adolescent males let alone general audiences, and toxic word-of-mouth will further sink an already marginal built-in source material appeal. A story tied to U.S. history will additionally suppress international interest.
After disobeying an immoral order, Confederate soldier Jonah Hex (Josh Brolin) is disfigured and left for dead. Flash forward a bit to the 1870s, where Jonah collects bounties on wayward outlaws and wanders America alone, save for occasional visits to prostitute Lilah (Megan Fox). Once Jonah finds out the men responsible for the death of his family, Quentin Turnbull (John Malkovich) and his swarthy, tattooed henchman Burke (Michael Fassbender), are still alive, he charts a course of revenge. An apparently re-jiggered main plot finds Turnbull gunning for a "super-weapon" to destroy Washington, D.C. on the eve of its first centennial.
The nature of the movie's casting (with recognisable faces in a variety of roles, however ill-defined) indicates one-time studio confidence in the project, but its narrative execution is a top-shelf failure on every level. Many comic book films feel the need to laboriously fill in backstory, but Jonah Hex dashes right through it, all to get to a plot it's even less invested in.
Turnbull's villainous motives are hazy, and the specifics of Jonah's ability to communicate with the dead — a major differentiating element in the story — are not well delineated. Attempts to cultivate a historical backdrop are fitful and hapless, meanwhile.
Factor in a combined 14 minutes of opening and end credit noodling and there's barely more than an hour's worth of story here, which makes the wan characterisations and basic questions the movie fails to satisfy in that time stand out in even more stark relief.
Making his live-action directorial debut, Jimmy Hayward (Horton Hears A Who) evidences a grasp of neither slick technical proficiency nor facility with actors, and instead leans on an aggressive sound mix in an attempt to mask narrative deficiencies. Working in overload lockstep, Marco Beltrami's pounding score comes across as anachronistic.
Trading in gravelly-voiced grimaces, Brolin mostly escapes negative judgment. The film's sole intrigue may be its effectively grimy and imaginative make-up design, notably embodied in Jonah's scarred, burned mouth.
Production companies: Legendary Pictures, DC Entertainment, Weed Road Pictures
International distribution: Warner Bros. Pictures
Producers: Akiva Goldsman, Andrew Lazar
Executive producers: Thomas Tull, Jon Jashni, Matt LeBlanc, John Goldstone, Ravi Mehta
Screenplay: Mark Neveldine & Brian Taylor. Story by William Farmer and Neveldine & Taylor, based on characters appearing in DC Comics created by John Albano & Tony Dezuniga
Cinematography: Mitchell Amundsen
Production designer: Tom Meyer
Editors: Fernando Villena, Tom Lewis
Music: Marco Beltrami and Mastodon
Main cast: Josh Brolin, John Malkovich, Michael Fassbender, Megan Fox, Will Arnett, Aidan Quinn, Wes Bentley, Jeffrey Dean Morgan, Michael Shannon, Tom Wopat