Dirs: Stephen Chow, Derek Kwok. China. 2013. 110mins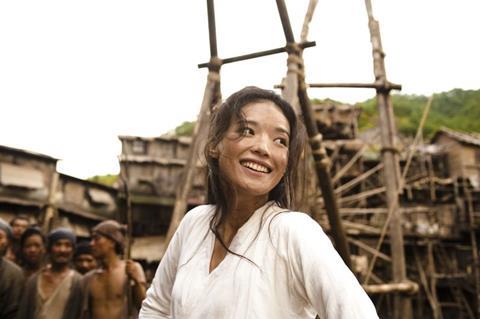 A glorious return to form after the slightly underwhelming CJ7 (2008) and his first ever directorial effort in which he doesn't also play the lead role, Stephen Chow's Journey To The West: Conquering The Demons is a thoroughly entertaining action comedy that suggests, a la Woody Allen, a promising new life behind the screen for the actor-director, who found an eager international audience with 2001's Shaolin Soccer and 2004's Kung Fu Hustle after having established himself as Hong Kong's most iconic comedian since the early 1990s.
As is frequently the case for the recent Stephen Chow movies, violence and gore are used occasionally to comical effects.
Those who're worrying that Chow is on an irreversible retreat into self-congratulatory mode could be in for a surprise: as someone whose image is synonymous with his oeuvre, the actor isn't even making a notable cameo appearance in his latest film. Serving up a delirious blend of monster movie, romantic comedy and martial arts fantasy, this inventive new take on the classical novel Journey To The West also marks a long-awaited return to the material by Chow, who previously starred as the Monkey King in director Jeff Lau's now-classic two-part adaptation A Chinese Odyssey (1995).
Clearly structured – and titled – as the first film of a potential movie series, Conquering The Demons opens in mainland China, Hong Kong and Singapore on February 7, as well as Taiwan on the following day, to coincide with the Chinese New Year holidays. While international sales should be less affected by the actor's conspicuous onscreen absence, it remains to be seen if Chinese viewers will respond with the same enthusiasm they showed the Chow-starring comedies of the past.
Although the film is billed as "a Stephen Chow film" that is "produced, directed and written by" him, it is noteworthy that Chow, as a producer, only took up his directorial duties – and the head billing – midway through the production. Conquering The Demons is in fact co-directed by Derek Kwok (Gallants), who was initially the sole director – even if his name doesn't currently appear in the opening credits.
While the film is still peppered with small and unpretentiously bizarre touches of humour that are unquestionably Chow's own, the introduction of a new creative voice may have contributed to the refreshing dramatic focus here. Unlike seemingly every other movie in Chow's acting career, which almost always features a bratty anti-hero battling against his underdog status, the protagonist of Conquering The Demons is surprisingly not the spotlight-hogging Monkey King – whose ironically unimpressive image is unveiled at the movie's final showdown as an awkwardly hilarious sight gag – but a younger Xuan Zang before he makes the titular pilgrimage.
Played by Chinese actor Wen Zhang (Love Is Not Blind, The Sorcerer And The White Snake) with an endearing balance of determination and humility, the lead role of Xuan Zang barely possesses the bigger-than-life personality that typically defines Chow's leading roles. As a demon-hunter with minimal martial arts skills, the character is guided only by an unwavering belief in the inherent goodness of every evil being: he strives to awaken the demons' sense of innocence by singing from his treasured book of 300 Nursery Rhymes.
Aided by the original character Miss Duan (Shu Qi), a beautiful yet totally fierce fellow demon-hunter who's fallen hopelessly in love with him, Xuan Zang spends the duration of the film consecutively conquering the three demons that will eventually become his famed disciples: a fish demon (which inspires a few Piranha-like sequences), a pig demon (whose exceedingly ugly look leads to a couple of very gross kisses) and a monkey demon aka the Monkey King. With an expected reference to A Chinese Odyssey's most famous lines, Xuan Zang becomes a Buddhist monk and finally learns of the significance of 'greater love' through his love interest.
As is frequently the case for the recent Stephen Chow movies, violence and gore are used occasionally to comical effects; a malfunctioning blood-splashing device used by a character provides some of the movie's funniest gags. And though the computer-generated demons, often in the guises of giant animals, are not at their most realistic, they do feel very much at home in a fantasy movie as wacky as Conquering the Demons.
Production companies: Bingo Movie Development Ltd, Village Roadshow Pictures Asia Ltd, Chinavision Media Group Ltd, Edko Films Ltd, Huayi Brothers Media Corporation, China Film Co Ltd
Co-producer: Wang Zhonglei
Executive producers: Stephen Chow, Ellen Eliasoph, Dong Ping, Bill Kong, Wang Zhongjun, Han Sanping
Screenplay: Derek Kwok, Huo Xin, Wang Yun, Fung Chih-chiang, Lu Zheng-yu, Lee Sheung-ching, Ivy Kong
Cinematography: Choi Sung-fai
Editor: Chan Chi-wai
Production designer: Bruce Yu
Action choreographer: Ku Huen-chiu
Music: Raymond Wong
Main cast: Shu Qi, Wen Zhang, Huang Bo, Show Lo, Lee Sheung-ching, Chiu Chi-ling, Chrissie Chau