Dir: Guillem Morales. Spain. 2010. 112mins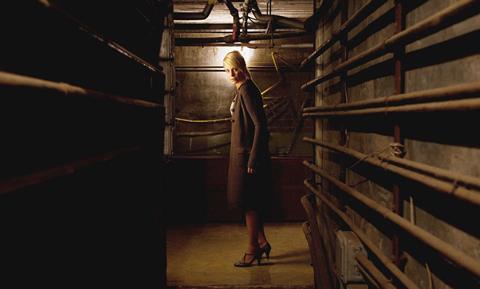 A lurid horror piece from Spain with style and scares aplenty, Julia's Eyes starts intriguingly but quickly descends into a conventional woman-in-peril saga which outstays its welcome. Reuniting much of the same team from hit chiller The Orphanage – producer Guillermo Del Toro, star Bela Rueda and production company Rodar Y Rodar – it should open to big numbers in Spain where backer Universal Pictures will push it out wide on October 29.
Julia's Eyes draws elements from classic shockers Wait Until Dark and The Eye.
Genre-hungry International buyers will find plenty to market here, not least of which is the del Toro stamp, but critics and audiences will be less enthusiastic than they were for The Orphanage.
Julia's Eyes draws elements from classic shockers Wait Until Dark and The Eye, exploiting failing sight and blindness in the story of a woman relentlessly hounded by a mysterious, perhaps invisible man.
Rueda, who spends the film heaving her mighty bosom while teetering around in heels, plays the dual role of twin sisters. The film opens as one of them, blind, hangs herself in her basement.
Her sister Julia, who also suffers from the same degenerative disease that will eventually leave her sightless, finds the body with her husband Isaac (Homar, from Broken Embraces). While the police and Isaac accept that she killed herself out of despair at her blindness, Julia is suspicious that someone else might be involved. She discovers that her sister had a boyfriend and takes Isaac to a resort town where she had stayed before her death, but nobody is able to recall what the mystery man looked like.
When Isaac goes missing and is found hanging in the same basement as her sister, Julia's eyesight begins to fail. She has eye-transplant surgery but while she is recovering in her sister's house, with the help of a hospital nurse, she becomes convinced that she is being watched.
Morales, whose first film was The Uncertain Guest, barely gives the audience a moment's respite as Julia lurches from one perilous situation to another. He is skilled at creating tension – there are some superb shock moments – but the script suffers from lapses in logic (would Julia really want to recuperate alone in the house where her sister and husband were murdered?) and, once the killer is unmasked, the film loses its spell.
The film slides into unexpected, hilarious Almodovarian camp towards the end as Julia takes refuge in the house of a blind neighbour (Julia Gutierrez Caba) where revelations and nutty mayhem ensue.


Production companies, Rodar Y Rodar, Universal Pictures International, Antena 3 Films, Double Dare You
International sales: DeaPlaneta International, www.deaplaneta.com
Executive producers: Joaquin Padro, Mar Targarona, Guillermo Del Toro
Producer: Joaquin Padro
Screenplay: Oriol Paulo, Guillem Morales
Cinematography: Oscar Faura
Editor: Joan Manel Vilaseca
Production designer: Balter Gallart
Music: Fernando Velazquez
Main cast: Belen Rueda, Lluis Homar, Francesc Orella, Joan Dalmau