Dir/scr. Nora Ephron. US. 2009. 123mins.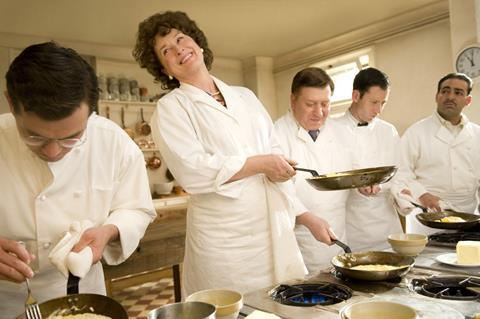 There's a key ingredient to the Julie & Julia experience which writer-director Nora Ephron has taken for granted, and that's a familiarity with Julia Child. Credited with introducing French food to the US in the 1960s and 70s, Child was a Cordon Bleu chef with distinctive physical attributes and eccentric, if not downright campy, mannerisms, which Streep largely nails.
But Ephron does not help the uninitiated – that is to say the younger viewer or international audiences who haven't seen Child's TV shows – by providing any footage or context upfront. Thus it takes a while for Streep's initially alarming performance – more reminiscent of her turn in Mamma Mia! than Doubt – to sink in and the good-natured Julie & Julia to warm up into a dish which will be best savoured by American kitchen goddesses, Streep and Ephron fans, skewing female and older.
Even as the film wraps, it feels as if there's a course missing.
A good thematic match for long-time foodie Ephron, whose 1983 novel Heartburn (later adapted with Streep in the lead) was dotted with recipes, Julie & Julia twins the real-life stories of Childs' arrival in Paris in 1948 and, in 2002, a year-long effort by New York blogger Julie Powell (Adams) to cook all 524 recipes in Child's opus Mastering the Art of French Cooking.
Billed as a comedy, this comes across as a typically whimsical effort from Ephron, who has enjoyed sustained success as a writer but a bumpier path behind the camera (from the highs of Sleepless in Seattle to Mixed Nuts, Michael and Bewitched). Here, she's working from a mixture of Powell's blog and Child's posthumously-published My Life In France. Julia and, a half century years later, Julie, struggle to become published authors; both have adoring husbands (Stanley Tucci in Paris, Chris Messina in Queens); and are passionate about food. Ephron traces their parallel quests.
The director introduces Child as she arrives in Paris with her diplomat husband Paul and eats a meal of sole meuniere which will kick off a lifelong obsession with food. Julia becomes the first American woman to study at the famous Cordon Bleu cookery school, and eventually – after several setbacks chronicled here - writes Mastering The Art of French Cooking with her friends Louise Bertholle (Carey) and Simone Beck (Emond), the popularity of which leads to her famous TV show.
Interspersed with this is the story of Julie Powell, a government employee and aspiring writer in New York who has just moved to Queens and frets about her impending 30th birthday. She comes up with the idea to blog her way through Julia Child's 524 recipes in 365 days – an effort which netted her a book deal, and, as the credits archly note, this film.
Adams has a lot to deal with in these sequences; not only must she make like Carrie Bradshaw and sit in front of a laptop smiling at her own blog, she also has to roll around the floor in hysterics whenever she burns the boeuf bourgignon. Eating an egg, boning a duck and cooking a lobster become big dramas for Julie, but Adams thankfully manages to smooth over some of character's more irritating edges.
Julie & Julia also suffers from the dramatic imbalance: writing a blog about cooking somebody else's recipes isn't quite the same feat as creating the recipes yourself. Neither story here quite stands up by itself, and they don't quite gel together either - even as the film wraps, it feels as if there's a course missing.
Julie & Julia's score accurately reflects Childs' TV series, but sets a cheesy tone which the film struggles to shrug off. Of note technically is overenthusiastic sound work; it seems odd that Julia Child would spend years mastering the art of French cooking and then speak with her mouth full, but turning the sound levels up on Messina cramming down a bruschetta in mid-speech was certainly alarming.
To sign up for Screen's weekly Reviews Newsletter with international openings and full festival reviews delivered free to yourmailbox every Friday, please click HERE

Production companies
Easy There Tiger
Worldwide distribution
Columbia Pictures/SPRI
Producers
Amy Robinson
Laurence Mark
Nora Ephron
Eric Steel
Screenplay
Nora Ephron, based on Julie & Julia by Julie Powell and My Life in France by Julia Child with Alex Prud'homme/
Cinematography
Stephen Goldblatt
Production designer
Mark Ricker
Music
Alexandre Desplat
Mai cast
Meryl Streep
Amy Adams
Stanley Tucci
Chris Messina
Linda Emond
Mary Lynn Rajskub
Jane Lynch
Frances Sternhagen
Helen Carey