Dir: Kieron J. Walsh. Ireland. 2012. 84mins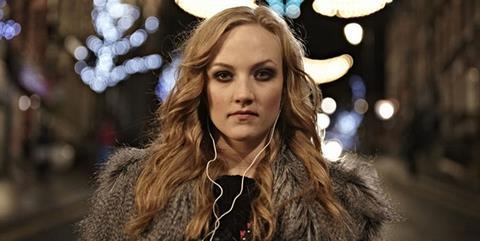 A delightfully dark comic crime thriller that twists and turns through its interweaving storyline, this stylishly made film relishes its intricate plotting and smooth shooting style and while perhaps lacking the star-power to truly break out it has enough smarts and style to find an audience, especially on home entertainment.
Jump is a smart and charming little gem of a movie, well worth tracking down.
Set against the backdrop of New Year's Eve in Derry, Northern Ireland, it tracks three interlocking storylines as a series of troubled and sad souls make their way through the night.
At the core of the film is a charming and charismatic performance from Nichola Burley – who has never been better – as depressed and despondent Greta (sporting a fluffy fake cru coat and angel wings), the daughter of local mobster Frank Feeney (Lalor Roddy).
Set to commit suicide by jumping from Derry Peace Bridge, she is stopped from leaping by Pearse Kelly (Martin McCann), who doesn't know who she is, but has his own reasons for hating her father. The pair set off into the night and themselves caught up in a strange series of events.
Meanwhile across town retired criminal Johnny (Richard Dormer) is coerced into helping two of Feeney's hired men Ross and Jack (Ciarán McMenamin and Packy Lee) into tracking a large sum of stolen money, while in the final strand two friends of Greta, Marie and Dara (Charlene McKenna and Valene Kane) have to deal with the aftermath of a fateful car accident.
In amidst the elegantly shot drama there are some delicious moments of black humour – usually focusing on Ross and Jack's astonishing criminal incompetence – as the nicely structured story (based on Lisa McGee's stage play) weaves its way through the city. Jump is a smart and charming little gem of a movie, well worth tracking down.
Production companies: Hotshot Films, Blinder Films
International sales: AV Pictures, www.avpictures.co.uk
Producer: Brendan J. Byrne
Executive producers: Katie Holly, Michael Henry, Chris Hunt
Screenplay: Steve Brookes, Kieron J. Walsh, based on the stage play by Lisa McGee
Cinematography: David Rom
Editors: Eimear Reynolds, Jake Roberts
Production designer: David Craig
Music: Edith Progue
Main cast: Martin McCann, Nichola Burley, Lalor Roddy, Ciarán McMenamin, Packy Lee, Charlene McKenna, Valene Kane, Richard Dormer