Dir. Jason Reitman, US, 2007, 96 minutes, colour, 35 mm.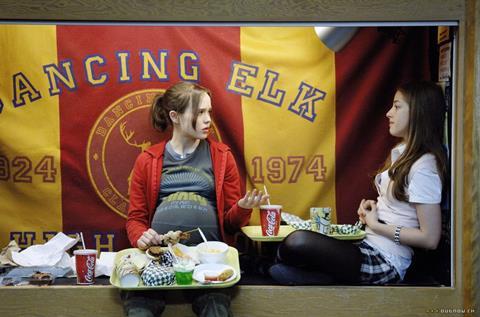 In Juno, a gamine of a 16-year-old learns that she's pregnant, and all roads lead to the Blessed Event. The quirky, precociously wise and wise-cracking Juno MacGuff (Ellen Page) is not just the delivery system for her child, but also the mouthpiece for wry observations in a language all her own on the tempest that her plight has created for everyone around her.Juno 's endearing oddity and its protagonist's mordant world-view could be just the right equation to make it an event for the under-20s audience when it's released later this year.
The dialogue by debut screenwriter Diablo Cody is the kind of zinger talk that generates repeat visits to theatres by kids who want to memorise it (or just affect it, a laNapoleon Dynamite), which also drives DVD purchases down the line. Foreign audiences will be a challenge - subtitling Juno would be a feat - but if Juno scores with its target North American public it should be exportable to trend-conscious teens worldwide.
We meet Juno as she takes repeated pregnancy tests in the hope that the grim truth will disappear, all the while giving a commentary on what got her there. In a flashback, we witness conception being achieved in a single act in an armchair with slight, sweet and cowardly boyfriend Paulie Bleeker (Michael Cera), prompting jokes that the young man was, at least, good 'in chair.'
The gangly Cera is as iconic in his high school track shorts as Page is in her slacker clothes. At pivotal moments, his track team dashes through the scene like a chorus reminding you that comedy isn't always logical. It is, as punsters might say, a running joke.
Jokes keep coming as Juno decides with her dad (JK Simmons) and step-mom (Allison Janney) what to do, finally arranging to give the kid up at birth to a 30-ish yuppy couple desperate for a child (Jason Bateman, Jennifer Garner) whom she finds through the local paper. Juno's journey drags her through Paulie's indecision, her parents' bewilderment, and a complicated tangle with Bateman as a composer of music for commercials who takes a shine to her.
The plucky heroine who emerges during the ordeal carries her bulge in the womb in front of her, stridently, like a scarlet letter - shameless but always self-deprecating in this satire of manners and propriety.
Cody's twisted dialogue would jump awkwardly from script to screen were it not for Page's composure and sure-fire timing. (It still sounds far too worldly for a girl of 16.) Self-created language has long been the ex press ion of youth rebellion (A Clockwork Orange) or youth anger (Mike Leigh's Naked), but rarely has it been this funny. Both Page and Cody will be courted for higher budget work once 'Juno' gets around.
The over-20s might find Cody's slang not just incomprehensible, but grating to the adult ear, which seems to be at least part of what Cody (an officer-worker turned stripper turned writer) has in mind with her script. What appears to be novel in the dialogue points to another subject of Juno, the generation gap, which has been part of movies about youth ever since teenagers and their parents (and other figures of authority) have fought it out on the screen.
Jason Reitman has taken his second feature far beyond the success of the uneven Thank You for Smoking.
In Juno, he is more adept at balancing an ensemble cast to keep the atmosphere of inanity intact. This is not easy language to have your actors speak. Reitman's direction ensures that you're laughing, and not thinking about the degree of difficulty. DP Eric Steelberg's deft close-ups are part of every joke.
The film opened on 25th December in the US and Juno's march to the delivery room could be one of the the commercial Blessed Events of the Holiday season, with Page's teen mother and Cody's arch script well-placed for awards consideration.
Producers/Backers
Mandate Pictures
Mr. Mudd Productions
US Distributor
Fox Searchlight
Producers
Lianne Halfton
John Malkovich
Russell Smith
Mason Novick.
Executive producers
Joe Drake
Nathan Kahane
Daniel Dubiecki
Co-producers
Jim Miller
Kelli Konop
Brad Van Arragon
Screenplay
Diablo Cody.
Cinematographer
Eric Steelberg
Editor
Dana E. Glauberman
Music
Mateo Messina
Kimya Dawson
Production designer
Steve Saklad
Art directors
Michael Diner
Catherine Schroer
Principal Cast
Ellen Page
Michael Cera
Jason Bateman
Jennifer Garner
Allison Janney
J. K. Simmons
Olivia Thirby