UK film-maker Asif Kapadia talked about his upcoming project, a documentary covering the life of football player Diego Maradona, in a panel about his career at DIFF.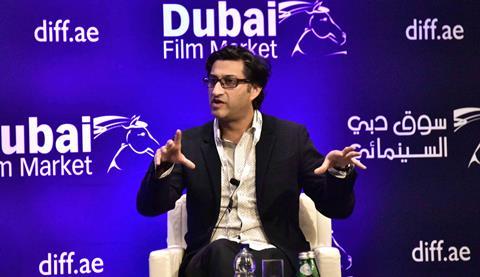 "Diego lives here in Dubai, so I'm here to see Diego," he said. "I'm interviewing him for the film."
Kapadia hinted that the film will be titled Diego, keeping with the first name title of his last documentary feature, Amy. "I'm still early days on Diego," he said. "We'll find out what the challenges are."
While Kapadia's Maradona film was announced in early 2016, the idea for the film predates either of the documentaries for which he has become known – Senna (2010) and the Academy Award-winning Amy (2015).
"I read a book about Diego Maradona years ago, and I had only made fiction films at that point. I remember thinking, 'I would love to make a film about this guy.' There's something about him. Not just him as a sports person, where he's come from, and what he's achieved, but all of the darkness that's been in his life and surrounds him."
While Maradona's life has had many of the highs and lows of those of his previous subjects, to Kapadia, the fact that Maradona has lived to tell the tale is part of what makes his story different.
"He's always been a street fighter, and I suppose that's the twist. Senna died very young, Amy died very young, and Diego is still going. You can't knock him down. When you knock him down, he bounces back. He keeps fighting."
Having a living subject, however, means he will have to approach the film differently. "That's the twist in the tale. That's what is potentially interesting about it. I have to come up with another solution to how to tell this story. It's on a person that I'm working with, someone who's still around. The proof will be in the pudding at the end."
While Kapadia never met Senna or Winehouse, Kapadia has Maradona's full support to make the film. "He was interested in me making the film. He wanted us to make the film. It's not like I'm forcing him to do it."
But having a living subject doesn't mean that Kapadia will defer to how his subject prefers to frame his story. "I will only get into something if we have final cut. What the journey is going to be on any film you never really know, but that's something we have to agree on – either you want us to make the film or you don't. We're not out to make a tabloid version of anyone – we're trying to understand people, their characters, and be as thorough as possible."