New Karlovy Vary programme showcases European film school talent.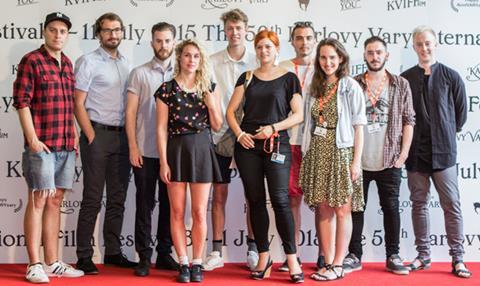 At this year's Karlovy Vary Film Festival, European Film Promotion – the body behind Shooting Stars at Berlin and Producers On The Move in Cannes – presented Future Frames – Ten New Filmmakers To Follow.
Future Frames showcases the work of directors from film schools from across Europe while also giving the filmmakers the chance to meet with industry.
"We realized that young people who study at film schools and do their diploma films all of a sudden enter the real world of filmmaking and the film industry and most of them are not really prepared," explained Renate Rose, the managing director of EFP, speaking to Screen at the Future Frames press event.
"My feeling is that the film schools don't really prepare people for this situation and we thought it was worth it to show the films of these talented people, bring them in contact with the press, explain how festivals work and get them acquainted with the film industry. It's the first time that we've done it here and I'm quite impressed, they are quite happy about it and have a lot of meetings and talks here."
Rose elaborated on why she thought Karlovy Vary the perfect place to hold the programme.
"It has been developed very closely together with the Karlovy Vary Film Festival. They were very interested to get the film schools here. They also have the young people here and they are a real audience festival. I think it's a good experience for filmmakers to be here."
One of those filmmakers is Patrick Vollrath, a student of Film Academy Vienna. His tense 30 minute short Everything Will Be OK has already garnered an impressive reputation after receiving its international premiere at the Critics Week in Cannes.
Speaking to Screen, Vollrath explained just how unprepared he was for the reaction to the film
"I was totally surprised. When I had the first rough cut it was like 'Can it work?' I showed it first to my professor – who is Michael Haneke – and I was watching him thinking 'Does he hate it? Does he love it?' Afterwards he was pretty impressed and he encouraged me and told me it might be for festivals. I never thought it would go to Cannes. I sent it to Cinefondation and Semaine De La Critique and I had to withdraw it from other festivals as I never imagined it would get there."
For Vollrath, Future Frames is a important stepping stone.
"This my first time at 'A-festivals' this year," he said. "I also wanted to go to huge festivals when I had something to show. I think for the future it's very good to have been at Future Frames. I don't feel it right now but in a year or two, I think people will be more interested when you have it on your CV, when it comes to big decisions and financing and the like because you have something to show.
"I'm currently writing two features at the same time, I've been talking to two producers who I've been writing treatments for," he continued. "Now I want to play with the big boys. I learned a lot and I failed sometimes but got back up again and now it's the moment to do the next step. It's the time and I want to take the chance with what I am being offered."
Rose is also thinking about the next step for Future Frames.
"I think we would love to have a masterclass with a kind of 'godfather' – a very well-known director. We also need to think about how to involve the film schools more. Maybe we'll also try to bring the Future Frames participants together with the producers and the actors that we have been working with as we've created a real family of different filmmaking people. We'll wrap up this year and evaluate. But no matter what happens, it will continue."
More information and the full list of the participants and their film schools is available here.