Dir: Steve Reeves. UK. 2014. 93mins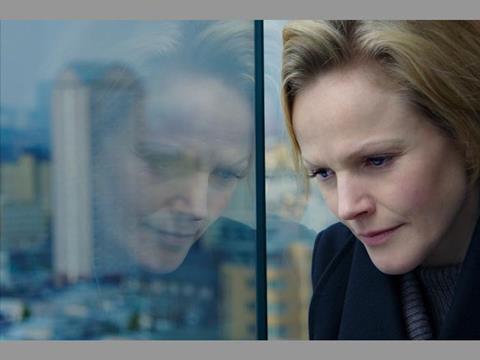 A dark and claustrophobic British thriller-drama, the nicely sustained Keeping Rosy it given its dark heart thanks to a striking central performance by Maxine Peake as a business woman who has her world torn apart and the fragility of her existence exposed.
The film keeps up its tense drama through the run of the film, and sustains to be surprise and shocking ending.
Low-key and modestly-budgeted it might well lack the star cast to help bolster international exposure and will receive a limited release in the UK, but the key cast of Peak and co-star Blake Harrison (from TV's cult series The Inbetweeners) will help local profile. The film had its premiere in Manchester prior to a late June release in the UK.
The personality of Charlotte (Peake) is exposed in the opening scenes of her waking alone in her ordered and sterile high-rise flat where she exercises and breakfasts before heading to her office. There she awkwardly holds the baby of a returning colleague before receiving the news that she has been betrayed in the boardroom and is set to lose her job. As she shouts down the phone: "This is my world!"
She returns home early to find her cleaner Maya (Elisa Lasowski) smoking while she cleans and angrily sacks her. When Maya leaves Charlotte spots she is carrying a bottle of champagne and accuses her of stealing it. They tussle and Charlotte ends up whacking Maya on the head and killing her.
Panicked and terrified she contrives to smuggle the body out of her building and dump it, but realises that Maya's car is still at the building. She plans to move it, but finds a baby in the backseat. Against all her instincts she clumsily looks after the child – plonking it in her shower when it gets too noisy, and feeding it cheese biscuits – but realises only too late that her movements may have been recorded on the buildings security tapes and finds herself blackmailed by genial but mildly psychotic guard Roger (Harrison) who demands £30,000 (just over $50,000) for his silence.
The film keeps up its tense drama through the run of the film, and sustains to be surprise and shocking ending. Peake (star of UK series such as Silk, The Village and The Devil's Whore) is impressive as the tortured and brusque woman trying to deal with a wrong killing as well as a child. Blake Harrison, better known for his comedy work, is nicely dark as the twisted security guard.
Production companies: Pont Neuf Productions, Big Rich Films
Sales contact: Big Rich Films, www.bigrichfilms.com
Producers: Isabelle Georgeaux, Richard Holmes
Executive producer: Patrick Healy
Associate producers: Tim Phillips, Carina Steinmetz
Screenplay: Mike Oughton, Steve Reeves
Cinematography: Roger Pratt
Editors: Scot Crane, Paul Watts
Music: Stephen Warbeck
Website: http://keepingrosy.com
Main cast: Maxine Peake, Blake Harrison, Christine Bottomley, Elisa Lasowski, Sam Hoare