Dir: Paul Angunawela. UK. 2012. 82mins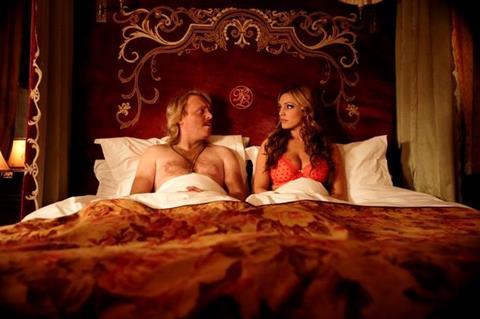 It is a perilous route taking television comedy characters onto the big screen, and while last year's film adaptation of the E4 TV sitcom The Inbetweeners bucked the trend by taking more than £45million (more than $71.3m) at the UK box office, it is unlikely that the equally low-brow, but far less clever, Keith Lemon – The Film will replicate its success.
There are few cringe-worthily enjoyable moments, but these are no really enough to justify the feature-length treatment.
And with national comedy always the hardest of product to transfer out of home territory it is unlikely the film – which is sprinkled with cameos that Brits may know, but really only has David Hasselhoff and Verne Troyer for international audiences – will sell readily on the world marketplace. That being said, there are a few broad and amusing moments while the shapely Kelly Brook (who featured in Piranha 3DD and plenty of UK TV appearances) is to be applauded for poking fun at her pin-up reputation. She deserves to find a good screen role.
The Inbetweeners, which opened last August in the UK (clearly Lemon's local distributor Lionsgate had that in mind when it chose the release date), showed producers that the old tradition of film spin-offs from popular television series could still be successful. But to lure audiences, a feature-length plot and smart dialogue is needed…sadly Keith Lemon – The Film favours easy bodily function gags, ogling of women and the appearance by yet another minor celebrity when things start to slow up.
The Keith Lemon character was created by comedian Leigh Francis and features on television on ITV in the UK. His key personality traits are shrieking obscenities, long-blonde hair, an orange tan and a genial sense of bad taste. In the film version he is a Yorkshire businessman whose plans for global success with his car security product fall apart, despite the support of girlfriend Rosie (Laura Aikman) and sidekick Douglas Orange (Kevin Bishop).
He is roped into selling a touch screen phone called the Tisipiti – plus has been conned into pre-ordering millions of his car security device by Evil Steve (also Francis) – but with the aid of the mysterious Fixer – aka Archimedes - (Verne Troyer) he comes up with a scheme to stick a lemon on the phone and suddenly finds himself on a chat show hosted by David Hasselhoff in the US and somehow becomes an overnight billionaire.
He manages to attract Kelly Brook as a girlfriend, but when Rosie is kidnapped by Evil Steve he is faced with his past and has to rise to the challenge and also realise that his life was better without fame and fortune.
The guest star roster includes Chris Moyles, Jedward, Jason Donovan, Holly Willoughby, Fearne Cotton, Billy Ocean, Gary Barlow, Ronan Keating, Vernon Kay and Spice Girls Emma Bunton and Melanie Chisholm (all well-known-ish faces in the UK, but unlikely to mean much in many other territories), and while Keith Lemon – The Film is unlikely to get much in the way of critical support, fans of the character will know what to expect and more than likely get some laughs and entertainment from this broad and breezy film.
There are few cringe-worthily enjoyable moments, but these are not really enough to justify the feature-length treatment.
Production companies: Generator Entertainment, Lionsgate Pictures, Molinare, Northern Ireland Screen
Producers: Mark Huffam, Aidan Elliott
Executive producers: Zygi Kamasa, Nick Manzi, Emma Berkofsky, Simon Bosenquet, Andrew Boswell, Steve Milne
Screenplay: Paul Angunawela, Leigh Francis
Cinematography: Julian Court
Editor: Peter Boyle
Production designer: Tom McCullough
Main cast: Leigh Francis, Kelly Brook, Laura Aikman, Kevin Bishop, Harish Patel, Verne Troyer