Dir: Kenta Fukasaku. Japan. 2012. 87mins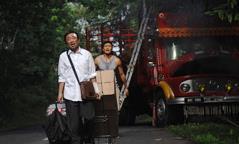 Breezy and glossy comedy romp Ken And Mary (Ameagari no Yozora ni) is a raucous road trip that relishes its story of culture clashes and cross-generational conflict, and while never less than obvious it offers up genial entertainment that veers between sentimental and slapstick.
The by-the-numbers script offers little in the way of surprises.
The film, which had its world premiere in the Hong Kong International Film Festival industry section, stars Naoto Takenaka (who featured in Shall We Dance?) as Ken Katakura, a harassed Japanese salaryman who heads to Malaysia planning to stop the wedding of his daughter Yukari (Kie Kitano). He doesn't know who she is marrying, but objects in any case.
When a storm forces his plane to land at a remote airport, he has just 48 hours to make it to Kuala Lumpur to stop the event. He ends up accepting a lift from Chinese truck driver Maurice Mah (Hu Bing) - who seems to be called 'Mary' in the English translation, though perhaps this should be 'Maury' - who happens to know Yukari.
He speaks enough Japanese to get by, and so the pair head off across country (partly used as a promotional video for the delights of Malaysia) in his ramshackle truck (he calls it Little Dragon), getting involved in a series of scrapes along the way (ranging from a drunken session at a truck drivers café and a detour to deliver emergency medical supplies) before eventually making at to the wedding at the very last moment.
The by-the-numbers script offers little in the way of surprises and with Naoto Takenaka playing his role for wide-eyed laughs there is little in the way of subtle humour. Hu Bing is a charismatic and charming lead, while Kie Kitano is given little to do except be wistful and try on her wedding dress, and director Kenta Fukasaku tends to favour slapstick comedy moments when the pace starts to lull.
Oddly enough, though, it is quite easy to see how the story could be an easy re-make for a lazy Hollywood producer. Comedy about a father stuck with a rough-but-charming truck driver in a race against the clock to stop his daughter's wedding…sounds like a perfect vehicle for Martin Lawrence and Ashton Kutcher.

Production company: Sedic International, Dreambusters Malaysia, Gofu Films
International sales: Shochiku, www.shochiku.co.jp
Producer: Toshiaki Nakazawa
Cinematography: Kazuhiro Suzuki
Music: Shum Someya
Main cast: Naoto Takenaka, Hu Bing, Kie Kitano, Zizan Raja Lawak, Mandy Chong Yea Min