The acclaimed British director sounds off on the News International phone hacking scandal, the "timid" select committee, 3D and a lack of documentary funding.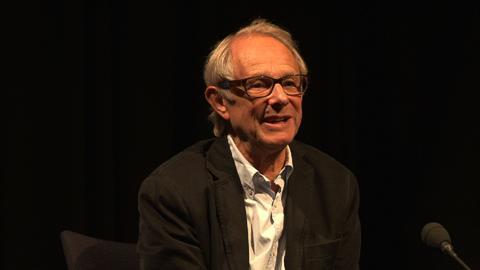 Director Ken Loach was at the BFI today for a preview of his upcoming retrospective. During a fascinating Q&A, the famously outspoken director was asked for his thoughts on the current News International scandal.
He said: "I think we're all hugely delighted to see the mighty fall. There is a great pleasure in that… But a certain dismay in that the political figures charged with questioning them were so timid and ill prepared. They danced around and, as somebody said, failed to land a punch…The best comment I read was about a bully who can no longer bully - that hit the nail on the head. What will happen I don't know. One suspects they will have this pretend humility for a while and their structure will remain in place. That's the worst outcome of it."
Asked how he would approach a film version of the recent drama, Loach said he wasn't sure but had the following to say: "These people have, or believe they have, with some truth, I think, determined our government for the past few decades… the dirty tricks they get up to, who is surprised? I don't think any of us are. I don't know how you make a film out of it. I'm not sure you could at the moment.
"Our means of communication is decided by big capital. The news we exchange with each other has been determined by someone with huge amounts of money. Look at how TV has been distorted."
In response to a question about why, for such a prolific director, he was not more prolific on the big screen in the '80s, when he was 'most needed', Loach had this to say: "Well, there were various factors. Firstly I didn't get the right ideas…But at the beginning of the '80s there was very little out there for making films. The BBC had dried up, I was attached to the documentary department at Central TV but films we made about trade unions were banned by the IBA (Independent Broadcasting Authority), Central and Channel 4. They didn't happen…Central allowed them to be made but then banned them. "
"I was working with Jim Allen on scripts but we didn't get them right. Finally Channel 4 did establish Film 4 and I made a film for them, Fatherland, but I made a mess of that. The turning point was a call from David Puttnam in 1987…."
That call set in motion Loach's Cannes competition title Hidden Agenda.
The banning of Loach's '80s films has been well-documented. The alleged pressure exerted by media tycoon Robert Maxwell on Central's board to ban at least one of Loach's documentaries must make the recent NI scandal all the more bitter for Loach.
In other nuggets, the director expressed his dislike of 3D, which he called a "distraction" — "Would the Mona Lisa be better if we could see it in 3D?" he asked. Loach expressed his dismay at how observational feature documentary — which he said launched the careers of Barry Ackroyd and Chris Menges — has been "betrayed by the people who run television" who no longer commission such work.
The inevitable question about early influences threw up the usual interesting answers: John Grierson, the 1960s Czech school - including Jiri Menzel and Milos Forman - and Gillo Pontecorvo's The Battle Of Algiers.