Dir: Guy Maddin. Canada. 2011. 92mins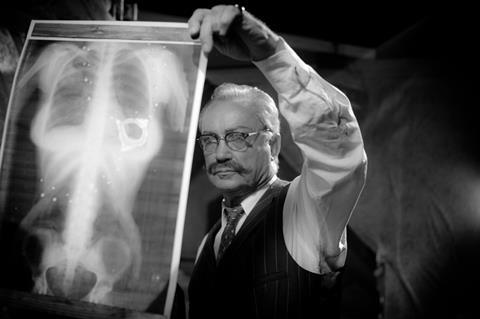 According to Guy Maddin, his new film is the autobiography of a house. It is also a concise version of Homer's Odyssey….and a gangster movie in a haunted house packed with ghosts; a supernatural tale where dead people are alive and the live ones are dead and is also a film about fathers and sons and about a hundred others things.
Jason Patric has been selected for his dark good looks associated with Hollywood icons.
All this may very well be true, but it looks as if Maddin has thrown all these ingredients into a blender, turned it to high speed and then pointed his small digital camera on it. The effect is dizzying enough to suggest that once again, Maddin has made a film for himself and for his restricted coterie, and everyone else is supposed to look at it at their own risk.
Since the voice of a narrator already proclaims at an early stage that when a house is abandoned, happiness leaves but the sadness remains, this might indeed be the story of a house, cluttered with so many memories and visited by so many ghosts, who are nothing if not memories, that they actually push one another off the screen.
As for the notion that this might be a sort of modern Odyssey, it is supported by the name of the protagonist, played by Jason Patric. Called in the film Ulysses Pick, he returns home after a long absence to find his wife (Isabella Rossellini), has locked herself in her bedroom, with her stark naked father (Louis Negin) chained to her bed and an Asiatic suitor paying regular visits
On his journey home, Ulysses has been dragging his son, Manners (David Wontner), gagged and tied to a chair, without knowing, almost until the end, who the young man is (is this an indication he was carrying him in his heart without even knowing what he looks like?). The other person he brings home is a blind girl (Brooke Palsson), who appears to be dead until she comes back to life, even before kidnapped physician, Dr. Lemke (Udo Kier) has a chance to treat her.
The film was shot in 15 days in black and white (a Maddin tradition), evidently in one location, and then feverishly cut to look like a furious and baffling whirlpool. The soundtrack sounds like an echo of horror movies and the chaotic, constantly changing shape of the house is a credit to the art direction.
Jason Patric has been selected for his dark good looks associated with Hollywood icons, which he fully exploits here, while Udo Kier's presence is both an attribute and a reference to his many earlier parts. Isabella Rossellini 's Hyacinth blends the bitterness of a woman abandoned with the strength of a Mother Earth, but truth be said (and indeed some of the actors confirmed it), none of them really got to the bottom of Maddin's intentions. Which is probably as should be.

Production company: Buffalo Gal Pictures
International sales: Entertainment One Films International, www.entertainmentonegroup.com
Producers: Jody Shapiro, Jean du Toit
Executive Producers: Phyllis Laing
Screenplay: Guy Maddin, George Toles
Cinematography: Ben Kasulke
Editor: John Gurdebeke
Production designer: Richardo Alms
Main cast: Jason Patric, Isabella Rossellini, Udo Kier, Louis Negin, Brooke Palsson, David Wontner