Dir/scr: David Zellner. US. 2012. 83mins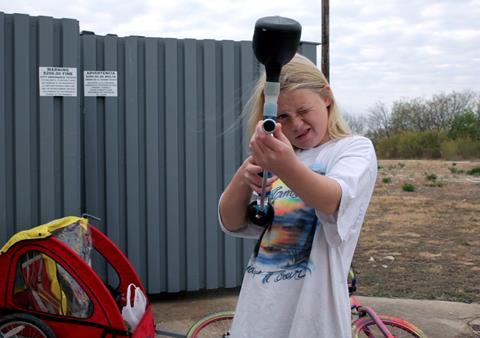 Backwoods weirdness with a micro-budget pop-art sensibility – it's a risky, volatile formula, but thanks to compelling child's-eye focus and a mesmerising pre-teen lead in Sydney Aguirre, Kid-Thing proves a bracingly individual piece from the Texas-based Zellner brothers. The blue-collar rural backdrop and offbeat humour are not so unfamiliar that the result is entirely an unclassifiable film-thing; you might situate it somewhere on a line between Harmony Korine and David Gordon Green's bucolic debut George Washington. But Kid-Thing is still idiosyncratic, and this follow-up to their 2008 feature Goliath should raise the profile of the prolific hands-on duo and score some niche sales.
Nathan Zellner's crisp, often poetic photography mixes dirty-realist grubbiness with moments of striking lyrical beauty.
Set somewhere in a decidedly unscenic Texas, the film starts in the realm of downbeat realism, only later veering into more dream-like territory. Heroine is 10-year-old Annie (Aguirre), almost entirely left to her own devices because lunkish dad, farmer Marvin (director Nathan Zellner) is pretty much a lost cause once he's given his goats their morning feed.
The film follows the solitary, sullen Annie while she cycles round aimlessly, argues with other kids, indulges in a little light shoplifting, or blasts cow cadavers with a paintball gun. Annie is trouble through and through - in one deadpan comic scene, gratuitously demolishing a disabled girl's birthday cake - and yet she's more likeable than otherwise.
It's not surprising that she's a handful, given life at home where dad Marvin spends his evenings lounging uproariously with equally dopey cohort Caleb (David Zellner). Scenes like the latter are overstretched, and overplay the freaky-hicksville card – but they also allow Aguirre to display her devastating sang-froid and strength of character by staying formidably poker-faced throughout.
Things get stranger when Annie hears a cry of help in the forest – it comes from a hole in the ground, from a woman named Esther (an unseen Tyrrell), who's desperate for Annie to help her out. But the girl is reluctant, cautiously grilling Esther to be sure she's not the Devil. This bizarre strand, which could be read as a fantasy that Annie indulges in, might have been milked for nerve-wracking tension in a more straightforward drama, but psychological realism is suspended here in the interests of barbed comedy, which is all for the good.
With its abrupt curveball ending, Kid-Thing is a peculiar hybrid – sufficiently realistic to work as a female trailer-trash 400 Blows, casually surreal enough to stray at times closer to art video than to conventional narrative. Nathan Zellner's crisp, often poetic photography mixes dirty-realist grubbiness with moments of striking lyrical beauty (skies, woodlands). He also contributes a delicately crafted sound design that melds nicely with an eccentrically distinctive score from Austin act The Octopus Project.
Production company: Zellner Bros International
International sales: Zellner Bros, info@zellnerbros.com
Producer: Nathan Zellner
Cinematography: Nathan Zellner
Editor: Melba Jordorowsky
Production designer: Carter Bronson
Music: The Octopus Project
Main cast: Sydney Aguirre, Susan Tyrrell, Nathan Zellner, David Zellner