Dir: Ben Wheatley. UK. 2011. 95mins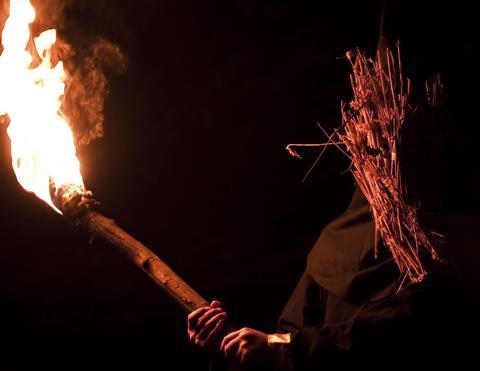 The British horror film genre is given a sharp and stylish jolt with Ben Wheatley's brutally impressive Kill List, a challenging and gripping chiller that confirms his burgeoning reputation as a filmmaking talent to watch. The mixture of paganism, hired killers and machine guns will prove an enticing blend for smart distributors and it will be a must-have film for the genre festival circuit.
Kill List is a polished and impressive British genre film, with Ben Wheatley a talent to watch.
The film, which had its world premiere in the midnight slot at SXSW, is a brilliantly constructed horror-drama that is put together in such a way that its grim twists surprise and engage. An edgy sense of dread permeates the film, and while its pacing and style may frustrate audiences expecting a more linear package, Kill List will likely impress critics and gain a cult following.
Ben Wheatley gained acclaim for his low-budget debut film Down Terrace, which played at a series of indie festivals. Kill List, again modestly budgeted but shot with an intense visual style and confidence, is his second film.
What make the film distinctive is its story structure, pacing and willingness to blend the bloody with the mundane with a side order of creepily strange along the way. This is evident in the film's opening half hour, featuring a series of scenes of domestic unrest punctuated with hints of the darkness to come.
In their suburban house, Jay (Neil Maskell) and Shel (MyAnna Buring) bicker about money and food, with Shel accusing him of being lazy, though both are united in their absolute love for their young son Sam. The impressive sound design by Martin Pavey gives everything a brilliantly tense quality, and the smart jump cuts keep even these seemingly simple domestic dramas edgy.
Jay's best friend Gal (Michael Smiley) and his new girlfriend Fiona (Emma Fryer) come round for dinner, and while the evening is almost ruined by a dramatic outburst by Jay, two more subtler scenes hint at the darkness to come – in his garage Jay and Gal look at a new submachine gun Jay has tucked away, while in the bathroom Fiona secretly etches a pagan symbol onto the back of a mirror.
Gal and Jay are, in fact, hired killers – with Shel well aware of the work they do – and head off for a meeting with a new client. Given a 'kill list' of people to assassinate, the client also asks them about a job in Kiev (their only comment is "that was dramatic"), but clearly things happened there that still traumatise Jay.
After their first killing goes efficiently they track the next person on the list, a man just called 'The Librarian'. But when they enter his lock-up premises they find dvds that drive Jay wild (presumably sex or snuff films involving children, but they are never shown), and the pair go to the man's house, tie him down and Jay proceeds to brutally (and extremely gorily) torture him.
What is just as disturbing is that as Jay is taking a hammer to the man's hands and legs, the man keeps on saying "Thank you".
With Jay increasingly disturbed and Gal finding documents about them – and about 'Kiev' – in The Librarian's safe, they try and get out of completing the Kill List. But their client makes it clear rather forcibly that this is not possible. When their pet cat is killed and strung up outside their front door, Shel takes Sam and they leave for their remote cottage, while Gal and Jay head off to stalk their next victim, just called 'The MP'.
The film then takes another disturbing twist. Gal and Jay set up camp in woods overlooking the MP's large country house to observe his movements, but in the middle of the night see a procession of people carrying flaming torches – some naked, some in robes, but all wearing straw masks – who proceed with a dark and bloody pagan ritual.
What follows is a scary fight the pagan hordes and a disturbing climax at Jay's remote cottage and a showdown with 'The Hunchback'. To reveal more would spoil the plot - but needless to say it is scary, dark and twisted.
The lead performances are all solid, with Neil Maskell (who has a long career in film and TV) edgily grim as the disturbed and violent Jay, with Michael Smiley providing a nice balance in terms of warmth and humour as Gal. His enthusiasm for miniature shampoo bottles in their hotel rooms is an amusing counterbalance to their cold violence.
Genre fans will appreciate the casting of MyAnna Buring (who starred in The Descent, Lesbian Vampire Killers and has a role in The Twilight Saga: Breaking Dawn) who plays Shel with steely compassion. Plus her character's background with the Swedish military has a small, but cool, part to play in proceedings. She is a talented actress and a strong presence in the film.
While not exactly genre-busting, Kill List does subvert and play with its story structure, veering from domestic drama through to assassin thriller and through to pagan horror. Buyers – and audiences – will need to stick with the first third before the film finds its feet in terms of the darker elements…but it is worth the wait. Wheatley cleverly also leaves certain plot lines dangling, while at the same time offering up tantalising clues and hints are the horror to come.
Kill List is a polished and impressive British genre film, with Ben Wheatley a talent to watch.
Production companies: Warp X, Rook Films, UKFC, Film4, Screen Yorkshire
International sales: Protagonist Pictures, www.protagonistpictures.com
Producers: Claire Jones, Andy Starke
Executive Producers: Robin Gutch, Katherine Butler, Lizzie Francke, Hugo
Heppell
Co-Producer: Barry Ryan
Screenplay: Ben Wheatley, Amy Jump
Cinematography: Laurie Rose
Editors: Robin Hill, Ben Wheatley, Amy Jump
Production designer: David Butterworth
Music: Jim Williams
Main cast: Neil Maskell, Michael Smiley, MyAnna Buring, Emma Fryer, Struan Rodger, Mark Kempner, Harry Simpson