Dir: Gary McKendry. US-Australia. 2011. 105mins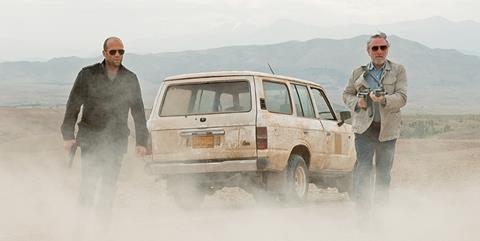 The heading casting combination of Jason Statham (for the muscles and action-man credentials) and Robert De Niro (for the veteran acting skills and a whiskery beard) works to limited effect in the period action movie Killer Elite, an oddly disjointed blend of thrills-and-spills and action drama that delivers a few nicely staged action moments in amidst a whole lot of po-faced conspiracy nonsense.
Killer Elite does offer enough moments of high-adrenaline thrills to appeal to action fans.
It is a mish-mash of a movie that feels as if several storylines have been randomly laced together in the hope of creating an action film that can appeal to Statham's extensive fan-base. And while never overly successful, the best moments in Killer Elite do come in the scenes that Statham and De Niro have together, making you wish that more had been made of a promising project. The film world premiered at the Toronto Film Festival in a gala slot.
For the record the film is no relation to Sam Peckinpah's 1975 movie The Killer Elite - which featured James Caan in a leg brace taking on ninjas - but instead is based on Ranulph Fiennes 1991 book The Feather Men, supposedly a non-fiction story about SAS soldiers going up against a team of the world's elite mercenaries on a revenge mission.
It would have been an easy move for the filmmakers to take the story and set in modern-day and simply leveraged in as many sub machine-guns, martial arts moves and explosions as possible and they deserve enormous credit for setting it largely in the 1980s and putting in a great deal of effort in terms of production design, costumes and general look of the film.
The film opens in Mexico in 1979, with mercenaries Danny (Statham) and Hunter (De Niro) waiting for their next target. Danny kills with ruthless efficiency, but cannot bring himself to kill a young boy who is with the target. He decides to give up his career as an assassin-for hire and heads off to re-start his life in Australia.
A year later and he is forced to take up arms again when a letter arrives. Hunter is being held hostage by in Oman by a Sheikh who wants Danny to take on a dangerous mission in return for Hunter's life. To secure his release, Danny must head to the UK and kill three former top SAS soldiers who had been involved in killing the Sheikh's sons during the war in Oman.
Danny pulls together his old team - ex-paratrooper Davies (Prison Break's Dominic Purcell, sporting a drooping Zapata moustache) and Meier (Aden Young) an American techno-geek - and head off to Blighty to start planning their attacks on the SAS men. The fly in the ointment is that the ex-SAS men are protected by a shadowy group known as 'The Feather Men', whose tough front man is former soldier Spike (Clive Owen).
As Danny and his head put their plans into action they find themselves on a collision course with a band the tough-as-nails former SAS soldiers who will do all they can to protect their own. Danny, though, is determined to do all he can to secure the release of his friend and mentor, and has the skills and determination to take on some of the best Special Forces men in the world.
When Statham and De Niro are on screen together in the opening scenes the film has a real sense of energy. The dialogue might be rather clichéd and trite, but Statham has real action-man charisma and De Niro looks as lean and mean as he did while wielding a machine gun in Ronin or Heat. Sadly for much of the film De Niro isn't around - he is busy growing his beard in the Sheikh's dungeon - and Statham is left to his own devices to take on the SAS men.
The staging is extremely nice - good use of old cars and period costume - but these UK action scenes feel rather pedestrian, though things do get better in the scenes Statham and Owen has their various stand-offs. The whole conspiracy element feels plodding and cumbersome, and tends to hold up the drive of the film rather than aid its plot development.
To try and humanise Statham's character there is a whole subplot about his burgeoning relationship with Anne (Yvonne Strahovski), the beautiful woman who owns the ranch next to his in Australia. It is a rather underdone and empty role for Strahovski, who is best known - ironically - for her high-kicking action moves in it TV series Chuck, where she plays a deadly government agent.
While Killer Elite does offer enough moments of high-adrenaline thrills to appeal to action fans, but it never really ignites as a period thriller. De Niro's return to gun-toting action in the final section helps end things with a flourish, but doesn't help Killer Elite from being any more than a film of mis-matched sequences and lost opportunities.

Production companies: Open Road Films, Omnilab Media, Ambience Entertainment, Sighvaysson Films, Current Entertainment, Film Victoria, The Wales Creative Fund
International sales: Inferno
Producers: Sigurjon Sighvatsson, Steven Chasman, Michael Boughen, Tony Winley
Executive producers: Christopher Mapp, David Whealy, Peter D Graves
Screenplay: Matt Sherring, inspired by the book The Feather Men, written by Ranulph Fiennes
Cinematography: Simon Duggan
Editor: John Gilbert
Production designer: Michelle McGahey
Music: Johnny Klimek, Reinhold Heil
Main cast Jason Statham, Clive Owen, Robert De Niro, Dominic Purcell, Aden Young, Yvonne Strahovski, Ben Mendelsohn, Adewale Akinnuoye-Agbaje, Firass Dirani