Dir: William Friedkin. US. 2011. 102mins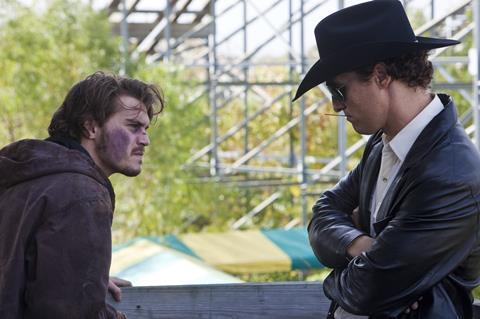 The ghost of Tennessee Williams meets the spirit of Quentin Tarantino in William Friedkin's vastly entertaining black comedy thriller Killer Joe. Putting its strictly-for-grownups cards on the table with a muff shot in the very first minute, this fast-paced and often violent post-recession contract killer film just occasionally betrays the theatrical mannerisms of the play it's adapted from. But Friedkin's confident direction and some tasty performances - especially by Matthew McConaughey as psychotic hitman Killer Joe, and Juno Temple as his underaged love interest - help to paper over the odd line of clever off-Broadway stage dialogue.
Killer Joe injects the black comedy of a Fargo-like loser crime drama with a certain pathos.
The film has the potential to speak both to a relatively undemanding B-movie genre crowd and to the sort of post-modern hipsters who prefer their thrillers to be of the ironic Kiss Kiss Bang Bang variety - though it will need careful marketing and targeting to mop up both demographics. But Killer Joe will certainly outdo the limited box-office take of Friedkin's last film, Bug (also a collaboration with playwright Tracy Letts) - that was a dour, genre-defying arthouse horror exercise, whereas this has far wider audience appeal.
New Orleans locations stand in for the Texas of the script, but it's a good match: the important thing here is the utter bankruptcy of the trailer park where the Smith family live and the strip malls, auto workshops, seven elevens and other seedy, decrepid tokens of a blue collar America that's all washed up.
Inside the first five minutes we've got the plotspring and met four of the five main characters: chancer and small-time drug dealer Chris Smith (Hirsch), who owes some bad guys some money, tells his slow, beer-swilling, anything-for-a-quiet life dad Ansel (Haden Church) that he's planning to hire a hitman to kill his good-for-nothing mother (and Ansel's ex-wife) in order to get the hands on her life insurance money. Ansel thinks this is a reasonable enough idea, as does his trashy current partner Sharla (a fine turn from Gina Gershon) and his soignée baby doll sister Dottie (Temple), who manages to retain a naïve innocence in a world of venial grifters.
Into the Smiths' trashy trailer steps impeccably dressed Stetson-wearing contract killer Joe Cooper - a cop who rubs people out to make a little money on the side. The Smiths are unable to muster Killer Joe's $25,000 fee until after they get the life insurance payment - so Joe agrees that he will accept Dottie as a "retainer" for his services. Though reluctant to pimp out a sister he's fiercely protective of, the desperate Chris eventually agrees - as does her dad, who muses that "it might just do her some good".
Though often hilarious, Killer Joe injects the black comedy of a Fargo-like loser crime drama with a certain pathos: none of the characters are quite unredeemable, and the script (adapted by Letts from his own play) keeps surprising us - as in the seduction-of-the-virgin dinner scene between Dottie and Joe, which manages to be both kinky and tender. There are even moments of pure slapstick, like a perfectly-timed gag involving a loose thread on a thrift-shop jacket.

Production companies: Voltage Pictures presents in association with Worldwide View Entertainment and Picture Perfect Corporation a Voltage Pictures/ Ana Media production
International sales: US: Roeg Sutherland, Creative Artists Agency; rest of the world: Voltage Pictures, www.voltagepictures.com
Producers: Nicolas Chartier, Scott Einbinder
Executive producers: Christopher Woodrow, Molly Conners, Vicki Cherkas, Zev Foreman, Roman Viaris
Screenplay: Tracy Letts, based on his play Killer Joe
Cinematography: Caleb Deschanel
Editor: Darrin Navarro
Production designer: Franco Giacomo Carbone
Music: Tyler Bates
Main cast: Matthew McConaughey, Emile Hirsch, Juno Temple, Gina Gershon, Thomas Haden Church