Dir: James Mangold. US. 2010. 109mins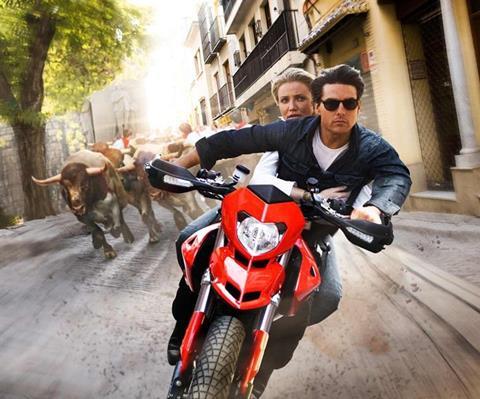 Tom Cruise is back in something like Mission: Impossible mode for Knight And Day, a lively but uneven action comedy co-starring Cameron Diaz and some good-looking international locations. Box office results will depend on how many youngish moviegoers - of both sexes - can be persuaded to turn out for the now not-so-boyish Cruise, who hasn't headlined a film aimed at this demographic for more than four years.
The action, especially the car and motorbike chases, is frantic and occasionally quite thrilling.
The Fox-distributed Regency production may have to fight for its audience when it opens this week in the crowded US market. Things might be easier in the rest of the world, where Fox (or, in a few territories, independent distributors) should be able to access the audience that made the somewhat similar Mr & Mrs Smith a big international hit.

Cruise's smooth-talking and athletic Roy is a secret agent who drags Diaz's unsuspecting nice-girl June into a dangerous globetrotting adventure involving a priceless new invention, a shady FBI agent and an international arms dealer.

Early on, the attempts at Hitchcockian style feel stilted, with director James Mangold (3.10 To Yuma) alternating a little clumsily between talk and action. The talk is cute though not particularly witty (this is scriptwriter Patrick O'Neill's first produced feature) while the action, especially the car and motorbike chases, is frantic and occasionally quite thrilling.

Action, banter and romance blend better as the story goes on, and the mix is sweetened by judicious use of settings in Boston, New York, Austria, the Caribbean and Spain. However Mangold never quite establishes a tonal centre: in some scenes the film feels almost like a spoof, in others like a lighthearted romp, and in still others like a serious thriller.

Cruise and Diaz, whose only previous teaming was in 2001 psychological thriller Vanilla Sky, work well together, most effectively in the film's breezier moments.



Productions companies: 20th Century Fox, Regency Enterprises
Worldwide distribution: 20th Century Fox
Producers: Todd Garner, Cathy Konrad, Steve Pink
Executive producers: Joe Roth, Arnon Milchan, E Bennett Walsh
Screenplay: Patrick O'Neill
Cinematography: Phedon Papamichael
Production designer: Andrew Menzies
Editors: Quincy Z Gunderson, Michael McCusker
Music: John Powell
Main cast: Tom Cruise, Cameron Diaz, Peter Sarsgaard, Viola Davis, Jordi Molla, Paul Dano, Marc Blucas, Maggie Grace