Dir: Yoon Jong-bin. South Korea. 2014. 137mins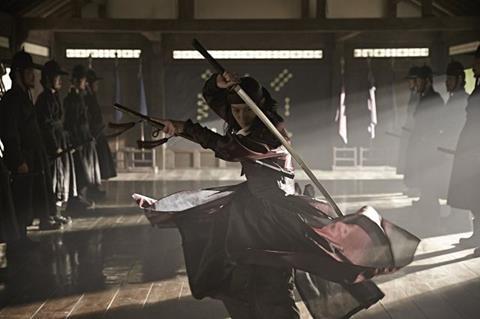 Perhaps overly ambitious, but South Korea's latest period epic is an enthralling and largely enjoyable western romp combining elements from both genres in an action-filled Korean take on the Robin Hood narrative focusing on a group of outlaws from the Joseon period, and while it suffers in part from an overlong duration and some unevenness, Ha Jung-woo's towering leading performance and the film's visual flare should be enough to compel audiences both home and abroad.


Kundo: Age of the Rampant is a visual spectacle, and one that should win over both local and international audiences.
Due for release in Korea on July 23, it's set to attract audiences in the busy summer box office window and though it will face competition in the form of both local and Hollywood fare such as Navel epic Roaring Currents and Guardians Of The Galaxy released a week later, it should open strongly. Internationally, meanwhile, the film's glowing technical prowess and its spaghetti-western stylistic traits make it more accessible than many period dramas, which should work in its favour when it's screened at the Fantasia International Film Festival and later released in North Americathrough Wellgo USA.
The film takes place in 1862 where people of the Joseon Dynasty are suffering from a combination of famine and plague as well as being exploited by corrupt officials, but a group of bandits known as 'kundo' prey on the rich to protect those impoverished.
Amongst those being exploited is an ignorant butcher called Dolmuchi (Ha Jung-woo) who enters a dangerous deal with Jo-yoon (Kang Dong-won), the illegitimate son of a nobleman, who exploits the vulnerable and amasses a fortune. Once Dolmuchi is unable to carry out the task he's been hired for, his family is killed. Guilt-ridden, Domuchi joins 'Kundo' and is reborn as a warrior called Dochi, and together as a group they seek to defend those who are being exploited, while Dochi also seeks his revenge.
Director Yoon Jong-bin who has demonstrated he can work in a number of genres including the box office hit Nameless Gangster: Rules Of The Time (2012) and the acclaimed drama The Unforgiven, boldly expands his scope even further here by bringing together both period and western genre conventions, which inevitably feels somewhat uneven in places, but by doing so, it not only distinguishes it from the number of other period pieces to hit screens such as Masquerade (2012) or The Face Reader (2013), it provides the film with more flavour.
Stylistically, this where Yoon and his technical team excel capturing Korea's beautiful rural landscape and orchestrating a number of polished and impressive fight sequences incorporating both martial arts and characteristics of the spaghetti-western such as the extreme close-ups, which is further strengthened by Cho Young-wuk's Western-like rhythmic and vibrant score becoming the first Korean film soundtrack to be recorded in Abbey Road Studios, London.
Ha Jung-woo who has acted in all of Yoon's films is the star of the show effortlessly moulding into the film's leading protagonist demonstrating his strong versatility as an actor colourfully illustrated by his ability to handle a pair of butcher knives to deadly effect. Kang Dong-won (2010's Secret Reunion) meanwhile who marks his return to the big screen following his mandatory military service is overshadowed somewhat by Ha Jung-woo's palpable presence, while the remainder of the cast such as the amusing Ma Dong-seok (Nameless Gangster: Rules of the Time) and Cho Jin-woong (A Hard Day) all leave their mark despite the large number of supporting roles, which at times weakens the film.
The film's greatest fault is its overlong running time, which only serves to hinder the overall impression of the film, but as true as this may be, Kundo: Age of the Rampant is a visual spectacle, and one that should win over both local and international audiences.



Production Company: Moonlight Film & Showbox/Mediaplex
World Sales: Showbox/Mediaplex, www.showbox.co.kr/english/index.asp
Producers: Yoon Jong-bin, You Jeong-hun
Co-producer: Han Jae-duk
Executive Producer: You Jeong-hun
Original Story: Yoon Jong-bin
Screenplay: Jeon Cheol-hong
Cinematography: Choi Chan-min
Music: Cho Young-wuk
Editing: Kim Sang-bum & Kim Jae-bum
Main Cast: Ha Jung-woo, Gang Dong-won, Lee Sung-min, Cho Jin-woong, Ma
Dong-seok, Yoon Ji-hye, Jung Man-sik