Dir: Kiki Sugino. Japan. 2014. 94mins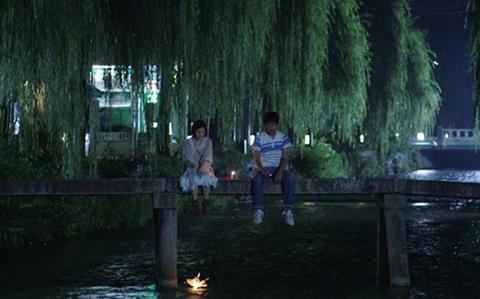 Actress, producer and now director Kiki Sugino makes her directorial debut with Kyoto Elegy (Manga Niku to Boku) a strikingly unusual domestic drama that harks back classic Japanese cinema that dwelled on suffering women but that is at the same time contemporary and edgy. In different hands it could have been played as a broad comedy or even an intense drama, but here the film is playful and thoughtful but always keenly observed.
As a debut film Kyoto Elegy is an impressive one, and marks Kiki Sugino as a talent to watch.
Sugino – who produced and starred in Au revoir l' été and had Taksu, her second film as a director, premiere at Busan earlier in the year –directed three films in 2014, with Boy's Dream still to be screened. Kyoto Elegy, which she apparently shot in just 11 days, had its world premiere at the Tokyo International Film Festival and should certainly intrigue further festivals keen to focus on emerging Japanese talent.
The fact that she locates her film in Kyoto (and its accompany classic filmic references) gives the film a slightly off-kilter quality, and while it does feel very much like an ambitious first film at times - and the grating soundtrack (perhaps deliberately) does detract occasionally – there is much to be impressed with here, not least Sugino's ability to play a key acting role in such a challenging film.
While the spine of the film is bumbling would-be lawyer Watabe (Takahiro Miura) it is the three young women who he interacts with and has an impact on that the film is really about. Each are battling against society and expectations in their own ways, and while they are all exciting, challenging, odd and provocative the rather sad Watabe is simply a rather selfish callow youth despite appearing genial and gentle on the surface.
While at college in 2011, the put-upon Watabe meets Satomi Kumahori (Sugino in a pretty good fat-suit), a grungy obese young woman who all other students avoid. She befriends the equally ostracised loner and ends up moving into his home where she simply demands food (preferably massive beef ribs). She tells him that she won't let men touch her and becoming fat means that "it feel's good to go against men's desire".
Watabe starts work at a restaurant where he meets Nako (Eri Tokunaga), who is just out of a relationship but is taken with the shy young man. This helps prompt him to take actions to finally get rid of Satomi from his house, and after a brief fight (in which she gashes him on the arm with a fork) she storm out, dragging her wheelie suitcase behind her.
The film then switches on three years, with Watabe in an unhappy relationship with the troubled Nako, which gets even worse when he gives her an STD after visiting a brothel. He also meets fellow law student Sayaka (Chisun) who he sees as the perfect partner and brutally ends his relationship with Nako. The film then moves on a further five years with Sayaka a successful lawyer and Watabe simply struggling along – it is at this point that a slimmed-down Satomi, who has trained to be a chef, re-enters his life.
Astutely, Sugino does not follow obvious routes – Satomi does not lose weight to make herself 'beautiful', it is simply a byproduct of her new life – and certainly the women here are far more interesting and complex than Watabe, who at first seems to be a gentle lonely guy but in the end is rather shallow and selfish. The film is elegantly shot (with nice usage of Kyoto) though things do veer into melodrama at times. But as a debut film Kyoto Elegy is an impressive one, and marks Kiki Sugino as a talent to watch.
Production company/sales: Katsu-do Co Ltd., nakamura.tadashi@yoshimoto.co.jp
Producers: Kiki Sugino, Tadashi Nakamura
Executive producer: Kazuyoshi Okuyama
Co-producer: Kousuke Ono
Screenplay: Kotaro Wajima, based on the novel by Shiki Asaka
Cinematography: Kenji Takama
Editor: Lee Chatameitikool
Music: Seigan Tominomori
Main cast: Kiki Sugino, Takahiro Miura, Eri Tokunaga, Chisun, Shima Ohnishi, Taiga, Yoshima Tokui