Dir/Scr: Juan Andres Arango. Colombia-France-Brazil. 2012. 90mins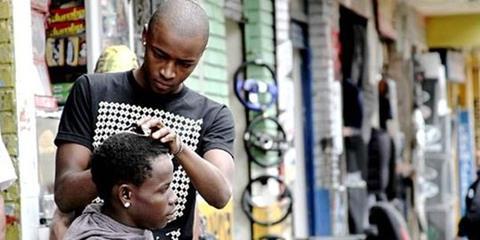 A young back man's stubborn refusal to become another victim of a society that stacks the odds against him provides a solid narrative foundation for La Playa D.C., a quietly impressive first feature from Colombian writer/director Juan Andres Arango. Absorbing rather than gripping at first, it confidently builds into a tale of hope and transformation that is all the more admirable for the way its eschews overt melodrama or sensationalism.
Cinematographer Nicolas Canniccioni weaves through the streets of Bogota with roving, restless handheld camera work.
The low-key, documentary-style approach will limit the audience for this modest social realist drama but it should become a fixture of international film festivals. It should also help establish Arango as a talent to watch and someone with a clear affinity with the films and approach of Ken Loach.
Luis Carlos Guevara is a compelling presence as Tomas, an adolescent adjusting to life in Bogota after fleeing the war in his beloved Buenaventura on the Pacific Coast. Bogota is an asphalt jungle of gangs and drugs, poverty and notorious racism. Tomas doesn't stand a chance of a decent life and yet becomes a heroic character in his tenacious belief in a better tomorrow and willingness to accept change.
This is despite the fact that his brother Jairo (Andres Murillo) is already lost to drugs and his older brother Chaco (James Solis) has served time in prison and is adamant that their only hope of survival is to leave the country.
The plot could be the basis of a bleak, nihilistic piece but although it is seasoned with sorrowful moments it is also a tale of small victories as Tomas is given a chance to learn the skills of creating elaborate patterned barbershop haircuts, tries to find a girlfriend and looks out for the best interests of Jairo and Chaco.
Cinematographer Nicolas Canniccioni weaves through the streets of Bogota with roving, restless handheld camera work and Bogota-born Arango has a real feel for a city perched high above sea level and the daily incidents that define its character. Tomas is asked to leave a shopping mall in a white area of town because it is automatically assumed that he is up to no good. One of the few possibilities of earning some honest pesos comes in cleaning the muddy hubcaps of expensive cars.
The relentless lack of opportunity should be enough to crush his soul but Luis Carlos Guevara manages to invest Tomas with a sense of dignified determination and the weariness of someone who is older than their years.
A plaintive soundtrack of rap music and atmospheric ambient sound adds to the impression of the city as a bustling, claustrophobic space in stark contrast to the peace and calm Buenaventura of Tomas's youth.
Production companies: Septima Films/Burning Blue
Producers: Jorge Andres Botero, Diana Bustamante Escobar
Sales contact: Doc & Film International www.docandfilm.com
Cinematography: Nicolas Canniccioni
Editor: Felipe Guerrero
Music: Erick Bongcam, Jacobo Velez, Maria Mulata, Socavon de Timbiqui, Diocelino Rodriguez, Flaco Flow & Melania, Choquibtown and Jiggy Drama
Production designer: Angelica Perea/Say Hello
Main cast: Luis Carlos Guevara, Andres Murillo, James Solis